How much it costs to build an app depends obviously on the type of app you want to build. If it's a complex enterprise app where you want your customers to have customized login profiles and have the ability to do dynamic functions, then this will involve a backend server. These kinds of apps cost at least $150,000 to over a million dollars.
As a bootstrapping entrepreneur who wants to invest my time and money into building a passive income business, I simply want to know what the very minimal cost is to have a mobile app that can generate revenue. And what the potential typical revenue I can generate from it looks like. I don't have an idea for an app right now, because it depends on how much it will cost me. If I find out that I can build a complex app for $1,000, then I'll have all sorts of ideas flowing but if for $1,000, all I can get is an app that basically displays images, then my idea would be very different. So, putting the idea on pause, this is what we are uncovering today:
COST: How much does it cost to build a simple app (i.e. what is the minimum amount required to build an app and to maintain it?
REVENUE & PROFIT: How much can one generate from such an app? What is the ROI? Are there other costs associated once the app is built?
(Note: Since many articles online tell me that Android can be 3-4x more expensive, I am only addressing iOS here. Since basically want to get down to the skeletal costs and profits to be gained associated with building an app as a budding entrepreneur looking to start a passive income business.)
Let's get started.
1. COST
COST TO BUILD AN APP
The cost of building an app is determined by the complexity of what it can do, and who makes the app (i.e. learn to code and do it yourself, use a freelancer, or go full-blown and use a big app agency). Below is a snapshot of a typical price range varied by those factors:
As someone with no coding experience but wants to build a passive income business with sweat equity and minimal dollars invested, the two obvious choices are learning to code yourself or using an app maker software. There are online courses you can take for as little as $15 for the introductory class, eventually taking several more to be able to code. Or, there are in-person bootcamp classes you can take. They are offered in metro cities all over the world. They usually run for 12 weeks and cost ~$5,000 on average. Some of them also help you get a job after. Personally, I would love to one day learn to code, but right now, my aim is to publish an app as soon as possible, so for the remainder of the profitability analysis, I will focus on building an app via (1) app maker software and (2) offshore freelancer.
GRAPHIC DESIGN COST
Unless your app is Craigslist style, you'll end up having to make your graphics through a freelancer. This will cost $500-$1,000. App maker software has templates and stock photos you can select. Assuming this is the minimalist route, we will assume you forego the extra graphic design cost for this option.
RECURRING COST
Once you publish your app, you will have to make upgrades every year. The average cost to upgrade and maintain for 2 years was found to be twice that of the cost to build (i.e. cost to build was 35% of total costs for 2 years). This would affect the app maker software as publishing it multiple times means you need to upgrade to a more costly membership.
In addition, publishing your app on the App Store costs $99/year.
MARKETING COST
Unfortunately, building the app alone is not enough. In order to have the potential of generating revenue, you need people to download the app. This Cost Per Install (CPI) is basically a measure of how much marketing dollars you spend divided by how many users you acquire. The average Cost Per Install for an iOS app in 2015-2016 was $1.64 in the US and $1.24 globally. Non-game CPI is lower at $0.58 for an iOS app globally.
TOTAL COST
So far, assuming your app is simple, the annual cost of your app in the launch year is:
2. REVENUE & PROFIT
The business model you choose for your app is sensitive to the type of app it is and how users have typically engaged with similar apps. If, for example, your app is a social photo-sharing app like Instagram, you would not have any luck charging a premium to download (unless your app has something special that Instagram doesn't). If your app is a specialized post-grad educational tool that currently does not exist in the App Store, then you'll have better for this type of app in charging a premium like $19.99 to download. The most popular business model is the freemium model, whereby it is free to download and play, and users can make in-app purchases. Top games that generate millions of dollars have seen the most success with this type of business model.
The most common business models to consider are:
Freemium: Free to download and initially play. Revenue is generated via in-app purchases. (e.g. Games)
Pay to Download: Charge a free to download.
Subscription: Your credit card is charged every month or annually for using it. (e.g. Workout apps for monthly, productivity apps for yearly premium subscription)
In-App Advertising: Free to download and use but advertisements show on the screen outside of the control of the user.
Below we look at each of these models and the potential revenue it could generate based on further assumptions.
Freemium
~5% of app users spend money on in-app purchases (Source: AppsFlyer)
On average, these users spend $1.08 on iOS on in-app purchases (Source: AppsFlyer)
Using these assumptions, potential revenue generated from in-app purchases for 100,000 installs is over $5,000.
Pay to Download
This is obviously the ideal situation where you have a fixed price and the user pays to download it. You make bank right there and then upfront. $0.99 is the minimum you can charge for a premium app in the App Store. In addition, $0.99 is the most common price beyond moving away from the free-to-download model. 1 million downloads charged at $0.99 brings in a million bucks. Seems like the obvious choice. However, users are 5 times less likely to pay to download an app than downloading a free app. In addition, the availability of paid apps (including paid apps that offer in-app purchases) are assumed to be 30% of the number of free apps. For simplicity and consistency in comparing the models, these were treated as probabilities. The potential revenue model for a paid-app is:
Subscription
Depending on the type of app, a subscription price can range from $5/mo to $30/mo to $30/year. The average retention of a customer after a month is 30%. By month three, 93% of the users who installed the app are gone-zo. Subscription-based model is also relatively new. As such, the availability of subscription-based apps is much lower than even pay-to-download apps. Applying a similar assumption as paid apps above in comparison to the freemium model, the revenue potential for a subscription model is:
In-App Advertising
For the user, it's free to use the app but at the expense of watching forced advertising videos or banner ads flashing at the bottom or top of the app. The effective Cost Per Million (eCPM) is how much the advertisers will pay you for every 1,000 impressions, i.e. for every 1,000 times the advertisement is displayed to the user while using the app. In 2015-2016, the average eCPM was $4 for iOS apps. The revenue is the lowest compared to the other models. You need a lot more users in the app, especially with the downward trend in CPM that advertisers will pay.
TOTAL PROFIT BY MODEL
Putting it altogether (the costs and revenue by business model), below is the total annual profit in the year it launches and in year 2. Note: Cost Per Install was assumed to be an intermittent cost as marketing campaigns were launched in successions.
The takeaway is that unless you're confident that your brand will promote the app on its own and thereby not requiring the cost per install, CPI will be a huge component of your cost. With CPI, your app will start becoming profitable after it reaches close to 100,000 downloads. Of course, if it's subscription based, you will start being profitable with much less downloads. And on the other end of the extreme, in-app advertising will require you to have a lot more downloads and users for you to break even.
If you want to go down the subscription path, you need to think of an app for a niche, targeted audience who will see great value in paying $10/month for your app.
You pay hundreds of dollars to stay in an Airbnb when you travel. Why can't you also list on Airbnb and make passive income while you work full-time?
Well, if you already have a spare bedroom, there's really no risk in listing it on Airbnb. And if you are thinking of buying an income property, at the end of the day, you will end up with equity in the property, so there isn't really a risk in listing on Airbnb either.
But what if you have neither a spare bedroom nor the money to buy an income property, yet you still want to make passive income from short term rentals on Airbnb?
There is one way to make money on Airbnb without a spare room or income property.
You can lease an apartment, pay monthly rent to the landlord, and instead of living in it, you list the apartment on Airbnb.
But is it worth it? Does the income you earn from listing the apartment on Airbnb outweigh the monthly rent you pay to the landlord?
You'll be surprised at the result of my research and analysis.
Cost of Setup – Don't Ignore!
The first thing you should know is that even though you are not buying a property to start Airbnb, there is still a considerable upfront cost.
First, when you lease an apartment for the purpose of listing on Airbnb, there is security deposit (even if you get all of it back at the end of the lease, you need it upfront) and moving costs. Together, that'll be around $1,500 for a 1-bedroom apartment in a metropolitan city.
Then, you have to factor in losing the first 2 weeks of rent, because you have to set up the apartment first after your lease starts before you can list it on Airbnb. Let's say the rent is $2,000 for a 1-bedroom apartment in Los Angeles. That's another $1,000 in upfront cost.
Finally, the cost of setup: furniture, kitchen tools, decoration, cleaning supplies, etc. will cost between $4,000 – $5,000. For example, a typical list (if you buy at Ikea rather than Pottery Barn) is:
All in, the total upfront cost will be ~$8,000.
Good News: Airbnb Price Per Night is Twice the Monthly Rent
The cost of setup may deter you from starting an Airbnb. But the good news is that the price per night can be three times the monthly rent. That means there is potential to make 100% return on your monthly investment?
My analysis of ~250 data points (by varying cities/neighborhoods in Greater LA) shows that on average, the Airbnb price per night is twice that of the monthly rent per day (i.e. monthly rent / 30 days):
*Notice that West Hollywood has an Airbnb price that is almost three times the daily cost of renting the apartment. We will come back to this later.
Twice is good but not good enough. It doesn't mean you could make twice your investment from listing on Airbnb. The biggest factor is Airbnb occupancy rate.
Airbnb Occupancy Rate – Bad for Business!
As expected, the occupancy rate affects the income you can earn on Airbnb. Especially in the 10 neighborhoods within Greater Los Angeles that I analyzed, there is a lot of competition.
And even though neighborhoods like West Hollywood has a long-term apartment rental vacancy rate of 2%-3% (i.e. occupancy rate of 97%-98%), the Airbnb occupancy rate is only 65%, which is comparably lower. Or in Santa Monica where tourists flock to for vacation, the Airbnb occupancy rate is only 61%.
On average, the neighborhoods had an occupancy rate of 55%.
You can look up the occupancy rate of your neighborhood on insideairbnb.com.



Putting It All Together: Airbnb is NOT Worth It
Putting together the ~250 data points in 10 neighborhoods in LA, the result is that the income earned on Airbnb is only marginally higher than the cost of monthly rent if you were to lease the apartment to start an Airbnb business.
The summary of the analysis below takes into account the pricing and the occupancy rate above as well as a 10% operating cost for Airbnb, which factors in a high turnover (cleaning fees and supplies, utilities, internet, etc).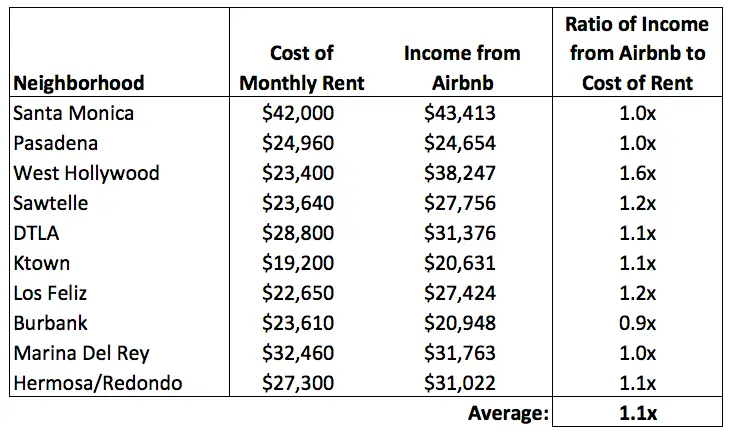 The income you can earn from Airbnb is only 1.1x higher than the cost of monthly rent. If you take into account the cost of setup, you will just break even. That means your return on investment will most likely be 0% – 5% per year. And that is only if your occupancy rate keeps up with the average in your neighborhood.
If you consider the risk of getting busted by your landlord for subletting your apartment on Airbnb when you're not allowed to, I'd say, it's not worth it. (If any of the readers have had success with this approach, please comment! I would love to hear your side of the story on how to make it successful.)
There is Hope: Where You CAN Be Profitable with Airbnb Business
As you can see in the result of my analysis above, West Hollywood beat the odds compared to the other 9 neighborhoods in LA. What is unique about WeHo that you can earn 1.6x income on Airbnb compared to the cost of renting the apartment?
If the neighborhood you are considering has these unique features that West Hollywood has, then you could potentially have a very profitable Airbnb business (i.e. short term rentals):
Near a convention center or a hotel that holds a lot of big conferences
Hotel vacancy rate in that neighborhood is very low at around 2-3%
Central neighborhood that connects to several popular neighborhoods on the periphery
Average Airbnb occupancy rate is relatively high (at least 60%) – you can look this up on insideairbnb.com
Average nightly price on Airbnb is at least three times higher than the daily rent cost
If the neighborhood you are thinking of launching an Airbnb business doesn't have the unique features above, it may be difficult to be profitable if you lease an apartment to do it.
Now that you know how to value a gold mine from the previous post, valuing a base metal mine should be easy because the steps are essentially the same.
What makes valuing a base metal mine – that is, copper, lead, nickel or zinc – more complicated than a gold mine or a silver mine is incorporating co-products and by-products. There are combinations of metals that are found in ore together. For example, common metals found together are: copper-gold or lead-silver-zinc. Often times, there will be one metal that is the primary product and the other is a by-product. Sometimes when both metals derive similar economic value (50/50), they are termed co-products. So, the valuation model becomes more complex with base metals because there are more metals to deal with. (Note that just like the gold mine model provided in the previous post, a free base metal mine model is downloadable here too – just  scroll to the bottom. You will find that in this model, gold/silver/copper/lead/nickel/zinc are all listed. Depending on the mine you are valuing, input 0 for metals that are not found in the technical report. Note also that all the numbers found in this model are hypothetical. That is the end of this particularly long note.)
The set of steps in extracting the necessary information from the technical report for a base metal mine is very similar. I won't repeat them in detail here, so if you haven't already, then I encourage you to read the previous post on how to value a gold mine (i.e. mine start year, reserves & resources, operating costs, capex, etc). Once you've mastered that, all you need to know to value a base metal mine are:
Waste Ore & Strip Ratio
Waste ore applies to a gold mine as well, but where in a gold mine, the operating cash cost is expressed often in gold ounces produced such that you don't need to break out waste ore and mined ore, this is not the case for a copper mine or a lead mine. Waste ore mined is a separate cost and is expressed as a cost per tonne of waste ore. Waste ore is calculated by multiplying mined ore by the strip ratio, as seen in the snapshot of the valuation model below:
Grade – %
The most noticeable difference between a precious metal mine and a base metal mine valuation is that the grade of copper, lead, nickel, and zinc are in %, not g/t. Typically, a grade above 1% for a primary product is considered average. If the primary product has a grade of <0.50%, then it is an expensive mine that can run into many hiccups.
Pounds (lbs)
Where gold is expressed in ounces, base metals are expressed in pounds (lbs). To calculate contained copper from mined ore, you multiply the mined ore (million tonnes) x grade (%) x 2204.62 (tonne-to-pound conversion). For example, 1.5million tonnes of ore mined x 0.64% copper grade x 2204.62 = 21.2 million pounds of copper.
Concentrate Tonnes & Grade
The primary base metal product will have a concentrate grade. This one is tricky to understand but basically, you reverse engineer from recovered pounds of the primary metal (e.g. copper) to tonnage of the concentrate. For example, copper concentrate produced of 0.1 million tonnes is derived by starting with:
17.9 million pounds of copper/ 2204.62 (pound-to-tonne conversion) / 10.0% copper concentrate grade (given in the technical report).
You need to find the concentrate produced because of smelting costs (more on this topic later).
Recovery rate is applied the same here as a gold mine valuation. Payability is treated the same as a recovery rate – multiply the percentage to the recovered metal(s).
Smelting & Refining Costs
One extra step in a base metal mine is calculating the smelting and refining costs – these costs are given in the technical report. Smelting cost is expressed as $ per tonne and you multiple this to the concentrate tonnes calculated just above. Refining cost is calculated by multiplying the payable metals by the refining cost per pound.
Operating Cost & Capex
These items are the same as a gold mine valuation. Note that operating cost items are expressed as per tonne of mined ore here, not as per ounce of gold produced.
Royalty (%) – NSR/NPI
NSR Royalty – I've also included hypothetical royalties in this model. Net Smelter Returns (NSR) royalty is the most common type of royalty on a mine. It is usually not more than 3% and is calculated by multiplying the NSR royalty percentage to the net smelter revenue (revenue minus the smelting & refining cost as defined above).
NPI Royalty – Net Profit Interest (NPI) royalty is less common. It is calculated as NPI royalty percentage multiplied by operating cash flow (revenue – smelting & refining cost – operating cost). It's never a good sign when there is a high NPI like 10% as it puts a huge burden on the profitability of the mine.
Valuation Model
As you can see, valuing a base metal mine is not that much different than valuing a gold mine except for the above differences. You can download the model below. Only input in blue font-colored cells. Start by choosing the primary metal at the top of the model first. This will flow through the rest of the model. And input 0 for metals that don't apply in the mine you are valuing.
**Edited** Hey guys, thanks for visiting my site. If you found this article and the model helpful and would like to see more by every industry, I would be grateful if you could share this on your social media. Thanks very much.
The mining industry is a fascinating space – not only for the fact that almost everything around us comes from mining but also because of the possibility of striking gold with penny stocks that have the potential to turn into a multi-million dollar mine-producing company. But just as much as there is the possibility of blue sky upside, risk is around every bend even after the mining company has started production, which is why it is crucial to know how to value a mine instead of blindly investing in them.
Many investors and economic enthusiasts are obsessed with gold, but it is hard to break into understanding how one would go about valuing a mine because of a lot of technical jargon. But here's something outsiders don't know – every mining company starts out as a cookie cutter of another. For example, how you value a mine is essentially the same, mining executives bounce around companies such that they are all familiar names, and even corporate presentations follow a certain template. Knowing this already is a huge advantage when learning how to value a mining company. In other words, mining is seemingly a mysterious industry, but once you are equipped with the minimal essential knowledge of how to value a mine, you pretty much know 80% of what you need to know.
We are going over everyone's favorite: GOLD. Keep reading and you'll find that it's pretty simple, and once you learn these step-by-step guide, you might just become addicted to valuing more. Let's get started.
(Presumably, you already have a company in mind that you want to value, but if you don't, the best free resource for finding one amongst a sea of mining companies is 24hgold but you have to pay to view more than 3 searches. Another tool that's free is simply googling 'gold mining feasibility study' and limit search results to the last 6 months.)
Here's what you need:
Technical Report
Valuation Model – (Scroll to the bottom to download gold mine valuation model for free.)
Company Website
---
1. Technical Report
Mine Status
Every mine that goes into production has a technical report written by geologists and engineers. This report is called 'NI 43-101'. They can be found on the company's website or in the SEDAR database for a Canadian mining company or on SEC EDGAR for a US mining company. The first page of the technical report will tell you the type of report, which basically means the stage of the mine. These stages are:
PEA (Preliminary Economic Assessment)
Pre-Feasibility Study
Feasibility Study
A PEA is a very early stage report that defines the resources but that is pretty much it. The probability of a mine with a PEA eventually going into production is very low (i.e. just because a mine has a PEA, it does not mean it's sure to become a mine). The next progression after a PEA is a pre-feasibility study, which has a 10%-30% chance of the mine going into production down the road. It defines the resources with more confidence and discusses the possible economics of the mine (i.e. how much capital costs might go into developing the mine, which is determined by the annual production capacity that makes sense for this particular mine, etc.). The next step after a pre-feasibility study is a feasibility study, which is the most advanced stage of the mine before construction and development begins. It is a more detailed report than the pre-feasibility study with a higher certainty of its assumptions being met. Aside from the majority of the report being a technical assessment, it is essentially a detailed business plan.
By the way, each stage takes years. After a PEA is issued, most likely it will take 2-3 years before a pre-feasibility study and then another 1.5-2 years for a feasibility study. Then anywhere from 1year-never for the permitting process. And finally once you have all the ducks in a row, another 2-3 years for construction and development. In other words, it takes anywhere from 6-10 years before a mine starts producing from the time a PEA is issued. (Note that there is a variance to this time frame depending on many factors. Most notably, a smaller mine in an already mining prolific town where it is easy to get permitting may shave off a couple of years or a big, complicated mine in a politically unstable environment or where there are indigenous protests, may take north of 10 years.)
So, let's say we settle on a mine that has a feasibility study. As an example, we'll look at Avnel Gold and its Kalana Gold Project.
What to Extract from a Technical Report
As I said before, there is a lot of technical jargon to understand in mining. And a technical report can be hundreds of pages long. But from my many years of valuing mining companies, you just need to extract the necessary info to value a mine. (Of course, the more of a technical expert you are, the more you can understand the viability of the mine, but most of us aren't going back to school to get a geology or engineering degree, I don't think.) So, what to extract from a technical report:
Mine Start Year
A feasibility is usually optimistic about the permitting process, the length of time for construction and development phase and the pre-production phase. So, I would add 1-2 years to the mine start year that the feasibility study lays out. If the company has already made significant plans to develop the mine after the feasibility study has been issued, you can often find in their annual or quarterly reports or press releases when they expect production to start. *Note that before full capacity production, the company tests the processing and optimizes the plant. This phase is pre-production and the very first gold produced is called a 'gold pour'. We are looking for the year in which 'commercial production' starts.
In the Kalana Mine feasibility study, the anticipated commercial production start year is July 2018.
It is highly unlikely for a mine to start producing on time. So, I am going to tack on 1.5 years and say that full capacity commercial production starts in January 2020.
2. Reserves & Resources
By the time a feasibility study is written on a mine, the resources are reported with a high degree of certainty. These are called Proven & Probable Reserves. Each category of reserves or resources tells you the degree of certainty that the stated minerals are indeed there and mineable. If you're trying to value a mine that only has a PEA, you may only see Inferred Resources. This is kind of a stick your finger in the air and guess how much mineral might be contained in the ore. Well, maybe a little more certain than that. The general rule-of-thumb in converting each category of stated reserves & resources into mineable minerals is:

What this means is, looking at Avnel Gold's Kalana Mine example, its feasibility study has proven & probable reserves of 1.96 million ounces (or 'oz'):

In my valuation model, I'm going to cap the number of ounces produced by the mine at 90% of 1.96 million ounces or 90% of 21.7 million tonnes which is 19.5Mt. Note the grade of 2.8g/t of gold ('Au') in the table. We're going to use this number below.
Note that 'Tonnes' is the ore (or the actual raw rock) that is mined and processed, 'Grade' is how much gold is contained in the ore, and the 'Ounces' is the resulting number of gold in ounces. The formula is very simple. It helps us figure out the production rate (discussed in the next section):
*Note: tonnes, not tons. And Troy ounces, not imperial ounces.
3. Annual Production Run Rate
Under the Economic Analysis section, the feasibility study will lay out the plant throughput. The plant throughput is how much ore (the raw rock) is mined and processed to extract the gold. This is where the 'grade' calculation from above is used. In the Kalana Mine feasibility study, the plant throughput rate is 1.5 million tonnes per annum:
Putting together the reserves estimate from above and the annual throughput rate, we model in our valuation 1.5Mtpa per year until we reach a cap of 19.5Mt. That is for 13 years (19.5 / 1.5).
And to convert the 1.5Mt of ore processed each year, using the formula stated above, we multiply it by the grade of 2.8g/t from the reserves table above. That will give us 4.2 million grams. Gold is expressed in troy ounces, so 4.2 million grams is then divided by 31.1035 to result in 135k ounces.
Plopping this into our valuation model with the start year of 2020, this is what it looks like so far:
4. Gold Recovery
Once gold is extracted through the plant at the gold grade, the gold gets further processed to become refined. The Kalana Mine feasibility study states that the Life of Mine (LOM) gold recovery rate is 92.7%, which is extremely optimistic. But for the purpose of this valuation, we will use this number (and because we can always change this assumption later). We simply multiply this to the gold produced to get the refined, recovered gold of 125.2k ounces per year.

5. Operating Costs
The main categories of operating costs are (1) mining, (2) processing, and (3) G&A.
(1) Mining cost consists of all costs associated with excavating the ore (e.g. mine equipment operator cost, fuel cost, maintenance cost, explosives cost, etc.). Expressed as US$ per ounce of gold produced.
(2) Processing cost includes costs associated with the plant, where the ore is processed into gold (e.g. equipment maintenance, plant labor including plant engineers, water treatment, lease, power and utilities, etc.). Expressed as US$ per tonne processed.
(3) G&A cost is comprised of salaries in corporate office, HR, security, environmental costs, land patent tax, etc. Expressed as US$ per ounce of gold produced.
The feasibility study details out the operating costs and also group them which is convenient for the valuation model.
Important to note is that in mining, operating costs are stated as cost per ounce of gold produced. This is for 2 primary reasons: (1) to be able to compare among other gold companies in the industry, and (2) since the gold price is an important economic indicator for the economy in general and for mining specifically, one can easily assess the viability of a mine by netting the gold price by the operating cost, which are both stated in per ounce.
In the Kalana feasibility study, these costs are estimated to be:
– Mining cost: US$380.3/oz
– Processing cost*: $17.68/tonne
– G&A cost: US$74/oz
*Watch out for processing cost expressed as tonne thus calculation is a bit different than the other. See valuation model.
Sometimes, mines have a royalty obligation, which is common when a land owner sells the property to a mining company. The most common type of royalty is Net Smelter Royalty ('NSR'), which is a percentage of recovered gold. At this mine, there is a 3.0% NSR royalty. So we have to account for that.
The government could also collect a royalty – in this case, there is a 0.6% stamp duty on gold sales.
6. Capital Costs (aka Capex)
Are you still with me? We don't have much to go. Stay with me. It'll be so worth it. You'll know how to value any gold mine!
Capital costs are categorized into (1) initial capex and (2) sustaining capex. They are what they sound like. Initial capex consists of construction and development of the mine. All the costs before the plant is producing gold. Sustaining capex is cost associated with maintaining or upgrading all the equipment and assets throughout the life of the mine.
Kalana Mine's total initial capex (aka pre-production capital cost) is $196.3m.
The total sustaining capex is $123m. Of this total, $13.9m is mine closure cost.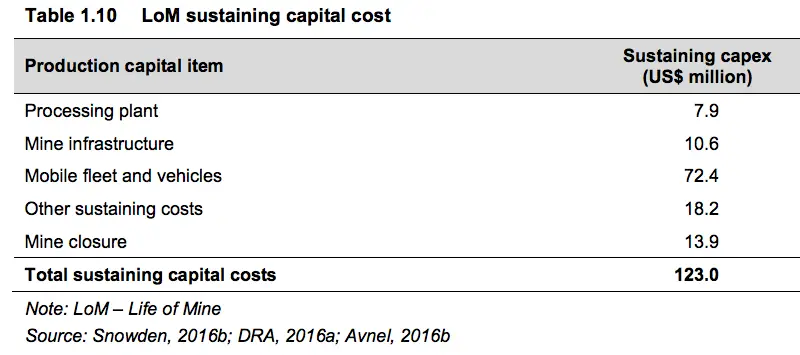 Also provided in the feasibility is a schedule of how the costs are allocated throughout the mine period. However, many companies spread out the initial capex for the sake of the economic valuation. For example, mining fleets are expected to be purchased close to the end of the mine period, which makes no sense but helps the mine be valued higher. So, a rule of thumb is to use the total life-of-mine capex estimates and allocate accordingly:
– Initial capex: 35% in Year -2 (i.e. 2 years before production), 50% in Year -1, and 15% in Year 1. So, if the mine start year assumption is 2020, $196.3m is allocated as such: $68.7m in 2018, $98.2m in 2019, and $29.4m in 2020.
– Sustaining capex: $13.9m mine closure cost will be assumed in the last year, so backing this out, the remaining $109.1m sustaining capex will be allocated among the 13 year mine period, which is $8.4m per year.
This way of calculating is obviously a much simplified version. However, when the discounted cash flow goes out 20+ years, the sustaining capex smooths out to be similar and as for initial capex, having the cost be borne upfront is a more conservative approach so any upside beyond the valuation from this approach is a nice present.
You did it. We have finally reached the end of all the info you need from the technical report to value a gold mine. Out of the ~350 page report, you just need the above 6 data. Not so bad, right?
2. Valuation Model
As you read through the above, we've already been going through how to take the info that you extract from the report and put them into the valuation model. So, you should already be somewhat familiar with the flow of the valuation model so far.
A typical microcap mining company (~$100m) has one mine that they are working on (either to bring it to production or they are producing it. But we're not interested in the already-producing ones because there's less upside). In other words, they are a single-asset company. As such, the value of the mine minus any liabilities is equal to the value of the company, otherwise known as Net Asset Value ('NAV').
Because a mine's economics is a set of cash flows in and out during a defined period of time, the best valuation approach to use is the Discounted Cash Flow ('DCF'), which the valuation model in this example uses. Adding up all of the discounted cash flows, we will derive the Net Present Value ('NPV').
VALUATION DATE
First, at the top of the model, enter the valuation date that you want to calculate the NPV on. It could be a future date if you want to know what the valuation will be at a future date.
If you are using the model in 2018 or 2019, then you can change the years by changing where '2017' currently is.
If you've noticed by now, all of the LIGHT BLUE font means you can change the assumptions and input it directly. Black font cells are formulas so if you enter a value, it'll mess up the whole model. Only input in the blue font cells.
PRODUCTION
We've gone through the inputs and the calculation of gold production above, so we'll skip this part. One important note is that in a DCF model for a mining company, there is no Terminal Value that catches the cash flows of an infinite period of time beyond a defined time period (for example, 5 years of defined time period and a terminal value for infinite period). The reason is that each mine has a maximum number of contained gold, so it won't go forever.
GOLD PRICE
If you have access to professional databases like Capital IQ or Bloomberg, then you can look up analyst consensus of gold price forecast, but if you don't, there are free sites that blog about gold price forecasts. The best place to pull analyst consensus is trustablegold.com. I approach valuations on the conservative side, so I've assumed a gold price of $1,300 in the mine start year of 2020 then decreasing to $1,100 until the end of the mine life.
REVENUE AND COSTS
Revenue is simply the recovered gold multiplied by the gold price.
We've covered the costs above, both operating costs and capex, so I won't repeat it here.
The corporate tax rate is different for each mine depending on the country the mine is located in. For this mine, 30% was used. You can quickly look up the corporate tax rate like on KPMG's table of country tax rates. (Note that there would be allowable tax deductions but these are not incorporated in the model.)
DISCOUNT FACTOR
The higher the risk the mine has in meeting the forecasts, the higher the discount rate. The industry standard is typically in the range of 8% – 12%, with the median being 9%. An example of a 12% discount rate would be for a mine that has political risk, mine development risk, production risk such as uncertainty that the mining method they anticipate will work or if the forecasts in the feasibility study are too ambitious and therefore meeting the forecast is unlikely.
Here, we've settled on the industry median of 9%.
NET PRESENT VALUE
We've now arrived at the valuation of the mine of $147.4 million. That wasn't too bad, was it?
Finally, look at the company's latest balance sheet and add cash and subtract debt to arrive at what the intrinsic value of the market cap is and compare it to the current stock price.
3. Company Website
Now that you know how to value a mine, the next step, which is just as important, is to assess the company qualitatively. This means reading the bios of the Management team and the Board of Directors to see if they have experience in successfully building a mine and using discipline in terms of costs. You can also skim through their press releases to see if they had run into any hiccups in the past related to the mine or any old assets. Or maybe they keep refinancing debt without being able to pay it down. Maybe their accounts payable is growing. Anything fishy or off that catches your eye. Having a keen eye on risk analysis is key.
Interested in valuing copper or lead or nickel or zinc? How to Value a Mining Company, Part II: Base Metals, is posted. Download the base metal valuation model there!
Get on the mailing list for future valuation posts in order to download the valuation model for free:
**Edited** Hey guys, thanks for reading this. I wrote this post and have made the valuation model downloadable for everyone for free. All I ask is that you subscribe and share this site for more industry-specific valuation guides and financial models to download. Thanks very much!
Inventure Foods (NASDAQ:SNAK)
Inventure Foods is not a name you'd recognize at Costco while picking up some frozen berries or at Safeway getting some potato chips for game night. But their portfolio contains brands that you'd probably recognize: Boulder Canyon potato chips, Jamba frozen fruits, TGI Friday's snacks, Burger King snack packs. They are not the most recognizable brands but they certainly command shelf space at big grocery chains and restaurants.
The Company (then operating as Poore Brothers) became public in 1996, and began reaching astronomical success gradually starting 2008. Without so much as a blink, the Company weathered the financial crisis in 2008 and started gaining momentum at the start of 2009, continuing its upward trajectory until the end of 2014.
What contributed to the Company's success from 2008 – 2014?
And what contributed to the Company's downturn in 2015 before picking itself back up at the start of 2016?
First, what you should know about the Company.
Guilt-less Snacks 
Inventure Foods manufactures and markets both "healthy" and "indulgent" snacks under its own brands or licensed brands:
Over the last two decades, the Company has built national retail distribution channels across leading grocery, natural food store, super stores, convenience and foodservice channels:
Aligned With Health Food Trend (e.g. The Kale Craze)
Inventure Foods' portfolio of branded products includes health foods, which they have been pushing to the forefront as the food industry trended toward healthy foods.
Since the turn of the millennium, the food industry has seen a higher growth rate of health and wellness foods than non-health and wellness foods (i.e. in the graph below, green line is higher than the grey line every year):
All it takes is Sales Growth and Margin Stability
From 2008 to the end of 2014, Inventure Foods' stock price experienced a ~600% growth (stock chart below). During this period, the Company reported an overall growth in sales (blue bar graph) and stable profitability margins (gross profit indicated by green line; EBITDA margin by grey line).
Just as the Company was gaining unstoppable momentum, at the turn of 2015, the market proved that a growth in sales doesn't mean much if the bottom line is not profitable. In Q1 2015, the Company's cost of goods sold spiked, hurting both the gross profit margin and eventually the bottom line. As a result, Inventure Foods' stock dipped even though the Company hit record sales. The stock continued to decline throughout 2015 as the margins never recovered to past levels.
2 questions emerge from this observation:
How did Inventure Foods increase sales between 2008 – 2014?
Why did the profitability margin fall to negative in Q1 2015? And could they have prevented it?
Important Facts and Major Events… and Oh No's
To answer the question of what they did right between 2008 – 2014 to command such a notable increase in their valuation during this period as well as what went wrong in 2015, below outlines key events and strategies implemented by Management:
2007 –
Acquisition of Radar Farms in 2007 was immediately accretive to sales and earnings growth
Launched Burger King branded snacks in 2007
2008 –
New customers have been targeted domestically, in Canada and overseas where the license has been expanded to include the U.K
Boulder Canyon Natural snack products grew 27% while snack division sales decreased slightly.
However, snack division was priced higher which improved profitability.
Focus on operational execution – plant cost per pound produced was down.
Focus also on paying down debt.
One of the plants where their TGI Friday's branded snack is produced is underutilized due to the snack's decrease in sales – as a result, looking for private-label and co-packing opportunities. Challenging raw materials cost increase
2009 –
Boulder Canyon Natural products leading sales for the Company proved to the Company to implement new strategy for products: to focus on "better-for-you" products going forward
Capital investment in the facility that produces Boulder Canyon to increase capacity and efficiency
Proved the product's success in 2008 and then received BK's license expansion: Expands the popular Burger King snack products internationally including Latin America and Asia
Grew the private label products (e.g. rice and bean chips for Trader Joe's) – strong demand for premium private label products – increased FY2009 revenue by 42%
Since the CEO change, many presentations at conferences marketing the company to investors
2010 –
Boulder Canyon Natural products continuing to contribute to significant sales growth as they expand distribution into more stores
SG&A increased due to added labor and increased marketing for Boulder Canyon and Jamba All Natural Smoothies – the two of their leading "better-for-you" products
Stabilized profits for their losing business, TGI Fridays by filling up capacity of the facility via adding private label and co-packing
2011 – 2012 –
Introduced new lines of health-conscious snacks
With the troubling TGI Friday snacks, they were able to turn it into a profitable product by improving efficiency in its plant and through successful execution of several large retail programs, growing the product sales 34% in FY2011
Continued strategy of adding new lines of products in the natural and health categories and launching them at opportune times of the year (e.g. blend-at-home smoothie packs launched at the start of peak summer)
Sold off lower margin business
Key investments in facilities to improve capacity and efficiency
2013 – 2014 –
Started reporting as two reportable segments: Snack and Frozen Foods. Licensing Jamba brand to roll out frozen smoothie snack packs has been overall one of the most successful product implementations. Jumped at the right opportunity at the start of the smoothie fad, partnering with a brand name that is well-known for smoothies
2015 –
Just as the Company was receiving accolades as best small company, added to Russell micro cap index, etc, Company runs into a major blimp. And here it is:

Jan 18: Voluntary recall of Radar Farms smoothie blends due to possible health risk caused by a potential contamination of "Listeria monocytogenes, an organism which can cause serious and sometimes fatal infections in young children, frail or elderly people, and others with weakened immune systems. These recalled blends themselves did not test positive for Listeria monocytogenes. However, Listeria monocytogenes was detected on spinach and/or kale ingredients on another lot which is currently placed on hold. These spinach and kale ingredients used to manufacture the recalled blends were supplied by the same outside party.
Just when they thought the bad streak was over:

April 23: Their popular Jamba smoothie frozen vegetable and smoothie kits also had the possible health risk from the same bacteria and hence issued a voluntary recall.
Unfortunately, the health risk was out of their control and could not be mitigated unless they tested every single batch for bacteria, an impossible task.
Key Takeaway
As I dug deeper into Inventure Foods, a pattern of success factors emerged.
They were successful at execution of retail programs

This meant getting into big retailers, marketing to consumers and pricing and margins

Aligned corporate strategy with industry trend

Introduced new products that were "healthy"

Smart partnering with brands that would help promote their strategy

They were smart in partnering with recognizable brands to help them market their healthy products

Innovative and Constant Change to Product Portfolio to Capitalize on Products that Work

They leveraged brands that were popular and introduced aa variety of new flavors and ingredients. One reason they were able to continually introduce new products though was because they had a far reaching retail distribution network, so it wasn't a problem getting their new products in front of customers.
They licensed with famous brands and introduced a new line of products.
Sold off/wrote off products that didn't work

Continuous investment and improvement at plant facilities to add capacity and improve efficiency

Improving efficiency is one thing but their sales/partnership team also went out to find clients that wanted to manufacture their own private-labeled snacks, which was used to cut costs at plants by adding capacity
So far, similarities between Inventure Foods' success and Crown Crafts' (kids' bedding company in my last post) success are striking. The 2 notable similarities are (1) in their respective industries, they both licensed with brands that were popular in their industry at the time; and (2) they constantly used feedback loop to update their portfolio of products. They discontinued products or divisions that were no longer forecasted to have potential growth and they designed, innovated and introduced new products that they found out to have potential in by assessing which existing products were contributing to their growth.
For reference:
Crown Crafts (NASDAQ:CRWS) is the perfect example of how to turn around a company reporting losses every year into a company that not only survived the financial crisis but grew over 1300% in 10 years. The orange and red lines are the S&P small cap index and the Russell microcap index, respectively.
Before we get into the factors that drove the Company to succeed, a little overview of what the Company does.
Company Overview
Crown Crafts designs, licenses, manufactures and markets infant and toddler products – mostly in bedding, blankets and bibs and a smaller percentage of sales in plastic-related products.
Crown Crafts has an impressive distribution network of retailers:
Industry
Baby care market has increased overall since 2011.
However, it is a very competitive market. Crown Crafts has had to be strategic and disciplined. And that's exactly what they've done.
How Did They Grow 1300%? Key Success Factors:  
Upon a detailed analysis of Crown Crafts' path reveals key success factors that contributed to the Company's 1300% growth in 10 years. A more detailed analysis is below – with notes that point out significant events that caused the stock to reflect the value of the Company.
A lot happened in 2001. The Company IPO'ed, a new CEO was in charge, and they refinanced the debt from $106 million to $47 million. Management team vowed to turn the Company around. They started by selling off their unprofitable business in adult bedding products. This hurt their top line sales, but their focus was to cut costs and protect their profitability.
The next 5 years proved to be a difficult time, but throughout it all, the Management team continued to pay down debt every year and put in place a continuous feedback loop to determine which product divisions were working and which product divisions were not, i.e. they were ready to take appropriate risk measures in order to keep reinventing the Company.
2006 was a pivotal year. Crown Crafts refinanced their debt again, reducing the debt outstanding by more than 70% and just as importantly, extinguishing exercisable warrants that were attached to the debt, reducing the fully diluted shares by more than 70%. Overnight, the Company's shareholders rewarded the Crown Crafts by more than 200% and the Company started gaining momentum. Crown Crafts' CEO, Chestnut, also had a strategy to grow the company – to make meaningful acquisitions.
Since 2006, the Company continued to be profitable and it is evident that the Management team stayed disciplined. (Read through the detailed analysis of success key success factors below.)
To sum up the analysis, the key success factors that contributed to the Company's success in the last 10 years (and continue to do so) are:
Reducing debt first and foremost
Share repurchase program
Meaningful acquisitions
Actively enter licensing agreements and partnerships to market other brands that are successful or distribute their brands to others, i.e. active business development
Disposing of divisions/assets that are not profitable

i.e. paying special attention to what works and what doesn't and not being afraid to cut off cancerous products

Protecting profitability and controlling costs – saying no to retailers who are going to suck their margin
Cash dividends but only after the company has paid down debt and can
Detailed Company Analysis of Success Factors (and Failures)
Letter on the stock chart indicates key events discussed below in detail.
July  2001
Refinanced debt from $106 million which was refinanced in July 2001 to $47 million. Debt to equity was reduced from 1.9x to a negative debt to equity of -2.9x due to huge losses, deeming shareholders' equity to be worthless. No wonder the stock had been crawling before major changes to turn around the company.
Along with E. Randall Chestnut named new CEO; had been VP Corporate for the Company since 1995.
Also sold off the adult bedding division to the former CEO. Key efforts to turn around the company: New CEO, new debt structure, and new product segment mix.
December 2001
A. July 2006
Underwent a MAJOR refinancing reducing debt by more than 70% AND extinguishing with it fully diluted shares by more than 70% (i.e. exercisable warrants that came with the debt).
Since the CEO change in 2001 along with adult bedding division being sold off and refinancing of the debt, the Company's financials started seeing improvements, including:

Debt being paid off every year. In 2002, debt to equity was 2.9x and by 2006, debt to equity was reduced to 0.8x (less than 1.0x for the first time!)
While debt is being paid off, holding off on cash dividends (As much as shareholders want to get a cash dividend Christmas bonus, the Company was stretching its dollars to the detriment of the Company's profitability in the past)
Positive net income (after having sold off the adult bedding division in 2001 which was contributing to its losses)
Also in 2003, Company announced a shift in product sales mix. Their Pillow Buddies business was decreasing due to increased competition pushing royalty licenses of character licenses up higher. Decided also to take their Disney Consumer Products direct to retail starting early 2004. Considering Toddler Bedding (bedding with Disney characters) is in now (2016 FY) the second highest grossing segment of product sales, this was a good decision (i.e. toddlers + Disney characters).
CEO announced that Company was going to grow via meaningful acquisitions going forward
B. November 2006
Reaching into Latin American market – entered licensing agreement to develop, produce, market and sell infant home furnishings and accessories under the Baby Mink brand, which has 80% of market share in Mexico.
C. December 2006
Acquired all of the assets of Kimberly Grant, Inc., a designer of various infant and toddler products. Under the agreement, the founding designer will continue to develop designs.
D. February 2007
Announced closure of their subsidiary Churchill Weavers (which sold beddings), which has been unprofitable. The Company tried to sell Churchill Weavers but could not reach an agreement, so they decided to liquidate.
On Feb 14, 2007, announced Q3 results, which reported lower sales by $1.1 million YoY. The sales shortfall came from pricing pressures by two retailers. Company decided not to participate in those sales because they wanted to protect profitability and control costs.
E. July 2008 – November 2008
F. June 2009
Reported earnings that doubled YoY
From 2007-2009 through the global financial crisis, the Company made key meaningful acquisitions (Spring Global – infant and toddler line in Nov 2007) and entered into licensing agreements to introduce new popular branded infant/toddler products (licensed from Crayola – toddler beddings in Mar 2008, licensed Kimberly Grant toR. Gibson to use the brand to produce complementary toddler products like books and photo albums )
increased sales while keeping costs low. The Company was profitable except for non-cash impairment charges due to lower value of carrying book value like goodwill
Net cash on the books increased; lowered A/R and inventory
G. July 2009 – December 2009
H. February 2010
Announces cash dividends to start being paid in May 2010
I. May 2010 – December 2010
May 2010
Began distributing cash dividends again
Debt is almost extinguished
July 2010
Second letter to shareholders in the last year to dissuade shareholders to listen to Wynnefield Partners Small Cap Fund, an activist fund, that had on several occasions induced proxy battle
Also in the same month introduce bedding for pets – a new product category
July 2010 – December 2010
Focuses on expanding international sales – adds an Executive to lead the international sales efforts
Partners with ProjectNursery.com, a popular mommy blog run by moms, to increase social marketing by marketing directly with and to moms
Presents at multiple investor conferences
J. July/August 2011
Reached an agreement with the activist fund, Wynnefield, to replace one of their directors with one they nominated with
Reported lower profitability despite increased sales for the quarter YoY. Also revealed lack of cash on their balance sheet compared YoY.
Debt free
Company's value took a hit in 2011 as their gross profit remained in question due to rising costs for raw materials, labor, transportation, and currency translation. Along with decreased profitability and a losing "proxy", throughout the year, there weren't positive impacts that fueled the momentum they experience in 2010:
Company continued to pay quarterly cash dividends and continued to marketing efforts through presentations at multiple investor conferences throughout the year.
Introduced a bedding liner product for infants
However, no new meaningful acquisitions or licensing agreements made
K. February 2012
Reported growth in sales and profitability finally
L. March 2012
Announced 100% increase in the quarterly cash dividends to start in July 2012, representing an annualized yield of 7.4%
2012 – 2013
Entered into licensing agreements and distribution agreements
M. June 2013
Reported fiscal year end – although sales dropped slightly, income is higher – proving that their cost cutting and profitability protection strategy is working and that Management is disciplined.
Announced reduction of board members from 7 to 5 directors to reduce board-related expenses
N. June/July 2014
Yet again another increase in their gross profit and income. This time they also increased sales as well in their fiscal year end report.
In July, made another acquisition for $1.35m– Kidsline and CoCaLo brand names – only the rights to use the brand as Kidsline undergoes chapter 11 bankruptcy proceedings
O. June 2015
Reported another increase in income and sales. Profitability margin decreased 300bps
P. February 2016
Reported another increase in income in absolute value and profitability margin despite decrease in sales. First time reporting over 30% in gross profit.
Q. November 2016
Reported a decline in sales and profitability.