It turns out a PR firm isn't always beneficial to your business. The biggest lesson is that you need to craft your own story about your business. You know more than anyone else. It's also very expensive, so if you can learn to do some of it on your own, like hiring a freelance writer to help you write a story and then you pitch it to journalists, then that will save you a heck of a lot of money. Another disadvantage is that they do their job of booking media coverage, but that doesn't necessarily mean you'll get more customer as a result.
Having said that, there are certain instances when hiring a PR firm is beneficial. Read on to help you decide:
When a PR firm is beneficial for your business
How to hire a PR firm if you decide to do so
When not to hire a PR firm if you can help it
---
1. How a PR firm can help your business
2. How to hire a PR firm
3. But wait, why you should NOT hire a PR firm
EXPENSIVE : PR agencies charging retainers of $3,000 to $10,000 per month. But here's the deal: As a former journalist myself, with more than two decades of experience in TV, radio, print and web, I can assure you that pitching your story is not rocket science. Journalists and producers need fresh, interesting and topical content. All you have to do is learn to package your brand's message in a way that's mediagenic, then get organized about following up. Because the benefits of doing it yourself extend past the cash savings. (Entrepreneur article)
MEDIA COVERAGE DOES NOT TRANSLATE TO SALES: Your PR person is not your Director of Sales. This is the number one reason most agencies get fired: clients are unhappy that the placements didn't generate  a massive uptick in sales. The role of a publicist is to formulate stories that get the media's attention and result in a placement. If a publicist is getting you consistent placements, then they are doing what you hired them to do. The problem is when clients start complaining, "I know you got me a three-page spread, but it didn't translate into new business." That is the equivalent of saying to your dentist, "I know you filled my cavity, but you didn't fix the pain in my jaw. The pain in your jaw should be seen by a doctor, not your dentist, and it's not the dentist's responsibility. The same goes for sales and PR. (Observer article)
YOU CAN DO IT YOURSELF: Michael Seibel (founder of Justin.tv) says he wasted $150,000 (£93,000) on PR firms in the early days of Justin.tv. "People think they need to hire someone to do their PR, but 99 percent of PR in the early stages is stuff you can do yourself. It's just like business development — there's the warm-up intro, followup to build relationships, then add something of value." Make sure you have a story to bring journalists — a significant hire, or something else newsworthy, rather than just expecting a profile piece. (Wired article)

PR FIRMS OVER-PROMISE EVERYTIME:

PR firms seem to take the inverse approach and promise things they can't guarantee, like media coverage on national shows or in major daily papers. They also start with grandiose plans but produce a press release and a million excuses. I literally can't count the number of times clients have asked me to quickly create something their PR firm failed to deliver. They end up paying twice to get the job done. (Roundpegg article)
PR FIRMS DON'T HAVE ALIGNED LONG-TERM GOALS: PR firms won't think long-term. A deadline a month away is not on the radar in PR because news media moves at lighting speed and staff is focused on the "right now." Good luck getting your PR firm to attend to a project three weeks out – they'll likely get to it with 24 hours to go. And at 2:00 AM. Short term results don't matter as much as long term results. A PR firm will hand you a report showing the 'pickup' from your press release blast. It's a listing of all the websites that supposedly ran your press release verbatim last week. Doesn't mean anybody read it. Doesn't mean that it exerted any influence. Influence is built over time, with a strategic approach. You need your PR agency to leverage relationships with influencers, to connect you with industry analysts who will quote you in their next report, and to coach you into thought leadership. The big stuff like that gets the bigger results. (Roundpegg article / Redcup article)
---
I hope the reading the above has helped you determine whether hiring a PR firm is right for you at this stage of your business. If you decide that it's not the right time for you now, there are 40+ other ways to increase customers.
If you're a PR specialist, I would love to hear from you!
Hiring a motivated, driven, likeable, and experienced salesperson who is the right fit is not an easy task. Follow the steps below to find the right salesperson for your business.
1. WHERE to look for a salesperson
"Forget job boards. When recruiting outside of your personal network, start with businesses in your market who are a couple years ahead of you. Find one with an established and successful sales team and reach out to one of their junior reps." http://blog.close.io/recruit-first-sales-rep-for-startup
2. WHAT to look for in a salesperson
"Instead of looking for sales experience, look for sales talent. Here are some of the key characteristics of successful startup hustlers:

A compassionate and competitive nature
Excellent communication skills
A high tolerance for rejection
Charisma and charm
Shamelessness
The best place to find people with those traits? Your immediate network."
http://blog.close.io/recruit-first-sales-rep-for-startup
3. HOW to turn the salesperson you hired into a superstar
"There is a common misconception that the output of the hiring process is the identification of a great salesperson. It's not. The output is a salesperson with the potential to be great in a specific sales role for the company. That potential is only recognized when a bridge program is put in place that connects the salesperson's knowledge and skills with proficiency in the role.
Most executives begin the sales onboarding development project by inviting a bunch of colleagues to a meeting where the discussion focuses on one question: "What are we going to include in the program?" In other words, they start the initiative by considering curriculum. The two issues with that approach are: 1) Curriculum can be added for an eternity; and 2)There's no way to gauge if the program serves its purpose.
The best place to start is at the finish line – by identifying expectations. Imagine you had a salesperson who is described as having successfully completed the onboarding program. What are those expectations?
What is she expected to KNOW (i.e., product knowledge)?
What should she be able to DO (i.e., conduct a sales call)?
What should she be able to USE (i.e., CRM)?"
https://www.jillkonrath.com/sales-blog/bid/157610/How-to-Hire-Onboard-Salespeople-The-Right-Way
4. HOW much to pay them
"More than just about any other position, salespeople are incredibly talented when it comes to figuring out how to maximize their overall compensation. That's a good thing…as long as their compensation program drives the behaviors and results which are good for your business. Compensation, especially variable compensation, should focus a salesperson's efforts on selling business that represents a high return to an employer. I remember inheriting a sales team that was compensated for total dollars sold without considering the relative profitability of what was sold. $1,000 of sales of 20% gross margin items was compensated the same as $1,000 of sales of 60% gross margin items. Thus a million dollar salesperson who delivered $600,000 in gross margin was paid the same as the a million dollar salesperson bringing in just $200,000 in gross margin. Not good! Key takeaway: review the comp plan to make certain it drives sales behaviors that produce good results for your company." https://www.boyermanagement.com/sales/hiring-right-salesperson-part-1
Most companies compensate between 60% commission / 40% salary and 80% commission / 20% salary https://www.entrepreneur.com/article/276272
5. EXPECTATION from them and from you
"Just hiring someone and leaving them to it is a recipe for disaster. Unless you find someone who lives for selling then you are going to have to monitor his or her every move. There are 101 things to do that are easier than selling, such as checking email, planning the next sale, cleaning up the sales database, writing letters, designing promotional literature – the list goes on. Create a reporting structure (use customer relationship management (CRM) software) that allows you to see how many calls they have made weekly and what their closing rate is. Meet with them at least once a week and review their progress." https://www.linkedin.com/pulse/20140409185806-14186304-the-10-things-you-should-know-before-hiring-a-salesperson/
Searching databases for new sales leads is better suited for business-to-business (B2B). The benefit of searching a database to identify and pursue potential customers is that you're not putting word out there about your company and just waiting. You know exactly who you're going after and who you have to talk to in order to win accounts, even if cold calling sucks.
But at least cold calling gives you the advantage of building rapport with your potential customer, which opens up the pathway for a future deal or you learn what similar customers you're targeting are truly looking for which you can use to tweak your sales pitch and offerings to other potential customers.
Since cold calling potential customers is a numbers game and therefore is a long and arduous process, the one thing you don't want to waste time on is going through pages and pages of google search results to look for potential customers; not to mention, the hard part is knowing the keywords to search on google in the first place. This is when leveraging a database can save you time and more importantly, help you find customers that have more likelihood of saying yes to your sales pitch.
What you need to know:
Which database should you go with and how much does it cost?
How do you use the database to identify your potential customers?
You have a list of contacts – now what? How do you cold call and convert leads into customers?
Let's explore each question.
---
1. Which database is right for you and how much does it cost?
Make sure that the database you subscribe to specializes in your industry. I talked to a few database customer representatives while assessing which database suited my line of work, and unfortunately, what they advertise is not 100% accurate.
Look at the cost for each database listed below and choose the one that fits your budget.
Next, call or live chat the database and ask which industries they specialize in. Describe the industry and type of customer you're looking for and find out how many leads they have in their database that match that profile.
Below is a list of all the reputable and sizeable databases to consider for your business and how much each costs:
Data.com

Boasts 40 million contacts across 10 countries
$1,800/year per user
Specializes in "all" industries

DiscoverOrg.com

Focus on IT sector
$20,000 per year + additional user license for $1,500
In depth information about the target leads
Acquired another database, Rainking, so increasing data size
Has 250+ "researches" that call and confirm and update the contact details in their database every 60 days

Callboxinc.com

Clearly lays out the industries they specialize in, which are: IT, Software, Advertising, Merchant Services, Commercial Cleaning, Education and Training, Research and Consulting, Hospitality, Logistics, Healthcare, Financial Services, Manufacturing & Distribution
Provides additional software add-ons to convert leads into customers and to maintain relationships with customers
~$15,000 for 3 months

Netline.com

40 million leads across 300 sectors
Starting at $9/lead

Capitaliq.com

Mostly public company data, limited private company data
Screening allows you to search for a variety of mix and match criteria
Used mainly by Finance professionals but is not limited to Finance folks
~$24,000 + ~$5,000/additional user

Hoovers.com

Backed by the largest commercial database, Dun & Bradstreet, has over 100 million contacts in 1,000+ industries
Subscription includes access to private company information
~1.20/lead

Salesripe.com

20 million business contacts in "just about every industry"
Markets themselves as the affordable alternative to Hoovers
Pricing ranges from $49/month for 200 – $129/month for 2500 (or enterprise level), which is $0.25 – $0.05/lead, respectively

Globaldatabase.com

Global contacts in various industries
[Waiting for pricing info]

Salesgenie.com 

Sourced from US & Canada yellowpages and other repositories (doesn't seem to have contact person info; just businesses)
Starting at $99/month

Bookyourdata.com

Specializes in email list (not phone numbers)
Ranges from $0.25/lead to $0.05/lead based on package size or you can get the total list by industry – pricing varies depending on size of data by industry
Boasts "unmatched accuracy" of emails

Clearbit.com

Markets themselves as the affordable alternative to Data.com
Starting at $999/month

Linkedin Sales Navigator
Lead411.com

$100/month/user for 100 contacts

 Zoominfo.com

91 million contacts worldwide
~$2,000 for 1,000 contacts; i.e. $2/lead (which it sounds like you can negotiate down the price of)

Insideview.com

32 million contacts worldwide
$99/month/user
2. How to use the database to turn leads into customers
The first thing to do after you sign up for a database is to look on the website for a guided tour/video of how to use it. If you can't locate it, call their customer representative and ask to walk you through how to use it.
That's the easy part.
You don't want to spend all your time prospecting leads. You should know exactly the profile of your target customers. Your customer profile should include the following characteristics:
Industry
Service/Product offering
Size, i.e. average revenue
Geography
Online or offline
How your product or service fits with their needs
Example 1) Steel OEM manufacturing company that revenues $10 million/year on the West Coast of North America that would need specialty paint from my company.
Example 2) A company of realtors that specialize in first time home buyers in downtown San Diego that make a total pooled revenue of $3 million/year that need an online CRM tool that my company offers.
Once you have the customer profile, use this to screen for your leads.
3. How to convert your leads into customers (How to cold call)
Once you have your prospects' contact details, begin cold calling. Remember that it's okay to sound like an idiot. You only get better by trying over and over again. Know that going in you'll have a lot of No's before you hear a Yes, but the ones that separate the successful entrepreneurs from the rest are that they keep trying and don't stop until they see their vision come to life.
So, I've curated the following posts that are punchy and to the point but have substance that can teach you a thing or two about crafting the sales pitch and how to cold call effectively:
https://www.thebalance.com/cold-calling-tips-2947162
https://blog.pipedrive.com/2016/05/cold-calling-scripts/
https://www.inc.com/geoffrey-james/cold-calling-script-make-a-call-that-works.html
https://blog.hubspot.com/sales/cold-call-script
If you need to read more, then by all means, search for them yourself. But I'd suggest at this point, enough reading and preparing, start calling!
---
Summary
Find the database that fits within your budget and one that has a sizeable database of contacts in your industry. Do a free trial.
Profile your customer and identify the prospective leads and their contact details from the database.
Craft the sales pitch and have an online or physical information pack that you can provide them.
Cold call or email. Schedule to meet in person.
Track them and follow up.
Practice, practice, practice.
If your company has an account, better yet, if your company's financials get audited every year, then what you need to gather to prepare for the sale of your business should be easy. If your company has unorganized financials, then it'll be a bit more work, which will be covered in a future post. If your business is profitable but your financial statements are unorganized, this alone will bring down the value of your company, which will cost you in the transaction price. I've provided the spreadsheet you can download to organize your company's financials. Remember that you also need to provide supporting material such as the monthly/quarterly/annual financial statements or management accounts that you prepared each period.
Listed below are key financial statement items that the potential buyer and their broker will ask for:
Last 5 years of P&L (profit & loss, aka income statement)
Last Twelve Months (LTM) P&L or Year-to-Date (YTD) P&L
Last 5 years of B/S (balance sheet)
5 year forecast (including capital expenditure and working capital)
Now I'll get into key traits for each item above that will value your company higher.
Scroll to the bottom to download the spreadsheet that you can use to organize your company's financials.
---
1. Last 5 Years of Profit & Loss Statement
Each company's P&L will look different because of line items that are relevant to one company that are not relevant to another. But the basic items of a P&L (or aka income statement) are:
What you need to show:

Revenue for the last 5 years should show a growth each year (at least 3%)
Breakdown of revenue build-up – group the largest sales accounts and show prices and quantity
Customer list – for B2B businesses, show customer contracts with key accounts
Cost of goods sold % of revenue should be stable each year
Operating expenses and SG&A cost breakdown in a separate schedule – to show that your business doesn't have egregiously high spending
EBITDA margin should be stable each year and growing – to show that the company has been scaling up and efficiency has improved
Interest expense should not be higher than 5% of revenue otherwise it will be a red flag because the company has too much debt
Nonoperating and nonrecurring expenses should not be occurring each year and the reason for them should be reasonable in the context of the business – for example, a new machine had to be replaced or there was a natural disaster that destroyed the plant and had to be repaired
2. LTM or YTD P&L
If your company's financial statements fiscal year is from April 1 – March 31 and the period you're valuing the company is August, then you need to show the last twelve months or the year-to-date P&L. This is to show that you're not selling the company now because you suffered serious losses this past year or had some unknown adverse circumstance affect your business, such as the largest key account leaving you for a competitor. If that is the case for why you're selling, then you should reconsider and try to build the business back up before you sell or accept that you will receive a much lower price for your business than you originally anticipated.
3. Last 5 Years of Balance Sheet
Unlike a P&L, a balance sheet shows numbers in accounts and ledgers at a point in time, not for a period of time. So it may not make sense to show historical 5 years worth of balance sheet, but actually, analyzing historical balance sheet over the last 5 years shows a lot of useful information. A general grouped items on a balance sheet looks like this:
What you need to show:

Over the last 5 years, your business had a healthy float of cash
Accounts receivable has not been increasing every year as it indicates that you're not able to collect the cash from your customers and that signals bad debts that are never paid by your customers
Inventories are not increasing each year and that it's at a stable level
Property, plant & equipment level is stable each year and makes sense for your company with respect to the industry it operates in (for example, if you're a service-based business, then the PP&E should be almost nothing, whereas if you're a heavy-machinery company, then PP&E is expected to be high)
Accounts payable is stable and is not growing or too high as this indicates you owe a lot of money still to your suppliers
Debt is minimal – there is a healthy level of debt that your business can keep on the balance sheet, but lower the better
4. 5 Year Forecast
Now this is the exciting part. This is where you get to show how awesome your business is going to be in the future based on what you've built up to now. And these numbers are the crutch of what the valuation will be based on. But a forecast is only as good as the assumptions, and the assumptions are built off the historical numbers. So, you can't bullsh#% these numbers. The forecast needs to have legitimacy by showing evidence from the historicals, new sales contracts, evidence of improvement in operation efficiency, etc. A forecast model will look like this:
What you need to show:

Revenue build up – why do you believe in year 1-5, the revenue will grow by x%?
Customer list and forecast of sales by customers or groups of customers (note any contracts with customers in place)
Existing customers and targeted customer acquisitions
Projected price increases
Evidence of operating efficiency improvement plans
Sales & marketing plans and budgeted
Cost of goods sold and operating costs should also be broken down and each sub item should be explained why it will be x% of revenue
Any capital expenditures to add to or replace fixed assets like machinery or trucks
Incremental working capital, which is the net change in cash required to put into the business each year
---
Summary
The more supporting evidence you have for your assumptions the better. If your financial statements historically and forecasts are organized, it shows that you know your business inside out and that your business is in good shape. Moreover, you need to show that your top line has been growing because it proves that once taken over by the buyers, the business will continue to generate healthy and growing level of sales. Margins also have to show enough profitability that the buyer can benefit from the profit from the first year. How the buyer improves the efficiency of the business to increase the margins is up to them, but the business needs to have a good foundation to start with.
I'm rambling…
Anyway, in future posts, we'll cover each sub topic in detail. For now, download the excel spreadsheet you see above so you can organize your business's financials.
Any questions from the above? Ask me questions in the comment section below or send me a message. I'd love to hear from you. Thanks for reading up to now and more posts to help you grow your business are on the way.
There are many ways to generate new leads, get more customers, increase customer base, however you want to put it. Some methods will work better for your business than others depending on the customer profile you're targeting and the value that your business provides. For instance, if your company is a local food delivery service on a college campus accessed via an app, then you'd want to employ online advertising on websites and social media groups where local college kids hang out. If your business sells coffins, you might do traditional advertising via direct mail in neighborhoods with an aging population or build relationships with senior homes in your area.
Below is a list of 36 ways you can increase customers, either offline or online. If there are methods missing in the list, please comment below or send me a message and I will add them to the list.
Click on each method below

for practical step-by-step instructions on how you can use the method to get new customers:
$60k in salary + commission (40/60 to 20/80 salary/commission)

Attend conferences and tradeshows

$2k – $5k as an exhibitor per conference
$500 – $1,500 as an attendee per conference

Send direct mail to potential customers

$0.50 – $3 per package; total of ~$5,000 per round of sending direct mail

Print advertising in a newspaper or magazine

$500 for a local newspaper, $20k – $100k for national coverage

Buy/rent a contact list and cold call

Attend business networking meetup groups

Free – $2,000/year membership

Create a customer referral affiliate program

Create an employee referral affiliate program

Give free samples/trials to targeted customers

Host and teach in-person workshops

Add a live chat on your business website

Co-promote your product with another business

Buy/rent a mailing list and email  blast

$200 – $500 per thousand emails (ideally send to 1k to 5k targeted customers at a time)

Create free and useful content on your website

Create a lead magnet on your website

Use SEO to promote your website

$100/month for subscription to SEO website or $1k-$2k for SEO services

Facebook advertising

$0.15 – $3 per 1,000 impressions

Google adwords or other advertising platforms

$1 – $3 per 1,000 impressions

Sponsor an influencer (blogger or YouTuber)

Send your product to an influencer to review it

Comment and write on blogs

Answer questions on Quora

Write consistently about your industry on Medium

Be a guest blogger

Ask an influencer to write a guest post on your blog

Hire a content writer

Upload a useful presentation on Slideshare

Make YouTube videos

Use Twitter

Use Pinterest

Use Instagram

Actively engage in Facebook groups

Write consistently on LinkedIn

Actively engage in LinkedIn groups

Write an ebook

Create infographics

Host webinars

Create online courses

Post an engaging and useful video on your website

Increase positive reviews on Google and Yelp

Publish a press release

$250 – $500 per press release
Missing something above? I would be grateful if you let me know so I can add it to the list.
You've built your business from the ground up, putting in sweat equity like no one else will understand and appreciate. For that reason, it's hard to let go of your baby because you think it's worth more than what others are willing to pay for it and you can't trust anyone to run it like you. These are all considerations in finding the right buyer for your business, but trust that if you put in the right preparation, you can find the right person to sell it to that will leave you feeling glad and relieved that you made the right decision.
Part of exit planning is to know who the potential buyers are. The more interested buyers of your business there are, the more competitive and higher your selling price will be and you'll be in a position to choose who will run the legacy of your business after you. The top mistake business owners make is that they don't do their homework, so they end up exiting too early at a low selling price or they go with the first broker on their google search whose goals aren't exactly aligned with yours. Avoid regret by following the steps below to identify the right buyer.
How to find a buyer:
Find a broker
List your business in a market place
Identify potential buyers and cold call or warm call
More on each below.
---
1. Find a broker
Finding a broker might be the easiest and hardest method. It's easy because you can google local business brokers and you'll get hundreds of hits. It's hard because you have to then sift through the list and vet the right one to work with. If you don't consider yourself financially savvy and would rather not hustle your way to finding a buyer, it's most prudent to go with a broker.
Do remember that brokers can be expensive. They will usually charge a retainer fee of between $15,000 – $30,000 for a business under $5m and a retainer fee of between $30,000 – $80,000 for a business over $5m plus somewhere between 3% – 8% of the transaction fee, depending on the size of your business. For example, if your business has $10m in revenue, $2m in EBITDA and sells for $8m, then you will pay the broker ~$400,000, so you will actually receive $7.6m from the buyer after broker fees. Note that fees vary regionally and by industry, so these numbers are not the standard for every business.
Considering that brokers are expensive, you need to make sure to pick the right one. A good broker will possess the following:
Understand the reason for you selling the company and advise strategically how you can maximize the selling price; for example,

Timing – urgent to sell it asap or is there flexibility to maximize value?
Tender received – receive all cash upfront or part equity, vendor take-back loan with interest, royalty?
Asks and understands if you're willing to stay on board as an employee for several years to successfully transition the business to new owners.
Asks about qualitative questions about who you would ideally want to sell for – for example, would you be okay if a private equity firm bought your business and tore it apart into pieces as long as you can exit in a timely manner or do you want to sell it only to another dedicated hard worker who will see through running the business even if you don't get paid the purchase price all up front?

In the second time you meet or speak, they should have done their homework and identified a rough list of potential companies that might be interested buyers (even if these companies don't come to fruition, it shows that they're dedicated and do their homework and want your business)
Also, in the second time you meet or speak, they should have an idea of how much similar companies have sold/selling for – what were precedent transaction multiples?
Do they work alone/small team or are they partners of the company who delegate everything to minions and only talk high-level? As you can tell, I'm not a fan of the latter. I've seen first hand how disconnected these partners are and get briefed 10 minutes before a meeting.
Are they responsive and available? Selling a business you've built over the years is very personal so they need to be there to support you. Also importantly, when the buyer is doing due diligence on your company, their contact person will be the broker. If the broker isn't responsive, the due diligence will get delayed and the buyer may lose patience.
What is their track record – ask and find out if they have the capability to successfully close the deals and how long their past deals have taken from engagement.
Are they financially capable themselves (rather than delegating the financial valuation to their team members)?
Do they have a good network? Check their LinkedIn – do they have recommendations given? Are they professional with colleagues and other stakeholders?
Most importantly, you need to feel comfortable with them – if they're dismissive and unfriendly, you will feel intimidated or hesitant to reach out to them with any question. You should feel free and comfortable to ask them any question pertaining to the business transaction.
Googling the brokers may take forever. I would advise starting here (International Business Brokers Association): https://www.ibba.org/find-a-business-broker/
2. List your business in a marketplace
If your business is in a specialized industry, google "[your industry] businesses for sale in [your city]" and look at where people who are looking to buy or sell businesses in your industry are gathering.
If your business is in a broad industry, you'll have to rely on big market places that have a lot of traffic – not just where sellers are going to list, but where a lot of serious prospective buyers are going. The most well-known online marketplace to list your business is bizbuysell.com.
3. Proactively identify potential buyers and cold call them
Sounds daunting and is a huge task at hand, but this could provide the most payoff with respect to:
higher selling price
an opportunity to work with them in the future
creative terms of the sale
personally rewarding
personally vet the new potential buyer
avoid broker fee
more control of timing
since it's a numbers game, round up more interested buyers to gain leverage when selling
The payoff from this approach comes from targeting and selling to buyers who strategically need your business. No matter how dedicated your business broker is, they won't put in as much devotion as you will to find the best potential buyer.
The challenges are that:
you have to sell the qualifications of your business such that the buyer sees why strategically it's the perfect fit
it's a numbers game to cold call your list of identified potential buyers and get an interest
the buyer may need more conviction that you are a credible seller
you have to be available for questions and push through any delay or bottlenecks in the sales process
you have to be financially savvy
If you're ready to take on this challenge to reap high reward, the first step is to make a list of potential buyers. These are the types of buyers you want to search for in your industry and your region:
private equity
search fund
competitor
bigger company in your industry
bigger company in an adjacent industry
employee
startup that could benefit with your business's assets
This method of identifying potential buyers and cold calling them is not for the faint of heart. You need thick skin, you need drive, motivation, and a kick-ass hustle mentality. You also need to have your business groomed in terms of historical financials, supporting basis for growth in your forecasts, supporting build-up of revenue, costs and operating expenses, and other areas of improving your business to the highest value.
---
What stage are you in your business? Are you ready to sell now or do you have some flexibility to improve your business, educate yourself in whom you can sell to and which of the above method you want to go with?
Describe your business below or contact us to get an assessment of where you are in the business cycle and what areas you need to improve in order to prepare your business for a successful sale.
If you want to sell your business, there are several technical valuation methods to determine the right selling price. But before you hire a business valuator to do that for you, consider following these steps to maximize your selling price:
First, estimate roughly how much you can sell your business for (below)
Then, improve certain areas of your business to maximize the selling price
Now employ the technical valuation methods to fine-tune the estimation of selling price
This strategy works for real estate, so why not for selling your business? For example, you may first get an estimate of how much houses on your block are sold for. Then you invest $80,000 to renovate your house or condo. That raises the value of your house by $150,000, so ultimately, the selling price goes up. Same method can be applied for selling your business.
Let's explore each step.
1. Quick and dirty formula for selling price
The rough ballpark of your business's selling price is to multiply your company's EBITDA by 4. (EBITDA = earnings before interest, tax, depreciation & amortization)
For example, let's say your business's financials look something like this:
Revenue                      $3.5 million
Cost of Goods Sold    $1.0 million
Gross Profit                 $2.5 million
Operating Cost           $1.8 million
EBITDA                       $0.7 million
Multiply $0.7m by 4x. Therefore, a reasonable expectation of how much you can receive for your business is $2.8 million. Again, this is just a rough estimate of the selling price, but you need to know this as a starting point.
In reality, the number that you multiply to your EBITDA is typically somewhere between 2 and 6, which means that you can sell a small, private business that has been steady and stable for the past 5 years for somewhere between $1.4 million and $4.2 million.
That's a big range, so how do you get the selling price closer to $4.2 million? Now that you know the starting point, let's go through the factors that will get you to the highest selling price.
2. How to maximize the selling price
Maximizing the selling price depends on a multitude of factors, some with higher weighting than others. 
The most important base factors your business should possess before you decide to sell your business are:
Business has been established for more than 5 years
Revenue has been steady and growing at least 1% yoy the last 5 years
After-tax cash flow is/has been positive the last 5 years (i.e. profitable business)
EBITDA margin (EBITDA as a % of Revenue) is/has been steady at 20% or above the last 5 years
Other factors that affect the selling price are listed below. Scroll down to download the calculator.

At this point in your business where you're considering selling your business but you aren't in a rush, the most prudent way is to find out what the rough selling price would be for your business and grow your business's valuation by targeting improvement in certain areas of your business. The list can go on but the truth is, there's no such thing as the perfect selling price. In my days working for a fund, we followed 8-factor investment criteria that the companies had to meet in order for us to consider investing in. Some people rely on a "gut" feeling and others will do a full-blown 100-page research & analysis report.
See other posts (at the time of writing this, they are not yet posted but are in the works) to grow your business to maximize the selling price.
Scroll down for the link to download the spreadsheet to find out how much you can sell your business for.
3. Valuation methods
Once you've successfully improved your company's performance to maximize the selling price, the following are valuation methods (which will be posted if they are not at the time of reading this):
Discounted cash flow method
Comparable public company multiple
Precedent transaction multiple
Net book value
More on this later. First, download the calculator below for a rough estimate.
I've been listening to business podcasts for a number of years. The consistent and long-time incumbents have gained a huge following. It reminds me yet again that the last one to quit is the last one still in the game, raking in all the profits. In addition to the veteran business podcasters, there have been a number of new entrepreneur-targeted podcasts. I admit, I myself at one point in time recorded some episodes to start my own podcast. One day I might start again when I have the time to produce an episode consistently.
From short 20 minute episodes to hour-long interviews, there are some podcasts that I've devoured every episode of and can't wait for the next one and there are some that I listened 5 minutes of before unsubscribing for good. For me, business podcasts have to have these qualitative factors in order to have staying power:
A smart and engaging interviewer who asks great questions and are respectful to their guests.
Diverse guests from all backgrounds.
Practical advice that can be applied to your own business.
~30 – 40 min in length and frequent (at least twice a week)
I've learned a lot and continue to glean lessons from podcasts for entrepreneurs. From years of listening to business podcasts, the list below are my favorite and in my opinion the best business podcasts for both current and aspiring entrepreneurs:
Best Business Podcasts for Entrepreneurs
That concludes my list of business podcasts that I listen to religiously.
---
Other business podcasts that I would recommend to entrepreneurs or aspiring entrepreneurs but haven't quite made the top favorites list are:
I'll listen to the above when a guest or topic catches my interest, but otherwise, there are reasons that push them down to my second-tier business podcast list.
The food truck market reached $1.2 billion in sales in 2015. There are over 4,000 food trucks across the United States with no signs of decline as the annual growth rate reached 12.4%.
But the success of food trucks requires ingenuity on the part of creating a unique menu. On top of that, the food truck business requires a lot of devoted hours.
On the other hand, coffee trucks remove the variability of success from a unique food menu, thus simplifying the steps needed to succeed.
Vincent, the founder of Green Joe Coffee Truck, successfully built a coffee truck business on the side while working a demanding 70-80 hour week corporate job. Now, he makes over $100,000 from the coffee truck while only working part-time hours.
He shares his insight below on how you can start a coffee truck business, profitability and lifestyle. For details on starting a coffee truck, I highly encourage you to pick up his ebook over on his website.
What is the best thing about running a coffee truck business?
Morning hours only
Get to work on my online passive income business
Experimenting with drinks
Traveling
Being my own boss
Expandable business
Non-expiring product
Little start-up cost
How much can you make from a coffee truck?
How much are you making now per year compared to in your employment?
Now we are getting down to the meat! Last year we grossed just over 100k between all businesses. Now, with an employee and a few investments, it probably left me with about 60k. Not bad for part time hours!
How much does it cost to start a coffee truck?
You can start a coffee truck with different budgets:
– $5,000 – $10,000
-$10,000 – $20,000
-$20,000 and above
More over at Green Joe website!
What is the blended margin on a cup of coffee?
Anywhere from 65%-75%. I buy locally so it affects my margins, but I'm happy knowing I help the community. Cheap isn't always better. It's been a year and a half since we've stepped foot in Walmart. We've manage to keep the vast majority of our business local. Coffee = Community. We choose to keep people over profits.
How many coffees do you sell a month and how much income does that equal to per month?  
Each month is different. An okay month is 6k. A great month is 15k!
How much did you spend on advertising initially? How much do you spend on advertising now?
We spend maybe $100 a month on advertising. We do a lot of social media. We also do grassroots advertising. Good old cold calls and flyers. I use Google pay per click for the ebook.
Isn't there a lot of competition in the coffee space nowadays?
There is! Which means it's a thriving business!!! Competition is not always a bad thing. There is very little competition in disposable lighter repair services because it's a service that no one needs. But everyone drinks coffee!
Do you need any relevant experience?
Experience always helps. But is it needed? I didn't have any and here I am. I always say that as long as you know what a bad cup of coffee taste like, and you don't serve it, you'll be good to go.
The greatest asset I think a person can have is self assessment. Let the ego go. Look at yourself and see where you're going wrong and learn. It's not just about coffee. Its about customer service, treating your employees right, having a good tax strategy, closing catering deals. There's a lot to learn, which means there will be a lot of mistakes. Try to take each one as an educational experience.  Observe, Test, Re-observe. Like anything else in life, knowing is half the battle.
Does this business work in any city?
You have to go where the people are. I like to go to places where there is no parking, because no parking equates to foot traffic. So think about your city, where you have difficult time finding parking and I bet you'll find a coffee shop thriving there. Coffee trucks are no different.
I do well at festivals, but they often have fees and I often have to hire for them. So, my overhead is higher. I workout at a crossfit gym and we have little fitness competitions. I've found I can do equal if not sometimes better at these competitions than at big festivals. The reason why: Low to no overhead, multiple drinks in one day per person and no coffee competition. So it really depends on the situation. You get the swing of it after a few months, how to make good decisions. Sometimes gigs are great. Sometimes they fall flat. That's the nature of the business.
Can you share an excerpt from your ebook?
The greatest piece of advice I can give a Future Coffee Truck Owner is to get your mind right. Many times I see people self-defeat. They say to themselves, "I can't because….". There's usually an array of excuse that come after; because I don't have the time, I don't have the money, I don't have the experience…What ever your excuse may be, you have to remember, it is just that: An Excuse. The old saying holds true: If there is a will, then there is a way. For example, before my grand opening, I had no barista experience other than my home french press (which I still argue is the best experience you can have). I had my trailer stolen. The original truck I bought to pull the trailer seized its engine. I literally melted my first generator. Challenge after challenge, hurdle after hurdle I had to overcome each of these obstacles. The only thing that held me together was the belief that I could eventually walk on my own entrepreneur two feet. Fall after fall, crawl after crawl, I kept getting up. So, I say unto you Future Coffee Truck Owner, get your mind right. You can. 
Go over to Green Joe Coffee Truck for more valuable information on starting a coffee truck, where you can make $100,000 with part-time hours.
The question isn't whether you can make money flipping houses. If done right, flipping houses can make you serious money. For example, if you flip one house every 3 months and make $30,000 in profit, you can make $120,000 a year, with just 4 house flips.
But flipping houses can go very wrong, costing you more than how much you can sell it for, and sometimes never even ever completing the renovations before you put your hands up and sell it for a loss.
If you've been entertaining the thought of flipping houses but have never taken the step to researching more about how much you can make and if it's even viable, then this is a good place to start.
Treat this as a big-picture primer of how much you can potentially make from flipping houses and what you should consider before you take the leap.
At the end of the article, DOWNLOAD the step-by-step house flip profit calculator where based on market comps in the neighborhood you're interested in flipping houses, you can calculate the target price you should look for in the house you want to flip to make a profit.
WHAT'S THE RIGHT DISCOUNTED PRICE FOR A HOUSE (TO FLIP)?
In order to make a profit on a house flip, you have to buy the house at a discount, but how do you know if the house is discounted enough?
First, know the selling price of similar properties in the neighborhood. This is achieved by looking up comparables (or "market comps"). Go to realtor.com and look up the address of the neighborhood you want to flip your first house. Use the market comp worksheet to estimate the average value of similar properties (scroll down to the bottom of the post to download this spreadsheet for free).
On average, the rule of thumb is for all-in costs (cost of the house, cost to repair, cost to sell) to be less than 70% of how much you can sell it for after all the repair (aka After Repair Value or "ARV".
BUY IN A NEIGHBORHOOD WHERE HOUSES SELL FAST
You want to sell as quickly as you can after you've finished the repair (aka rehab) since that was the purpose of flipping the house. How quickly your house sells will depend on whether the neighborhood is already a typically hot market. So, you want to pick a neighborhood where houses sell quickly. Every neighborhood varies in terms of how long a house sits on the market for. But the rule of thumb is to look for neighborhoods where houses sold within 10 days of listing. Look for these neighborhoods to flip a house in.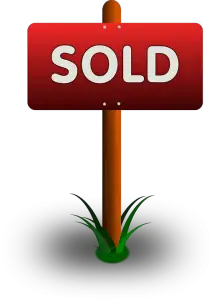 HOW MUCH CASH DO YOU NEED TO BUY THE HOUSE?
Unless you have hundreds of thousands of dollars in your bank account (in which case, what are you even doing here?!), you'll need to take out a mortgage to buy a house to flip. Lenders won't lend more than 80% of the value of the house if you won't be living in it, so consider that the cash you'll need is at least 20% of the purchase price of the house.
Also, closing costs are 2-5% of your purchase price (which u can calculate in detail here if you want to know more.) So, factor this into how much cash you need to start your first house flip.
HOW MUCH DOES RENOVATION/REPAIR (aka "REHAB") COST?
Needless to say, rehab cost depends on the shape that the house is in when you purchase it. If you purchase the house at a 10% discount to market value and all it needs is an outside paint job and landscaping, then all-in cost might only be $3,000. On the other hand, if you buy basically just the skeletal foundation of the house, renovation rehab cost can be $150,000.
Two professional house flippers provide the following useful data (which I've summarized the analysis as below):
Average rehab cost ranged between $25,000 – $40,000 per house out of a dataset of 50 house flips. Of that, 25% was materials cost and 75% was contractor/labor cost.
A typical cost estimate of each "job" that needs to be done to the house can range from $20,000 – $100,000. You can download the detailed cost estimator here.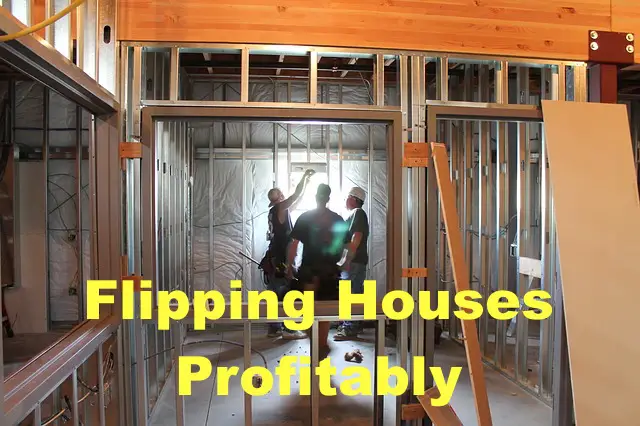 In order to stay within your budget, it's critical to hire a reputable contractor. A good free resource is to start attending a real estate investors club on Meetup – you can get some very helpful advice from people with experience who can recommend reputable contractors. Reach out to at least 3 contractors and obtain written bids from each (and give your rose to the one).
HOW MUCH PROFIT CAN YOU MAKE FROM FLIPPING HOUSES?
From the data set of 50 house flips, the average profit was $20,000 – $50,000 per house.
Was there a correlation between the amount of work that went into repairing the house vs how much profit was made? Interestingly, no.
A run-down house that needed $70,000 in rehab cost made a profit as much as a house that needed $20,000 in rehab cost.
Another interesting finding was that the Return on Investment ("ROI") was higher for houses that had lower all-in rehab costs (contractor/labor and materials).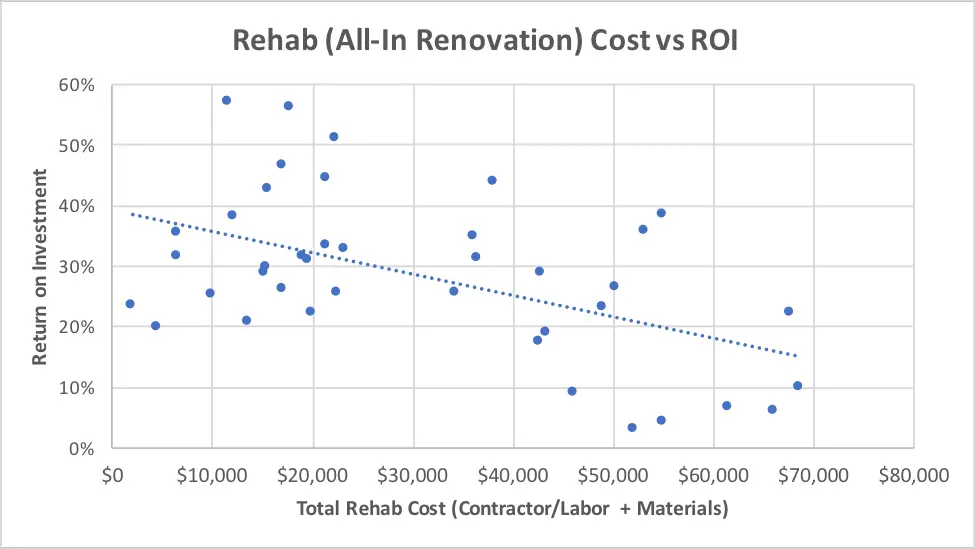 Key takeaway from this: a cheaper, more run-down house doesn't equate to higher profit. Renovating a more run-down house will cost more relatively and erode your profits.
A sweet spot is a house in a state that requires about $15,000 – $25,000 of all-in renovation costs. From the dataset, that window resulted in $15,000 – $45,000 in profit.
MAXIMUM PRICE YOU SHOULD PAY FOR HOUSE FLIP (DOWNLOAD FREE CALCULATOR)
Again, don't forget that there are additional costs associated with buying the house (such as closing costs of 2-5% of the purchase price) and with selling the house (e.g. real estate agent commission of 5-6% of the sale price, a portion of the buyer's closing cost, taxes which vary by state 0.01% – 2%, and other costs).
Taking all of these costs into account, I've created a spreadsheet you can download for free at the end of this article to calculate the maximum price you should pay for your first venture into flipping houses.
Thank you for reading and hope you found this article helpful. After researching and writing this article, I'm definitely more interested in flipping houses and will be using my spreadsheet to patiently wait for the right house at the right discounted price in the right neighborhood to pop up.