If your company has an account, better yet, if your company's financials get audited every year, then what you need to gather to prepare for the sale of your business should be easy. If your company has unorganized financials, then it'll be a bit more work, which will be covered in a future post. If your business is profitable but your financial statements are unorganized, this alone will bring down the value of your company, which will cost you in the transaction price. I've provided the spreadsheet you can download to organize your company's financials. Remember that you also need to provide supporting material such as the monthly/quarterly/annual financial statements or management accounts that you prepared each period.
Listed below are key financial statement items that the potential buyer and their broker will ask for:
Last 5 years of P&L (profit & loss, aka income statement)
Last Twelve Months (LTM) P&L or Year-to-Date (YTD) P&L
Last 5 years of B/S (balance sheet)
5 year forecast (including capital expenditure and working capital)
Now I'll get into key traits for each item above that will value your company higher.
Scroll to the bottom to download the spreadsheet that you can use to organize your company's financials.
---
1. Last 5 Years of Profit & Loss Statement
Each company's P&L will look different because of line items that are relevant to one company that are not relevant to another. But the basic items of a P&L (or aka income statement) are:
What you need to show:

Revenue for the last 5 years should show a growth each year (at least 3%)
Breakdown of revenue build-up – group the largest sales accounts and show prices and quantity
Customer list – for B2B businesses, show customer contracts with key accounts
Cost of goods sold % of revenue should be stable each year
Operating expenses and SG&A cost breakdown in a separate schedule – to show that your business doesn't have egregiously high spending
EBITDA margin should be stable each year and growing – to show that the company has been scaling up and efficiency has improved
Interest expense should not be higher than 5% of revenue otherwise it will be a red flag because the company has too much debt
Nonoperating and nonrecurring expenses should not be occurring each year and the reason for them should be reasonable in the context of the business – for example, a new machine had to be replaced or there was a natural disaster that destroyed the plant and had to be repaired
2. LTM or YTD P&L
If your company's financial statements fiscal year is from April 1 – March 31 and the period you're valuing the company is August, then you need to show the last twelve months or the year-to-date P&L. This is to show that you're not selling the company now because you suffered serious losses this past year or had some unknown adverse circumstance affect your business, such as the largest key account leaving you for a competitor.
If that is the case for why you're selling, then you should reconsider and try to build the business back up before you sell or accept that you will receive a much lower price for your business than you originally anticipated.
3. Last 5 Years of Balance Sheet
Unlike a P&L, a balance sheet shows numbers in accounts and ledgers at a point in time, not for a period of time. So it may not make sense to show historical 5 years worth of balance sheet, but actually, analyzing historical balance sheet over the last 5 years shows a lot of useful information. A general grouped items on a balance sheet looks like this:
What you need to show:

Over the last 5 years, your business had a healthy float of cash
Accounts receivable has not been increasing every year as it indicates that you're not able to collect the cash from your customers and that signals bad debts that are never paid by your customers
Inventories are not increasing each year and that it's at a stable level
Property, plant & equipment level is stable each year and makes sense for your company with respect to the industry it operates in (for example, if you're a service-based business, then the PP&E should be almost nothing, whereas if you're a heavy-machinery company, then PP&E is expected to be high)
Accounts payable is stable and is not growing or too high as this indicates you owe a lot of money still to your suppliers
Debt is minimal – there is a healthy level of debt that your business can keep on the balance sheet, but lower the better
4. 5 Year Forecast
Now this is the exciting part. This is where you get to show how awesome your business is going to be in the future based on what you've built up to now. And these numbers are the crutch of what the valuation will be based on. But a forecast is only as good as the assumptions, and the assumptions are built off the historical numbers. So, you can't bullsh#% these numbers.
The forecast needs to have legitimacy by showing evidence from the historicals, new sales contracts, evidence of improvement in operation efficiency, etc. A forecast model will look like this:
What you need to show:

Revenue build up – why do you believe in year 1-5, the revenue will grow by x%?
Customer list and forecast of sales by customers or groups of customers (note any contracts with customers in place)
Existing customers and targeted customer acquisitions
Projected price increases
Evidence of operating efficiency improvement plans
Sales & marketing plans and budgeted
Cost of goods sold and operating costs should also be broken down and each sub item should be explained why it will be x% of revenue
Any capital expenditures to add to or replace fixed assets like machinery or trucks
Incremental working capital, which is the net change in cash required to put into the business each year
---
Summary
The more supporting evidence you have for your assumptions the better. If your financial statements historically and forecasts are organized, it shows that you know your business inside out and that your business is in good shape. Moreover, you need to show that your top line has been growing because it proves that once taken over by the buyers, the business will continue to generate healthy and growing level of sales. Margins also have to show enough profitability that the buyer can benefit from the profit from the first year. How the buyer improves the efficiency of the business to increase the margins is up to them, but the business needs to have a good foundation to start with.
There are many ways to generate new leads, get more customers, increase customer base, however you want to put it. Some methods will work better for your business than others depending on the customer profile you're targeting and the value that your business provides. For instance, if your company is a local food delivery service on a college campus accessed via an app, then you'd want to employ online advertising on websites and social media groups where local college kids hang out. If your business sells coffins, you might do traditional advertising via direct mail in neighborhoods with an aging population or build relationships with senior homes in your area.
Below is a list of 36 ways you can increase customers, either offline or online. If there are methods missing in the list, please comment below or send me a message and I will add them to the list.
Click on each method below

for practical step-by-step instructions on how you can use the method to get new customers:
$60k in salary + commission (40/60 to 20/80 salary/commission)

Attend conferences and tradeshows

$2k – $5k as an exhibitor per conference
$500 – $1,500 as an attendee per conference

Send direct mail to potential customers

$0.50 – $3 per package; total of ~$5,000 per round of sending direct mail

Print advertising in a newspaper or magazine

$500 for a local newspaper, $20k – $100k for national coverage

Buy/rent a contact list and cold call

Attend business networking meetup groups

Free – $2,000/year membership

Create a customer referral affiliate program

Create an employee referral affiliate program

Give free samples/trials to targeted customers

Host and teach in-person workshops

Add a live chat on your business website

Co-promote your product with another business

Buy/rent a mailing list and email  blast

$200 – $500 per thousand emails (ideally send to 1k to 5k targeted customers at a time)

Create free and useful content on your website

Create a lead magnet on your website

Use SEO to promote your website

$100/month for subscription to SEO website or $1k-$2k for SEO services

Facebook advertising

$0.15 – $3 per 1,000 impressions

Google adwords or other advertising platforms

$1 – $3 per 1,000 impressions

Sponsor an influencer (blogger or YouTuber)

Send your product to an influencer to review it

Comment and write on blogs

Answer questions on Quora

Write consistently about your industry on Medium

Be a guest blogger

Ask an influencer to write a guest post on your blog

Hire a content writer

Upload a useful presentation on Slideshare

Make YouTube videos

Use Twitter

Use Pinterest

Use Instagram

Actively engage in Facebook groups

Write consistently on LinkedIn

Actively engage in LinkedIn groups

Write an ebook

Create infographics

Host webinars

Create online courses

Post an engaging and useful video on your website

Increase positive reviews on Google and Yelp

Publish a press release

$250 – $500 per press release
Missing something above? I would be grateful if you let me know so I can add it to the list.
You've built your business from the ground up, putting in sweat equity like no one else will understand and appreciate. For that reason, it's hard to let go of your baby because you think it's worth more than what others are willing to pay for it and you can't trust anyone to run it like you. These are all considerations in finding the right buyer for your business, but trust that if you put in the right preparation, you can find the right person to sell it to that will leave you feeling glad and relieved that you made the right decision.
Part of exit planning is to know who the potential buyers are. The more interested buyers of your business there are, the more competitive and higher your selling price will be and you'll be in a position to choose who will run the legacy of your business after you. The top mistake business owners make is that they don't do their homework, so they end up exiting too early at a low selling price or they go with the first broker on their google search whose goals aren't exactly aligned with yours. Avoid regret by following the steps below to identify the right buyer.
How to find a buyer:
Find a broker
List your business in a market place
Identify potential buyers and cold call or warm call
More on each below.
---
1. Find a broker
Finding a broker might be the easiest and hardest method. It's easy because you can google local business brokers and you'll get hundreds of hits. It's hard because you have to then sift through the list and vet the right one to work with. If you don't consider yourself financially savvy and would rather not hustle your way to finding a buyer, it's most prudent to go with a broker.
Do remember that brokers can be expensive. They will usually charge a retainer fee of between $15,000 – $30,000 for a business under $5m and a retainer fee of between $30,000 – $80,000 for a business over $5m plus somewhere between 3% – 8% of the transaction fee, depending on the size of your business. For example, if your business has $10m in revenue, $2m in EBITDA and sells for $8m, then you will pay the broker ~$400,000, so you will actually receive $7.6m from the buyer after broker fees. Note that fees vary regionally and by industry, so these numbers are not the standard for every business.
Considering that brokers are expensive, you need to make sure to pick the right one. A good broker will possess the following:
Understand the reason for you selling the company and advise strategically how you can maximize the selling price; for example,

Timing – urgent to sell it asap or is there flexibility to maximize value?
Tender received – receive all cash upfront or part equity, vendor take-back loan with interest, royalty?
Asks and understands if you're willing to stay on board as an employee for several years to successfully transition the business to new owners.
Asks about qualitative questions about who you would ideally want to sell for – for example, would you be okay if a private equity firm bought your business and tore it apart into pieces as long as you can exit in a timely manner or do you want to sell it only to another dedicated hard worker who will see through running the business even if you don't get paid the purchase price all up front?
In the second time you meet or speak, they should have done their homework and identified a rough list of potential companies that might be interested buyers (even if these companies don't come to fruition, it shows that they're dedicated and do their homework and want your business)
Also, in the second time you meet or speak, they should have an idea of how much similar companies have sold/selling for – what were precedent transaction multiples?
Do they work alone/small team or are they partners of the company who delegate everything to minions and only talk high-level? As you can tell, I'm not a fan of the latter. I've seen first hand how disconnected these partners are and get briefed 10 minutes before a meeting.
Are they responsive and available? Selling a business you've built over the years is very personal so they need to be there to support you. Also importantly, when the buyer is doing due diligence on your company, their contact person will be the broker. If the broker isn't responsive, the due diligence will get delayed and the buyer may lose patience.
What is their track record – ask and find out if they have the capability to successfully close the deals and how long their past deals have taken from engagement.
Are they financially capable themselves (rather than delegating the financial valuation to their team members)?
Do they have a good network? Check their LinkedIn – do they have recommendations given? Are they professional with colleagues and other stakeholders?
Most importantly, you need to feel comfortable with them – if they're dismissive and unfriendly, you will feel intimidated or hesitant to reach out to them with any question. You should feel free and comfortable to ask them any question pertaining to the business transaction.
Googling the brokers may take forever. I would advise starting here (International Business Brokers Association): https://www.ibba.org/find-a-business-broker/
2. List your business in a marketplace
If your business is in a specialized industry, google "[your industry] businesses for sale in [your city]" and look at where people who are looking to buy or sell businesses in your industry are gathering.
If your business is in a broad industry, you'll have to rely on big market places that have a lot of traffic – not just where sellers are going to list, but where a lot of serious prospective buyers are going. The most well-known online marketplace to list your business is bizbuysell.com.
3. Proactively identify potential buyers and cold call them
Sounds daunting and is a huge task at hand, but this could provide the most payoff with respect to:
higher selling price
an opportunity to work with them in the future
creative terms of the sale
personally rewarding
personally vet the new potential buyer
avoid broker fee
more control of timing
since it's a numbers game, round up more interested buyers to gain leverage when selling
The payoff from this approach comes from targeting and selling to buyers who strategically need your business. No matter how dedicated your business broker is, they won't put in as much devotion as you will to find the best potential buyer.
The challenges are that:
you have to sell the qualifications of your business such that the buyer sees why strategically it's the perfect fit
it's a numbers game to cold call your list of identified potential buyers and get an interest
the buyer may need more conviction that you are a credible seller
you have to be available for questions and push through any delay or bottlenecks in the sales process
you have to be financially savvy
If you're ready to take on this challenge to reap high reward, the first step is to make a list of potential buyers. These are the types of buyers you want to search for in your industry and your region:
private equity
search fund
competitor
bigger company in your industry
bigger company in an adjacent industry
employee
startup that could benefit with your business's assets
This method of identifying potential buyers and cold calling them is not for the faint of heart. You need thick skin, you need drive, motivation, and a kick-ass hustle mentality. You also need to have your business groomed in terms of historical financials, supporting basis for growth in your forecasts, supporting build-up of revenue, costs and operating expenses, and other areas of improving your business to the highest value.
---
What stage are you in your business? Are you ready to sell now or do you have some flexibility to improve your business, educate yourself in whom you can sell to and which of the above method you want to go with?
Describe your business below or contact us to get an assessment of where you are in the business cycle and what areas you need to improve in order to prepare your business for a successful sale.
If you want to sell your business, there are several technical valuation methods to determine the right selling price. You can hire a business valuator and spend thousands of dollars to publish a report IF you need a qualified valuator's stamp of approval. But you may not need that and it's good to educate yourself on how to calculate the selling price of a small business yourself first.
So, before you go onto any more steps and spend money on hiring a business valuator, follow these steps:
First, estimate roughly how much you can sell your business for (below)
Then, improve certain areas of your business to maximize the selling price
Now employ the technical valuation methods to fine-tune the estimation of selling price
This strategy works for real estate, so why not for selling your business? For example, you may first get an estimate of how much houses on your block are sold for. Then you invest $80,000 to renovate your house or condo. That raises the value of your house by $150,000, so ultimately, the selling price goes up. Same method can be applied for selling your business.
1. How Much Do You Sell Your Business For?
The rough ballpark of your business's selling price is to multiply your company's EBITDA by 4. (EBITDA = earnings before interest, tax, depreciation & amortization)
For example, let's say your business's financials look something like this:
Revenue                      $3.5 million
Cost of Goods Sold    $1.0 million
Gross Profit                 $2.5 million
Operating Cost           $1.8 million
EBITDA                       $0.7 million
Multiply $0.7m by 4x. Therefore, a reasonable expectation of how much you can receive for your business is $2.8 million. Again, this is just a rough estimate of the selling price, but you need to know this as a starting point.
In reality, the number that you multiply to your EBITDA is typically somewhere between 2 and 6, which means that you can sell a small, private business that has been steady and stable for the past 5 years for somewhere between $1.4 million and $4.2 million.
That's a big range, so how do you get the selling price closer to $4.2 million? Now that you know the starting point, let's go through the factors that will get you to the highest selling price.
2. How to maximize the selling price
Maximizing the selling price depends on a multitude of factors, some with higher weighting than others. 
The most important base factors your business should possess before you decide to sell your business are:
Business has been established for more than 5 years
Revenue has been steady and growing at least 1% yoy the last 5 years
After-tax cash flow is/has been positive the last 5 years (i.e. profitable business)
EBITDA margin (EBITDA as a % of Revenue) is/has been steady at 20% or above the last 5 years
Other factors that affect the selling price are listed below. Scroll down to download the calculator.

At this point in your business where you're considering selling your business but you aren't in a rush, the most prudent way is to find out what the rough selling price would be for your business and grow your business's valuation by targeting improvement in certain areas of your business. The list can go on but the truth is, there's no such thing as the perfect selling price. In my days working for a fund, we followed 8-factor investment criteria that the companies had to meet in order for us to consider investing in. Some people rely on a "gut" feeling and others will do a full-blown 100-page research & analysis report.
Scroll down for the link to download the spreadsheet to find out how much you can sell your business for.
3. Valuation methods
Once you've successfully improved your company's performance to maximize the selling price, the following are the technical valuation methods that your business valuation report should include:
Discounted cash flow method
Comparable public company multiple
Precedent transaction multiple
Net book value
The food truck market reached $1.2 billion in sales in 2015. There are over 4,000 food trucks across the United States with no signs of decline as the annual growth rate reached 12.4%.
But the success of food trucks requires ingenuity on the part of creating a unique menu. On top of that, the food truck business requires a lot of devoted hours.
On the other hand, coffee trucks remove the variability of success from a unique food menu, thus simplifying the steps needed to succeed.
Vincent, the founder of Green Joe Coffee Truck, successfully built a coffee truck business on the side while working a demanding 70-80 hour week corporate job. Now, he makes over $100,000 from the coffee truck while only working part-time hours.
He shares his insight below on how you can start a coffee truck business, profitability and lifestyle. For details on starting a coffee truck, I highly encourage you to pick up his ebook to learn the detailed and proven approach based on his experience.
What is the best thing about running a coffee truck business?
Morning hours only
Get to work on my online passive income business
Experimenting with drinks
Traveling
Being my own boss
Expandable business
Non-expiring product
Little start-up cost
How much can you make from a coffee truck?
How much are you making now per year compared to in your employment?
Now we are getting down to the meat! Last year we grossed just over 100k between all businesses. Now, with an employee and a few investments, it probably left me with about 60k. Not bad for part time hours!
How much does it cost to start a coffee truck?
You can start a coffee truck with different budgets:
– $5,000 – $10,000
-$10,000 – $20,000
-$20,000 and above
More over at Green Joe website!
What is the blended margin on a cup of coffee?
Anywhere from 65%-75%. I buy locally so it affects my margins, but I'm happy knowing I help the community. Cheap isn't always better. It's been a year and a half since we've stepped foot in Walmart. We've manage to keep the vast majority of our business local. Coffee = Community. We choose to keep people over profits.
How many coffees do you sell a month and how much income does that equal to per month?  
Each month is different. An okay month is 6k. A great month is 15k!
How much did you spend on advertising initially? How much do you spend on advertising now?
We spend maybe $100 a month on advertising. We do a lot of social media. We also do grassroots advertising. Good old cold calls and flyers. I use Google pay per click for the ebook.
Isn't there a lot of competition in the coffee space nowadays?
There is! Which means it's a thriving business!!! Competition is not always a bad thing. There is very little competition in disposable lighter repair services because it's a service that no one needs. But everyone drinks coffee!
Do you need any relevant experience?
Experience always helps. But is it needed? I didn't have any and here I am. I always say that as long as you know what a bad cup of coffee taste like, and you don't serve it, you'll be good to go.
The greatest asset I think a person can have is self assessment. Let the ego go. Look at yourself and see where you're going wrong and learn. It's not just about coffee. Its about customer service, treating your employees right, having a good tax strategy, closing catering deals. There's a lot to learn, which means there will be a lot of mistakes. Try to take each one as an educational experience.  Observe, Test, Re-observe. Like anything else in life, knowing is half the battle.
Does this business work in any city?
You have to go where the people are. I like to go to places where there is no parking, because no parking equates to foot traffic. So think about your city, where you have difficult time finding parking and I bet you'll find a coffee shop thriving there. Coffee trucks are no different.
I do well at festivals, but they often have fees and I often have to hire for them. So, my overhead is higher. I workout at a crossfit gym and we have little fitness competitions. I've found I can do equal if not sometimes better at these competitions than at big festivals. The reason why: Low to no overhead, multiple drinks in one day per person and no coffee competition. So it really depends on the situation. You get the swing of it after a few months, how to make good decisions. Sometimes gigs are great. Sometimes they fall flat. That's the nature of the business.
Can you share an excerpt from your ebook?
The greatest piece of advice I can give a Future Coffee Truck Owner is to get your mind right. Many times I see people self-defeat. They say to themselves, "I can't because….". There's usually an array of excuse that come after; because I don't have the time, I don't have the money, I don't have the experience…What ever your excuse may be, you have to remember, it is just that: An Excuse. The old saying holds true: If there is a will, then there is a way. For example, before my grand opening, I had no barista experience other than my home french press (which I still argue is the best experience you can have). I had my trailer stolen. The original truck I bought to pull the trailer seized its engine. I literally melted my first generator. Challenge after challenge, hurdle after hurdle I had to overcome each of these obstacles. The only thing that held me together was the belief that I could eventually walk on my own entrepreneur two feet. Fall after fall, crawl after crawl, I kept getting up. So, I say unto you Future Coffee Truck Owner, get your mind right. You can. 
Go over to Green Joe Coffee Truck to read more about his experience! (And the link to his ebook if you're interested:)
It's Monday yet again. A blink and your weekend is gone. Your alarm screams at you to get up because your cubicle awaits. Each drag of your foot feels heavy and unnatural. Why can't you wake up at 10am, make yourself a nice big breakfast, and power up your laptop to work on your own time? Believe it or not, you can live this life.
This is the luxurious life of freelancers. What makes it luxurious? They have what we all crave more of – freedom.
If you've ever dreamed of this life of a freelancer, you're not alone. But you don't have any technical skills to offer? This is not a get-rich-quick scheme by any means. It will take months, maybe years (depending on your level of commitment) to achieve this success. First you have to learn the skill, then you have to find clients on online freelance sites like Upwork or Fiverr.
Even though it may seem like a faraway dream, it is closer than you think. Let me show you how.
How much can you make as a freelancer?
First, you may be thinking, "but all the freelancers I've met are struggling to pay the bills." Do freelancers even make enough money to live a comfortable life?
The answer is: YES. Of course, as with any job, how much you make depends on: your skills, your reputation, and how you sell yourself. The beauty of freelance work is that you remove the bureaucracy of navigating up a corporate ladder, so your efforts can directly result in success. That means, if you continue to hone your skills and do great work, your clients will recommend you, you will build your reputation, and you can attract the work.
I gathered data on the top paid freelancers on Upwork. There were a number of developers who made well over $120,000. I also found a user interface graphic designer who made $260,000 in 2016! The result of my research showed that it is certainly possible to make enough money to sustain a comfortable lifestyle.
However, as you would expect, how much you can make as a freelancer varies by skillset. Let's now look at a breakdown of income earned by skill.
Which skill should you learn to become a high-paid freelancer?
I collected data on 50+ freelancers with skills in high demand and analyzed how much income they generated in 2016.
As expected, web developers had the highest average income earned in 2016 with over $120,000.
App developers (for iOS and Android) made close to $100,000.
User Interface (UI) / User Experience (UX) designers came in 3rd place with an average of $70,000.
App software testers for quality assurance (QA) made an average of $60,000.
Top paid graphic designers made a little over $50,000.
One thing in common with these top paid freelancers across all the skillsets is that they had comparably less number of jobs (aka orders) but made more money than the rest in their category. And the reason for that is because they were hired by companies or organizations that required the freelancer's help with overseeing an entire project as opposed to a one-off logo or website building.
For example, one developer was hired to create the website and e-commerce platform for a retail company. Another example is a graphic designer was hired by a non-profit organization to oversee an entire branding campaign. And I also saw an app developer get hired by a real estate company to create a dynamic app for them and was retained even after the roll-out of the app to continuously make upgrades.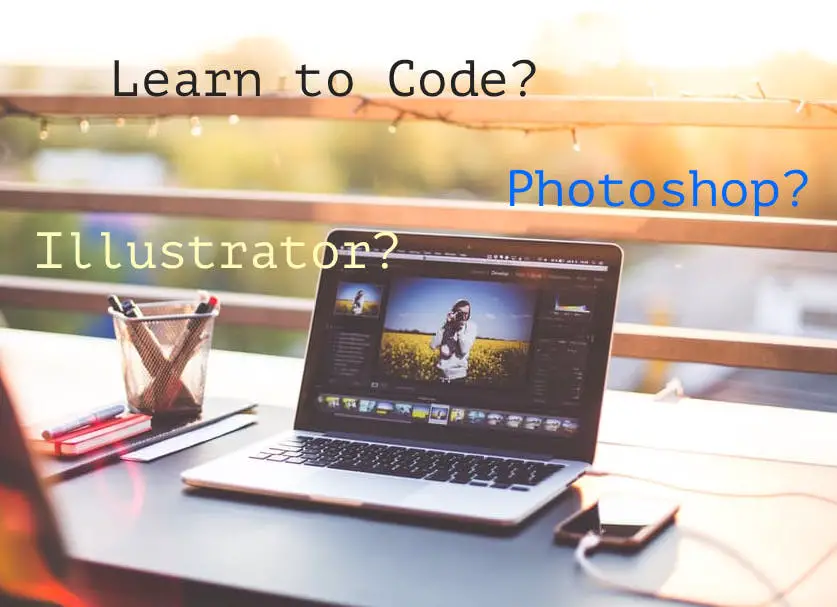 Where can you learn the skills to become a freelance entrepreneur?
It's no surprise that developers made the most money as a freelancer. But as mentioned, the primary driver was because it is more likely that their jobs come in the form of big projects that take a long time to complete.
If you've decided which skill you want to learn (maybe an hour a day while you're working full-time at your corporate job until you are proficient enough in the skill to become a full-time freelancer), these are great intro courses on Udemy that can start you off for literally a fraction of the price as if you were to take a class in-person.
Web Developer
1. Web Design for Beginners: Real World Coding in HTML & CSS – 9 hours (4.7 stars, 1,300+ students)
2. The Complete Web Developer Bootcamp – Beginner to Expert – 21.5 hours (4.4 stars, 1,300+ students)
App Developer
1. iOS 10 & Swift 3: From Beginner to Paid Professional – 71.5 hours (4.5 stars, 6,700+ students)

2. Android N: From Beginner to Paid Professional – 25.5 hours (4.4 stars, 1,100+ students)
UI/UX Designer
1. UI Design in Photoshop – Start Designing Web & Mobile Apps – 11 hours (4.6 stars)

Graphic Designer
1. Beginners Adobe Photoshop CS5 Tutorial – 13.5 hours (4.9 stars)
2. Beginners Adobe Illustrator CS5 Tutorial – 10 hours (4.7 stars)
I will be taking some of the courses above in the future. Would love to hear from those who begin this journey and the progress you've made!
What are the secrets to making over $100,000 and standing out from the crowd?  
One last thing to leave you with. I want to reiterate a point I made earlier. The data I showed above is the average income earned by the top-earning freelancers on Upwork. If you are serious about becoming a freelancer and you want to start today by learning a skill that's high in demand, you should leave this article equipped with the knowledge of what makes the top-paid freelancers stand out.
What I've observed is that it goes without saying, but your skills should speak for itself. As you hone your skills, follow these tips  when you are selling yourself on Fiverr or Upwork:
Target companies as clients and offer to provide work for an entire program as opposed to one gig. At first, you will need to do small gigs to get favorable reviews. So, offer small gigs for what you know you are an expert at for cheap. Then, market yourself as a controller or project manager who can oversee the completion and implementation of an entire project or campaign.
Another tip from what I've observed among the highest paid freelancers on Upwork and Fiverr is that they offer to connect the clients with competitors that they know are excellent in the field if they can't offer what the client is looking for. Basically, on an automated platform, you are providing an extra level of customer service, and that seems to go a long way.
Lastly, make sure to post your portfolio of completed work, especially for big projects.
I hope you found this article useful. Please subscribe for more articles like this and would greatly appreciate you sharing it with friends!
It seems like a far-fetched dream – getting paid for traveling? Watching travel shows on TV I often wondered how the heck those people got so lucky that they don't have to sit under fluorescent light all day, 5 days a week. But thanks to the popularity of blogs, getting paid for traveling actually is an attainable dream.
Travel blogs started taking off years ago. Many veterans of travel blogging started in 2006-2008. So one might wonder if it's too late to become a travel blogger since it's a saturated space. But what I've found from my research is that there are plenty of travel bloggers who started in the last year or two. And in fact, thanks to varied social marketing platforms such as Pinterest, travel bloggers who are savvy with their social media strategies are able to herd visitors to their site no matter how late in the game they entered. The audience is ever-evolving, which means there will always be an audience.
Now, the question is: How much can you make as a travel blogger? Is travel blogging actually profitable enough to sustain a lifestyle? It's a crazy thought to quit your job and rely on the cloud to bring in income while you are relaxing on the beach in Chile or wading through a forest in Cambodia. But to answer this question, I collected data from 7 travel bloggers who currently publish or have published income reports recently, and went to work analyzing the data.
It's worth mentioning that the first thing I noticed while looking through multiple travel blogs is that there are 2 distinct types of travel bloggers: ones who live abroad (i.e. travel long-term) and ones who take trips (be it a week at a time or 2-3 weeks). This gives me great hope that anyone can start travel blogging part-time while they have a full-time day job and eventually can turn travel blogging into full-time if they wish.
Here's what I found on how much you can make from travel blogging. First, let me lay out the foundation.
SUPPORTING DATA FOR THE ANALYSIS
I went a little crazy and combed through each income report and then further categorized them to be able to compare the data set across all the travel bloggers. This is a snippet example of the research & analysis phase I conducted (just to show that there is substance behind the numbers I present in this article):
A little tidbit about each of the travel bloggers whose income reports I analyzed:
PROFITABILITY SNAPSHOT
The risk with making travel blogging your livelihood is not at the start of the new lifestyle/business venture but in the midst of it. That is, the upfront cost is very minimal, as basically, you can have a website running for $100 and you're off to the races.
Typically, depending on the size of the blog (i.e. how many visitors the site gets), the average monthly income generated by travel blogs is between $1,000 – $4,000. Once the blog has a sizeable visitor traffic, the travel bloggers can also receive sponsored trips whereby they can travel for free, which can typically be valued between $2,000 – $4,000. Hypothetically, if you hustle and are able to get a sponsored trip every month, you can be traveling for free and generate $2,000 a month from the blog.
Because business expense is so low, travel blogging can definitely be a profitable business venture or a way to live.
HOWEVER, travel blogging is NOT as passive as you might think. If you think "set it and forget it" mentality is going to work, then you can forget it altogether. From my research and analysis, I found that the passive portion of the income is quite low.
So then, which income stream does pays the most for a travel blog?
INCOME SOURCES – HOW TO MAXIMIZE INCOME ON A TRAVEL BLOG
I categorized the income data collected on the aforementioned travel blogs into the following:
Affiliate Income – hugely dependent on # of visitors
Advertising Income – hugely dependent on # of visitors
Freelance Income – not dependent on # of visitors
Product Income – so-so dependent on # of visitors
Sponsored Income – so-so dependent on # of visitors
More on each income source as follows:
1. Affiliate Income
Interestingly, what I found was that income earned through passive means is unfortunately not very high in most cases.
Affiliate income averaged around 9-10% of total income, earning on average $10 for every 1,000 visitors. Which means that if you were consistently getting 50,000 visitors every month, affiliate income would draw in $500 a month.
One exception is wheressharon. Affiliate income made up ~60% of total income and for every 1,000 visitors, she earned 6.0x the amount compared to other travel blogs. Her biggest source of affiliate income came in the form of commissions. What she does well is she has commission/affiliate based sources that focus on bigger ticket items when traveling. For example, her commissions are from Hotelscombined.com, Booking.com, Agoda.com, and Airbnb.com.
2. Advertising Income
Advertising is also not very high for most travel blogs. The standard run-of-the-mill advertising sources of income that overlap across most of the travel blogs are:
Google Adsense
Monumetric (Formerly The Blogger Network)
Spoutable
Sovrn
3. Freelance Income
Freelance is interesting but tricky because of the hustling involved but also the limitless amount of money you can make from it. The typical freelance work I've seen employed by travel bloggers are:
Writing for other travel sites, drawing from their travel experiences à copypress.com
Photography
Web/graphic design services

In certain months, you can make as little as ~$300 and then jump to $2,300 the next month when you get a bunch of work (as in the case of FOG).
4. Product Income
Income from products can have a double benefit – you not only leverage your travel blog's audience to sell your products, you can also use it as a lead magnet to attract visitors to your website. It is the most interesting source of income to me, because you can be as creative as you want in creating a product that aligns with your travel blog. Ebooks are the most prominent for travel blogs. Online courses can be found as well. Trip planning services are also hugely popular as a product offered on travel blogs.
One of the most unique products I've seen is NN's customized physical map of Kigali, Rwanda. It has illustrations and tips, and one of the more successful months brought in $5,337 just from sales of the map!
Another product where it pays off being in a niche space is FOG's recipe collaborations. Their travel blog niche is camping. So, they often engage with other sites or magazines to come up with camping food recipes, which I think is so creative and effective in leveraging your skillset.
5. Sponsored Income
If you're lucky or if you're an authority in your field, companies will approach you to be a sponsor of your travel blog. But most often than not, you have to be the one hustling to get sponsorship. You do need to have built a sizeable web traffic to your travel blog to secure sponsorships. But, I was pleased to see that you don't need that much traffic to start rolling in the dough.
How many visitors do you need to get sponsors' attention? Here's a snapshot (explanation below):
Key takeaways (each corresponding letter in the snapshot explained as follows):
A. TWG has less than 7,000 monthly unique visitors and still secured sponsorship of an average $260 a month. WLST had 14,500 monthly unique visitors and secured $660 on average.
B. Although FOG doesn't report the number of visitors to their site, they've only been around for a year and a half, they started around the same time as WLST, so more likely than not, their unique visitors are between 7,000 – 15,000, and they were able to secure ~$300 on average in sponsorship income.
C. With 14,500 unique visitors, WLST got $1,000 – $2,500 worth of free sponsored trips.
D. WS got $4,000 worth of free sponsored trips when they had 35,000 visitors.
So, we could summarize that by saying sponsors will partner with travel blogs that have as low as 7,000 monthly unique visitors. And you could potentially make $4,000 in value from sponsors when you have 30,000 monthly unique visitors.
Oh, and a worthy mention is that for the travel blogs that reported both unique visitors and pageviews, the relationship between these two site statistics were very similar. It was 1.5x pageview for ever 1.0 unique visitor.
HOW LONG DOES IT TAKE TO START EARNING INCOME ON A TRAVEL BLOG?
Thank you for staying with me up to now. Hope it was worth it. (And if it was, then please subscribe for more posts like this breaking down how much you can make as an entrepreneur!)
You've seen from real examples of travel blogs that you can make a living as a travel blogger. It is possible to quit your day job that you feel stuck in and get paid to travel. It takes work as with anything else, but as illustrated above, there are many ways to get creative in earning income and to me, that's the appeal of becoming a full-time travel blogger – there is no limit as to how much you can make. It really depends on how much traffic you get on your website and how much you hustle to get sponsored income or make products to sell to your audience.
We've seen that you can make a sizeable income just from 7,000 monthly visitors to your website.
Now, the realistic picture. How long does it take to get 7,000 visitors, 15k, 60k,…
As in our example travel blogs, WLST and FOG are making $2,000 – $4,000 a month (including non-cash value) in just a year and a half since launch.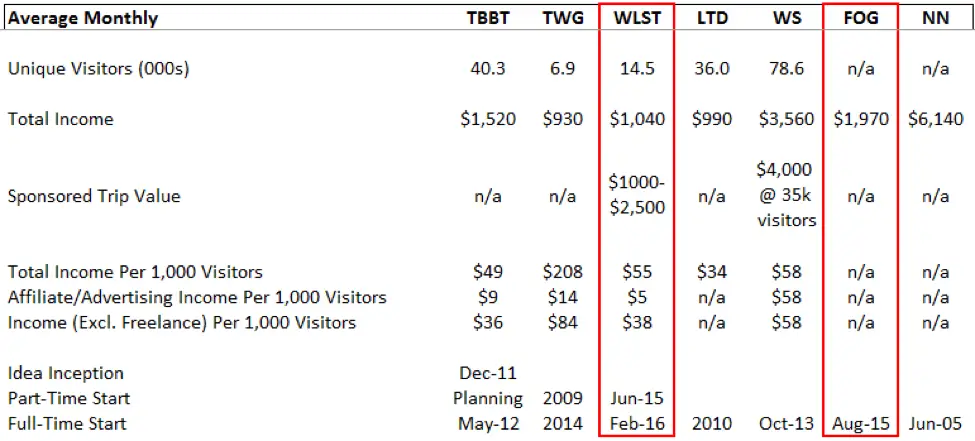 But it must be noted that WLST spent an average of almost 50% of income in advertising/marketing expense to promote the blog. On one hand, this might come as a shock. That is a huge chunk of the income that you won't see. On the flip side, it is evidence that advertising/social marketing is an effective tool to grow your audience to the level where you can make a significant amount of money on your travel blog.
Now that you've read how much you can make from travel blogging, are you ready to take the plunge? Or do you feel that it is not enough money for you?
Well, if you're more convinced than ever that you want to finally quit and live a nomadic life as a travel blogger, these are strategies that you can employ to grow your travel blog as fast as possible once you have it up and running.
10 STRATEGIES TO GROW YOUR AUDIENCE ON YOUR TRAVEL BLOG
These are strategies that successful travel bloggers (i.e. where the data came from) use everyday to grow their web traffic. Most of them are not secret. But it is good to mention even the obvious, simple tips that are adopted by the incumbent travel bloggers. These strategies are:
Consistent, frequent posting (3 posts a week)
Promote an old post one day a week (e.g. Throwback Thursdays)
SEO – use keywords in the file name of images; make Google Images as a referred source
Advertising on Alex in Wanderland, Facebook
Engage on other website forums
Become a featured writer on Trip 101
Create lead magnets that draw people to your website to download for free – advertise catchy and beautiful graphics for lead magnets on Pinterest and Instagram
Active social media marketing on Pinterest and Instagram – Tailwind for Pinterest
Write social media influencer posts on Tribe, Vamp, or Pay Per Post
Have a unique position – e.g. outdoor camping travel, healthy eating while on travel, Mexican restaurants across the US travel, etc.
Thank you for getting this far! It was a long post but I hope it was worth it. If you are already a travel blogger, I would love to hear your thoughts about how the above applies to you. And if you aren't a travel blogger but are a 9-5 employee feeling stuck, I hope you found this analysis helpful in making a decision in one way or another in regards to travel blogging. Would love to hear your thoughts as well.
You pay hundreds of dollars to stay in an Airbnb when you travel. Why can't you also list on Airbnb and make passive income while you work full-time?
Well, if you already have a spare bedroom, there's really no risk in listing it on Airbnb. And if you are thinking of buying an income property, at the end of the day, you will end up with equity in the property, so there isn't really a risk in listing on Airbnb either.
But what if you have neither a spare bedroom nor the money to buy an income property, yet you still want to make passive income from short term rentals on Airbnb?
There is one way to make money on Airbnb without a spare room or income property.
You can lease an apartment, pay monthly rent to the landlord, and instead of living in it, you list the apartment on Airbnb.
But is it worth it? Does the income you earn from listing the apartment on Airbnb outweigh the monthly rent you pay to the landlord?
You'll be surprised at the result of my research and analysis.
Cost of Setup – Don't Ignore!
The first thing you should know is that even though you are not buying a property to start Airbnb, there is still a considerable upfront cost.
First, when you lease an apartment for the purpose of listing on Airbnb, there is security deposit (even if you get all of it back at the end of the lease, you need it upfront) and moving costs. Together, that'll be around $1,500 for a 1-bedroom apartment in a metropolitan city.
Then, you have to factor in losing the first 2 weeks of rent, because you have to set up the apartment first after your lease starts before you can list it on Airbnb. Let's say the rent is $2,000 for a 1-bedroom apartment in Los Angeles. That's another $1,000 in upfront cost.
Finally, the cost of setup: furniture, kitchen tools, decoration, cleaning supplies, etc. will cost between $4,000 – $5,000. For example, a typical list (if you buy at Ikea rather than Pottery Barn) is:
All in, the total upfront cost will be ~$8,000.
Good News: Airbnb Price Per Night is Twice the Monthly Rent
The cost of setup may deter you from starting an Airbnb. But the good news is that the price per night can be three times the monthly rent. That means there is potential to make 100% return on your monthly investment?
My analysis of ~250 data points (by varying cities/neighborhoods in Greater LA) shows that on average, the Airbnb price per night is twice that of the monthly rent per day (i.e. monthly rent / 30 days):
*Notice that West Hollywood has an Airbnb price that is almost three times the daily cost of renting the apartment. We will come back to this later.
Twice is good but not good enough. It doesn't mean you could make twice your investment from listing on Airbnb. The biggest factor is Airbnb occupancy rate.
Airbnb Occupancy Rate – Bad for Business!
As expected, the occupancy rate affects the income you can earn on Airbnb. Especially in the 10 neighborhoods within Greater Los Angeles that I analyzed, there is a lot of competition.
And even though neighborhoods like West Hollywood has a long-term apartment rental vacancy rate of 2%-3% (i.e. occupancy rate of 97%-98%), the Airbnb occupancy rate is only 65%, which is comparably lower. Or in Santa Monica where tourists flock to for vacation, the Airbnb occupancy rate is only 61%.
On average, the neighborhoods had an occupancy rate of 55%.
You can look up the occupancy rate of your neighborhood on insideairbnb.com.



Putting It All Together: Airbnb is NOT Worth It
Putting together the ~250 data points in 10 neighborhoods in LA, the result is that the income earned on Airbnb is only marginally higher than the cost of monthly rent if you were to lease the apartment to start an Airbnb business.
The summary of the analysis below takes into account the pricing and the occupancy rate above as well as a 10% operating cost for Airbnb, which factors in a high turnover (cleaning fees and supplies, utilities, internet, etc).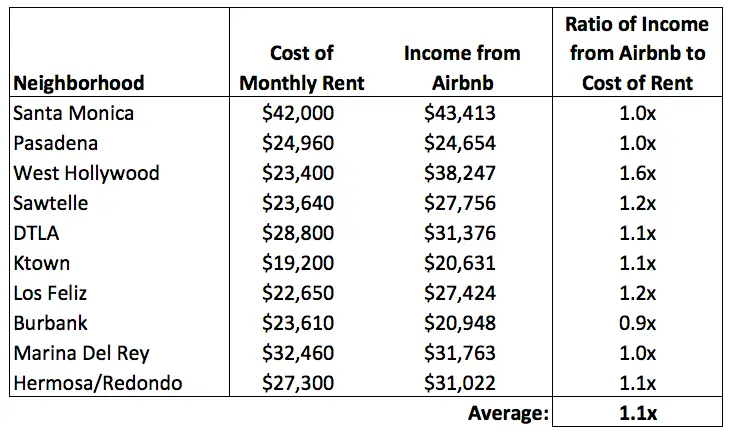 The income you can earn from Airbnb is only 1.1x higher than the cost of monthly rent. If you take into account the cost of setup, you will just break even. That means your return on investment will most likely be 0% – 5% per year. And that is only if your occupancy rate keeps up with the average in your neighborhood.
If you consider the risk of getting busted by your landlord for subletting your apartment on Airbnb when you're not allowed to, I'd say, it's not worth it. (If any of the readers have had success with this approach, please comment! I would love to hear your side of the story on how to make it successful.)
There is Hope: Where You CAN Be Profitable with Airbnb Business
As you can see in the result of my analysis above, West Hollywood beat the odds compared to the other 9 neighborhoods in LA. What is unique about WeHo that you can earn 1.6x income on Airbnb compared to the cost of renting the apartment?
If the neighborhood you are considering has these unique features that West Hollywood has, then you could potentially have a very profitable Airbnb business (i.e. short term rentals):
Near a convention center or a hotel that holds a lot of big conferences
Hotel vacancy rate in that neighborhood is very low at around 2-3%
Central neighborhood that connects to several popular neighborhoods on the periphery
Average Airbnb occupancy rate is relatively high (at least 60%) – you can look this up on insideairbnb.com
Average nightly price on Airbnb is at least three times higher than the daily rent cost
If the neighborhood you are thinking of launching an Airbnb business doesn't have the unique features above, it may be difficult to be profitable if you lease an apartment to do it.
Inventure Foods (NASDAQ:SNAK)
Inventure Foods is not a name you'd recognize at Costco while picking up some frozen berries or at Safeway getting some potato chips for game night. But their portfolio contains brands that you'd probably recognize: Boulder Canyon potato chips, Jamba frozen fruits, TGI Friday's snacks, Burger King snack packs. They are not the most recognizable brands but they certainly command shelf space at big grocery chains and restaurants.
The Company (then operating as Poore Brothers) became public in 1996, and began reaching astronomical success gradually starting 2008. Without so much as a blink, the Company weathered the financial crisis in 2008 and started gaining momentum at the start of 2009, continuing its upward trajectory until the end of 2014.
What contributed to the Company's success from 2008 – 2014?
And what contributed to the Company's downturn in 2015 before picking itself back up at the start of 2016?
First, what you should know about the Company.
Guilt-less Snacks 
Inventure Foods manufactures and markets both "healthy" and "indulgent" snacks under its own brands or licensed brands:
Over the last two decades, the Company has built national retail distribution channels across leading grocery, natural food store, super stores, convenience and foodservice channels:
Aligned With Health Food Trend (e.g. The Kale Craze)
Inventure Foods' portfolio of branded products includes health foods, which they have been pushing to the forefront as the food industry trended toward healthy foods.
Since the turn of the millennium, the food industry has seen a higher growth rate of health and wellness foods than non-health and wellness foods (i.e. in the graph below, green line is higher than the grey line every year):
All it takes is Sales Growth and Margin Stability
From 2008 to the end of 2014, Inventure Foods' stock price experienced a ~600% growth (stock chart below). During this period, the Company reported an overall growth in sales (blue bar graph) and stable profitability margins (gross profit indicated by green line; EBITDA margin by grey line).
Just as the Company was gaining unstoppable momentum, at the turn of 2015, the market proved that a growth in sales doesn't mean much if the bottom line is not profitable. In Q1 2015, the Company's cost of goods sold spiked, hurting both the gross profit margin and eventually the bottom line. As a result, Inventure Foods' stock dipped even though the Company hit record sales. The stock continued to decline throughout 2015 as the margins never recovered to past levels.
2 questions emerge from this observation:
How did Inventure Foods increase sales between 2008 – 2014?
Why did the profitability margin fall to negative in Q1 2015? And could they have prevented it?
Important Facts and Major Events… and Oh No's
To answer the question of what they did right between 2008 – 2014 to command such a notable increase in their valuation during this period as well as what went wrong in 2015, below outlines key events and strategies implemented by Management:
2007 –
Acquisition of Radar Farms in 2007 was immediately accretive to sales and earnings growth
Launched Burger King branded snacks in 2007
2008 –
New customers have been targeted domestically, in Canada and overseas where the license has been expanded to include the U.K
Boulder Canyon Natural snack products grew 27% while snack division sales decreased slightly.
However, snack division was priced higher which improved profitability.
Focus on operational execution – plant cost per pound produced was down.
Focus also on paying down debt.
One of the plants where their TGI Friday's branded snack is produced is underutilized due to the snack's decrease in sales – as a result, looking for private-label and co-packing opportunities. Challenging raw materials cost increase
2009 –
Boulder Canyon Natural products leading sales for the Company proved to the Company to implement new strategy for products: to focus on "better-for-you" products going forward
Capital investment in the facility that produces Boulder Canyon to increase capacity and efficiency
Proved the product's success in 2008 and then received BK's license expansion: Expands the popular Burger King snack products internationally including Latin America and Asia
Grew the private label products (e.g. rice and bean chips for Trader Joe's) – strong demand for premium private label products – increased FY2009 revenue by 42%
Since the CEO change, many presentations at conferences marketing the company to investors
2010 –
Boulder Canyon Natural products continuing to contribute to significant sales growth as they expand distribution into more stores
SG&A increased due to added labor and increased marketing for Boulder Canyon and Jamba All Natural Smoothies – the two of their leading "better-for-you" products
Stabilized profits for their losing business, TGI Fridays by filling up capacity of the facility via adding private label and co-packing
2011 – 2012 –
Introduced new lines of health-conscious snacks
With the troubling TGI Friday snacks, they were able to turn it into a profitable product by improving efficiency in its plant and through successful execution of several large retail programs, growing the product sales 34% in FY2011
Continued strategy of adding new lines of products in the natural and health categories and launching them at opportune times of the year (e.g. blend-at-home smoothie packs launched at the start of peak summer)
Sold off lower margin business
Key investments in facilities to improve capacity and efficiency
2013 – 2014 –
Started reporting as two reportable segments: Snack and Frozen Foods. Licensing Jamba brand to roll out frozen smoothie snack packs has been overall one of the most successful product implementations. Jumped at the right opportunity at the start of the smoothie fad, partnering with a brand name that is well-known for smoothies
2015 –
Just as the Company was receiving accolades as best small company, added to Russell micro cap index, etc, Company runs into a major blimp. And here it is:

Jan 18: Voluntary recall of Radar Farms smoothie blends due to possible health risk caused by a potential contamination of "Listeria monocytogenes, an organism which can cause serious and sometimes fatal infections in young children, frail or elderly people, and others with weakened immune systems. These recalled blends themselves did not test positive for Listeria monocytogenes. However, Listeria monocytogenes was detected on spinach and/or kale ingredients on another lot which is currently placed on hold. These spinach and kale ingredients used to manufacture the recalled blends were supplied by the same outside party.
Just when they thought the bad streak was over:

April 23: Their popular Jamba smoothie frozen vegetable and smoothie kits also had the possible health risk from the same bacteria and hence issued a voluntary recall.
Unfortunately, the health risk was out of their control and could not be mitigated unless they tested every single batch for bacteria, an impossible task.
Key Takeaway
As I dug deeper into Inventure Foods, a pattern of success factors emerged.
They were successful at execution of retail programs

This meant getting into big retailers, marketing to consumers and pricing and margins

Aligned corporate strategy with industry trend

Introduced new products that were "healthy"

Smart partnering with brands that would help promote their strategy

They were smart in partnering with recognizable brands to help them market their healthy products

Innovative and Constant Change to Product Portfolio to Capitalize on Products that Work

They leveraged brands that were popular and introduced aa variety of new flavors and ingredients. One reason they were able to continually introduce new products though was because they had a far reaching retail distribution network, so it wasn't a problem getting their new products in front of customers.
They licensed with famous brands and introduced a new line of products.
Sold off/wrote off products that didn't work

Continuous investment and improvement at plant facilities to add capacity and improve efficiency

Improving efficiency is one thing but their sales/partnership team also went out to find clients that wanted to manufacture their own private-labeled snacks, which was used to cut costs at plants by adding capacity
So far, similarities between Inventure Foods' success and Crown Crafts' (kids' bedding company in my last post) success are striking. The 2 notable similarities are (1) in their respective industries, they both licensed with brands that were popular in their industry at the time; and (2) they constantly used feedback loop to update their portfolio of products. They discontinued products or divisions that were no longer forecasted to have potential growth and they designed, innovated and introduced new products that they found out to have potential in by assessing which existing products were contributing to their growth.
For reference:
Crown Crafts (NASDAQ:CRWS) is the perfect example of how to turn around a company reporting losses every year into a company that not only survived the financial crisis but grew over 1300% in 10 years. The orange and red lines are the S&P small cap index and the Russell microcap index, respectively.
Before we get into the factors that drove the Company to succeed, a little overview of what the Company does.
Company Overview
Crown Crafts designs, licenses, manufactures and markets infant and toddler products – mostly in bedding, blankets and bibs and a smaller percentage of sales in plastic-related products.
Crown Crafts has an impressive distribution network of retailers:
Industry
Baby care market has increased overall since 2011.
However, it is a very competitive market. Crown Crafts has had to be strategic and disciplined. And that's exactly what they've done.
How Did They Grow 1300%? Key Success Factors:  
Upon a detailed analysis of Crown Crafts' path reveals key success factors that contributed to the Company's 1300% growth in 10 years. A more detailed analysis is below – with notes that point out significant events that caused the stock to reflect the value of the Company.
A lot happened in 2001. The Company IPO'ed, a new CEO was in charge, and they refinanced the debt from $106 million to $47 million. Management team vowed to turn the Company around. They started by selling off their unprofitable business in adult bedding products. This hurt their top line sales, but their focus was to cut costs and protect their profitability.
The next 5 years proved to be a difficult time, but throughout it all, the Management team continued to pay down debt every year and put in place a continuous feedback loop to determine which product divisions were working and which product divisions were not, i.e. they were ready to take appropriate risk measures in order to keep reinventing the Company.
2006 was a pivotal year. Crown Crafts refinanced their debt again, reducing the debt outstanding by more than 70% and just as importantly, extinguishing exercisable warrants that were attached to the debt, reducing the fully diluted shares by more than 70%. Overnight, the Company's shareholders rewarded the Crown Crafts by more than 200% and the Company started gaining momentum. Crown Crafts' CEO, Chestnut, also had a strategy to grow the company – to make meaningful acquisitions.
Since 2006, the Company continued to be profitable and it is evident that the Management team stayed disciplined. (Read through the detailed analysis of success key success factors below.)
To sum up the analysis, the key success factors that contributed to the Company's success in the last 10 years (and continue to do so) are:
Reducing debt first and foremost
Share repurchase program
Meaningful acquisitions
Actively enter licensing agreements and partnerships to market other brands that are successful or distribute their brands to others, i.e. active business development
Disposing of divisions/assets that are not profitable

i.e. paying special attention to what works and what doesn't and not being afraid to cut off cancerous products

Protecting profitability and controlling costs – saying no to retailers who are going to suck their margin
Cash dividends but only after the company has paid down debt and can
Detailed Company Analysis of Success Factors (and Failures)
Letter on the stock chart indicates key events discussed below in detail.
July  2001
Refinanced debt from $106 million which was refinanced in July 2001 to $47 million. Debt to equity was reduced from 1.9x to a negative debt to equity of -2.9x due to huge losses, deeming shareholders' equity to be worthless. No wonder the stock had been crawling before major changes to turn around the company.
Along with E. Randall Chestnut named new CEO; had been VP Corporate for the Company since 1995.
Also sold off the adult bedding division to the former CEO. Key efforts to turn around the company: New CEO, new debt structure, and new product segment mix.
December 2001
A. July 2006
Underwent a MAJOR refinancing reducing debt by more than 70% AND extinguishing with it fully diluted shares by more than 70% (i.e. exercisable warrants that came with the debt).
Since the CEO change in 2001 along with adult bedding division being sold off and refinancing of the debt, the Company's financials started seeing improvements, including:

Debt being paid off every year. In 2002, debt to equity was 2.9x and by 2006, debt to equity was reduced to 0.8x (less than 1.0x for the first time!)
While debt is being paid off, holding off on cash dividends (As much as shareholders want to get a cash dividend Christmas bonus, the Company was stretching its dollars to the detriment of the Company's profitability in the past)
Positive net income (after having sold off the adult bedding division in 2001 which was contributing to its losses)
Also in 2003, Company announced a shift in product sales mix. Their Pillow Buddies business was decreasing due to increased competition pushing royalty licenses of character licenses up higher. Decided also to take their Disney Consumer Products direct to retail starting early 2004. Considering Toddler Bedding (bedding with Disney characters) is in now (2016 FY) the second highest grossing segment of product sales, this was a good decision (i.e. toddlers + Disney characters).
CEO announced that Company was going to grow via meaningful acquisitions going forward
B. November 2006
Reaching into Latin American market – entered licensing agreement to develop, produce, market and sell infant home furnishings and accessories under the Baby Mink brand, which has 80% of market share in Mexico.
C. December 2006
Acquired all of the assets of Kimberly Grant, Inc., a designer of various infant and toddler products. Under the agreement, the founding designer will continue to develop designs.
D. February 2007
Announced closure of their subsidiary Churchill Weavers (which sold beddings), which has been unprofitable. The Company tried to sell Churchill Weavers but could not reach an agreement, so they decided to liquidate.
On Feb 14, 2007, announced Q3 results, which reported lower sales by $1.1 million YoY. The sales shortfall came from pricing pressures by two retailers. Company decided not to participate in those sales because they wanted to protect profitability and control costs.
E. July 2008 – November 2008
F. June 2009
Reported earnings that doubled YoY
From 2007-2009 through the global financial crisis, the Company made key meaningful acquisitions (Spring Global – infant and toddler line in Nov 2007) and entered into licensing agreements to introduce new popular branded infant/toddler products (licensed from Crayola – toddler beddings in Mar 2008, licensed Kimberly Grant toR. Gibson to use the brand to produce complementary toddler products like books and photo albums )
increased sales while keeping costs low. The Company was profitable except for non-cash impairment charges due to lower value of carrying book value like goodwill
Net cash on the books increased; lowered A/R and inventory
G. July 2009 – December 2009
H. February 2010
Announces cash dividends to start being paid in May 2010
I. May 2010 – December 2010
May 2010
Began distributing cash dividends again
Debt is almost extinguished
July 2010
Second letter to shareholders in the last year to dissuade shareholders to listen to Wynnefield Partners Small Cap Fund, an activist fund, that had on several occasions induced proxy battle
Also in the same month introduce bedding for pets – a new product category
July 2010 – December 2010
Focuses on expanding international sales – adds an Executive to lead the international sales efforts
Partners with ProjectNursery.com, a popular mommy blog run by moms, to increase social marketing by marketing directly with and to moms
Presents at multiple investor conferences
J. July/August 2011
Reached an agreement with the activist fund, Wynnefield, to replace one of their directors with one they nominated with
Reported lower profitability despite increased sales for the quarter YoY. Also revealed lack of cash on their balance sheet compared YoY.
Debt free
Company's value took a hit in 2011 as their gross profit remained in question due to rising costs for raw materials, labor, transportation, and currency translation. Along with decreased profitability and a losing "proxy", throughout the year, there weren't positive impacts that fueled the momentum they experience in 2010:
Company continued to pay quarterly cash dividends and continued to marketing efforts through presentations at multiple investor conferences throughout the year.
Introduced a bedding liner product for infants
However, no new meaningful acquisitions or licensing agreements made
K. February 2012
Reported growth in sales and profitability finally
L. March 2012
Announced 100% increase in the quarterly cash dividends to start in July 2012, representing an annualized yield of 7.4%
2012 – 2013
Entered into licensing agreements and distribution agreements
M. June 2013
Reported fiscal year end – although sales dropped slightly, income is higher – proving that their cost cutting and profitability protection strategy is working and that Management is disciplined.
Announced reduction of board members from 7 to 5 directors to reduce board-related expenses
N. June/July 2014
Yet again another increase in their gross profit and income. This time they also increased sales as well in their fiscal year end report.
In July, made another acquisition for $1.35m– Kidsline and CoCaLo brand names – only the rights to use the brand as Kidsline undergoes chapter 11 bankruptcy proceedings
O. June 2015
Reported another increase in income and sales. Profitability margin decreased 300bps
P. February 2016
Reported another increase in income in absolute value and profitability margin despite decrease in sales. First time reporting over 30% in gross profit.
Q. November 2016
Reported a decline in sales and profitability.