Company Overview
EnviroStar was founded in 1959. They started as a private distributor of laundry equipment and then went on to become a nation-wide distributor and provider of their own proprietary equipment. The Company was able to achieve success because of the founder's innovative and entrepreneurial approach to business.
Their three business segments are very complementary to each other. They produce their own brand of products. They have a franchise business. And they've now added the nation's largest distributor to their portfolio, from which they will have synergies through technician efficiency, inventory management, and exposure to clientele to market their products through the distribution business.
3 Complementary Operating Segments
Steiner-Atlantic: Provides commercial & industrial laundry & dry cleaning equipment as well as providing maintenance and technical support for their products. Started in 1959 as distributor of laundry and dry cleaning equipment. While building the distribution business, Bill Steiner created and patented dry cleaning equipment that was more energy efficient and environmentally friendly.
DryClean USA: License and franchise operation, with over 400 locations in the US, Carribean and Latin America. In 1977, Bill Steiner co-founded DryClean USA, which became the nation's largest and most recognizable dry cleaning franchisor. Note that these are drop-off dry clean as opposed to do it yourself coin-operated laundromat.
Western State Design: Nation's largest distributor of commercial, industrial, and coin-operated laundry equipment and a provider of routine maintenance and technical support. Announced acquisition of Western State Design in September 2016 and completed the acquisition in October 2016.
Pricing & Customers
Steiner-Atlantic's customers are primarily hotels, resorts, and correctional facilities that use industrial laundry and dry cleaning equipment everyday. In addition to their proprietary laundry and dry cleaning products and equipment, such as GreenJet – a dry wet cleaning machine that is energy efficient and environment friendly – their product offering has 12 brands which also include third party hot water boilers for industrial use. They believe their products attract their customers because it is a one-stop shop. Their prices for the products and machines range from $5,000 to $1,000,000.
DryClean USA's customers are franchisees of the brand. Initial franchise fee can cost from $80k – $500k depending on location, size, and equipment. The franchise fee they collect from each location is $15k – $30k a year and the royalty fee is $5k a year. Terms of agreement are for 10 years with renewal fee of $5k. They don't charge a fee for advertising. Other dry cleaning franchisors charge a percentage-based royalty fee around 6%. (Source: thefranchisemall) A profitable dry cleaner could be making $500k a year in sales, which translates to $30k a year in royalty fees at 6%. The fixed annual royalty fee could be their cost-leadership style. Although I can't see what every franchise agreement looks like, there might be missed opportunity to structure the royalty fee as a fixed up to a certain amount of sales and then a fixed + percentage if they meet a certain target, provided that DryClean support advertising fees, etc.
Dry Cleaning Industry
Industry is Fragmented
The dry cleaning industry in the US is highly fragmented. The nation's 50 largest firms only generate 10% of the revenue in the industry (Source: First Research, Dec 2016). In 2015, annual sales of the dry cleaning industry was $9 billion, brought in by more than 34,000 dry cleaners across the country (Source: IBIS, March 2016). In comparison, Walmart brought in $480 billion in revenue in 2015 alone from ~6,300 stores (Source: Statista). With the acquisition of Western State Design, they've now built a stronger presence in the coin-operated laundry industry. In the US, laundromat sales in the US was $5 billion, with almost 22,000 laundromats in the country (Source: IBIS, June 2016).
When the market is this fragmented, it means there is no loyalty from its customers, which makes sense since I am not going to drive 50 miles to my favorite brand of dry cleaners when I can go to the local dry cleaner's down the street. There are advantages of a fragmented industry, which is that you are not competing against a Coca-Cola. There are also many pockets of niche that can be created to differentiate yourself.
EnviroStar's Competitive Advantage
For EnviroStar, they've certainly been smart to brand their franchise business, DryClean USA. What they are missing in this business is the unique competitive advantage. Currently, their brand is known for average price, average service, average offerings. It neither caters to those who would pay extra for a reliable, high-quality job, nor the people who need it super fast and super cheap. Unless the company gobbles up other players in the industry to become the leading brand in terms of most recognized in customers' minds, it'll be hard to demand customer loyalty when there are dry cleaners that pop up down the street every year due to low barriers to entry.
DryClean USA's franchise cost in upfront fees and annual franchise & royalty fees are in the middle of its peers (Source: Entrepreneur, thefranchisemall). So, the pricing they enforce or encourage their franchise stores to charge consumers depends on the profitability of the franchise stores and EnviroStar's wiggle room to charge less royalty fees but with the strategy of putting more franchise stores across the nation.
One competitive advantage they have with their line of products that they sell directly to industrial and commercial customers, such as hotels, is that their products have been known for a long time as environmentally friendly and energy efficient. In this fragmented industry, if they continue to introduce new versions of products that are proven to be even more energy efficient and environmentally friendly, they'll be able to position themselves to gain customer loyalty.
Surviving a Declining Industry 
Unfortunately, what is working against them is the lack of growth in the industry. The annual growth of the last 5 years was -0.2% (Source: IBIS). Further adding to the decline of the industry is that clothing manufacturers are producing less clothes that require "dry cleaning only." And there are more and more advanced washer and dryer for the home that will give you similar results from dry cleaning (Source: Capital, Jan 2016). Fortunately (but not really), the laundromat industry had a slightly better performance with 1.2% annual growth in the last 5 years (Source: IBIS).
EnviroStar – Last Man Standing?  
Organic Growth: When demand is shrinking, you have to try to capture as much of the remaining demand as possible. Especially in such a highly fragmented industry where there is a lack of customer loyalty, you are left with (1) being the cheapest, and (2) being ubiquitous. These are important transformative years, where more effort is exerted into marketing its brand to pervade every niche of the market but also to introduce cost-cutting programs in order to support low prices offered to customers. They also have the opportunity to grow internationally, either through their salesforce or M&A.
Mergers & Acquisitions: When EnviroStar's new CEO came on board in March 2015, one could say this is the 3rd chapter of EnviroStar's story. The first was the founder, Bill Steiner, finding the foundation of the company, the second chapter was when his son, Michael Stiner, joined the company and together, they built the company to a company with a network of customers. And now with Henry Nahmad, a young and driven MBA grad, at the helm, he's helped the Management team recognize the state of the industry, i.e. fragmented and declining, and has begun a buy and build strategy to survive it.
On that note, Western State Design was a smart move – adding a portfolio of customers to its distribution network. Was it a fair price? We'll find out in their next financials. But with a purchase price of $28 million, we should expect to see around ~$30 million of sales added every year, with an average multiple of about 1.0x sales (Source: Fulcrum). It has certainly helped with international expansion, i.e. to the Caribbeans and Latin America. Western Design is located in Calirofnia, which plays into the strategic location to reach into their distribution network since EnviroStar is located on the opposite side of the country in Miami, Florida.
We should be seeing more transactions involving international reach in the coming years if Management's buy and build strategy is in full force.
The market really seemed to like the acquisition, helping the stock jump 225% in 3 months since their announcement of the acquisition in September and still 2 months after the completion of the acquisition.
Cut off the Tumor: This is obviously an extreme strategy, and one that should be employable in a desperate situation where the long-term vision of the industry is clearly terminal. Kimberly-Clark sold off its capital-intensive paper mills that were generating mediocre sales decades ago. At the time, the stock took a hit, but the CEO, Darwin Smith, understood that the long-term vision for its company in this industry was to be in the consumer business. So, surviving through the downturn of the stock, Kimberly-Clark pushed through in divesting the "cancerous" arm that was the paper-mill business and refocused its company's resources into building the consumer paper-product business. Kimberly-Clarks became the #1 paper-based consumer products company (Source: Good to Great). Is there a segment that is sucking the resources of EnviroStar? Could it be better spent innovating and launching home-based washer and dryer products with all of the technology and branding lessons the company has learned over the years?
Technology
As part of their buy and build strategy, in addition to businesses they are looking to acquire, they are exploring technological advancements to make their current operations better.
Currently, apart from the "technology" of their products, EnviroStar hasn't implemented new faster, better, and smarter way of doing business that gives them a competitive advantage via technology. For example, with the network of franchisee partners, they are more suited to head a consumer-based pick-up/drop-off drycleaner service mobile app than Flycleaners, who has to cut a margin to their partnered facilities (Source: Business Insider).
EnviroStar could also be implementing technology into their advertising and sales. Are they doing any online targeted advertising for their franchisees? Are they doing any digital advertising to young people who are looking to become entrepreneurs via franchises? Do they have an enterprise software where franchise owners can use it to manage multiple locations?
There is a lot of room for improvement in technology.
Management
The Management Team is currently comprised of:
Henry Nahmad – Chairman, CEO, President
Previously served as CEO of Chemstar Corp, a provider of food safety and sanitation solutions. Before becoming CEO, he held Executive Vice President and Strategy position at Chemstar. Prior to Chemstar, he served as Director of Corporate Development at Watsco, Inc, the largest distributor of heating, air conditioning and refrigerated products.
So, he's a corp dev guy – no wonder as soon as he came on board EnviroStar, he's implemented the buy and build strategy. Or conversely, the previous CEO, Michael Steiner, and the board may have been looking for new management to expand the business by way of acquisitions in his efforts to leave a legacy after his exit. In any case, for the buy & build strategy, he seems to have the right experience. However, after having servied as EVP for Chemstar since 2008, he left his CEO position not long after assuming the new role, which raises some questions. Although his experience has not directly been involved in laundry and dry cleaning, it has always been in industrial products and distribution, so it is somewhat aligned. A small, albeit, important finding is that the culture at Chemstar is such that employees did not approve of the CEO – most of the reviews are for after Nahmad left Chemstar, but there are some reviews for during Nahmad's tenure as CEO there. And even if it is for after Nahmad had left, it does question the state of the company's culture he had left it in (Source: Glassdoor).
Michael Steiner – Executive Vice President and President of Steiner-Atlantic
Has been President of Steiner-Atlantic since 1988, and during his tenure, was involved in growing the business in many different facets. It's reassuring to see that one of the company's veterans is staying in Management after control of ownership.
Dennis Mack – Executive Vice President of EnviroStar; President and Founder of Western State Design
Tom Marks – Executive Vice President of EnviroStar and Western State Design
Financials
Their financials ending Sep 30, 2016 is a bit cheeky. They had an outstanding revolving credit facility of about $2.2 million, which they wiped clean before September 30, so they declared debt to be $0 at the reporting date. But a week later, on October 6, they refinanced the debt into a $5 million term loan and a $15 million revolving credit facility. Of the $20 million available credit, the company took out $12.6 million to help pay for the acquisition of Western State Design. As a result, what is reported on their balance sheet looks ostensibly healthy, but their leverage ratios reveal otherwise.
Current ratio is 2.2, which is pretty healthy even though a lot of it is tied up in accounts receivable which saw a 3-fold increase since June 30, 2016.
With the $12.6 million loan outstanding, debt ratio is 1.3. Above 1.0 indicates they don't have enough assets to cover their debt. In addition, their debt to equity is 2.3. Yikes. The loan is not due until 2021, and since we don't know Western State Design's financials, it's hard to tell whether this will be a problem. For now, there isn't enough information to make that call.
Valuation
My DCF valuation yielded $4.80/share – the price EnviroStar was trading at before the announcement of the acquisition of Western State Design. On September 7, 2016, the day before the announcement, it was trading at $4.76/share. So, pre-acquisition, the company was fairly priced.
In addition, comparable companies yielded a median EV/EBITDA multiple of 15.9x and EnviroStar pre-acquisition was trading at 14.7x, so it's not far off.

Peer companies used in the analysis include: MRC Global, Kaman Corp, MSC Industrial Direct, W W Grainger, and Fastenal Co.
In the last 3.5 months, the stock price rallied, which leads me to believe that the acquisition of Western State Design is seen by the public as a positive. Hard to tell at this point because WSD is not public so I can't see its financials. But synergistically, the acquisition will bring more growth.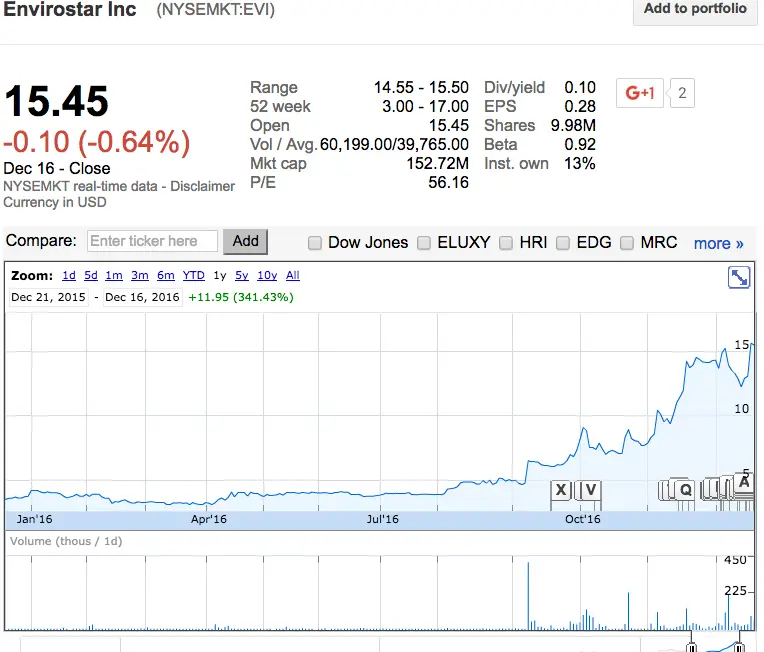 Summary
Positives:
Has Competitive Advantage: Positioned themselves to provide complementary products/services within their space. They target the commercial and industrial customers, which is easier to reach with their salesforce than individual customers. Although still a competitive and fragmented industry, over decades has built strong foundation as a leader in the industry.
Long History of Innovation/Reinvention: EnviroStar's had a long history of innovation, not so much reinvention. When the company started out as a distributor of laundry and dry cleaning products, the founder, Bill Steiner, saw the opportunity to fill the gap in the market with more energy-efficient and environmentally friendly products. Henceforth they started providing their own products to industrial and commercial customers. EnviroStar saw the opportunity to enter the franchise market and now boasts ~400 stores. Since then, they have been building their distribution network and franchise segment, both organically and with the acquisition of Western State Design under the new CEO, Henry Nahmad. Their innovation and reinventing strategy will be more important than ever going forward with competitive forces at play in this declining and fragmented industry.
Strong Management: The company has the right mix of old and new. Steiner, the veteran of EnviroStar who grew the company to what it is today continues to assume leadership of Steiner-Atlantic. Meanwhile, Western State Design's founder and EVP have now joined the team to build the distribution network, which in this highly fragmented business and where sales depends on distribution, is key. Furthermore, although the new CEO, Nahmad is young and lacks experience in the CEO role, his previous roles were aligned in a similar industry and his experience in corporate development/M&A could be what EnviroStar needs to expand.
Valuation: Intrinsic valuation and multiples appear to be fairly valued at this point.
Buy-and-Build: Growth by acquisition may be one of the limited ways to grow the company because of the declining nature of the industry. There isn't one mega company that services and franchises nationally in every state and even internally, so this strategy (with a new CEO especially skilled at buy-and-build strategy) could work as long as implemented successfully with enough liquidity buffer to pay off the high leverage.
Risks:
Is in a Declining Industry: Declining industry, i.e. -0.2% annual decline in the last 5 years; highly fragmented – no customer loyalty. Competitive forces come from outside its direct competitors such as consumer-based washer and dryer products that can replace dry cleaning. Opportunity lies in international expansion and implementing its buy-and-build strategy until its captured most of the demand that it could.
Lack of Technological Advancement: They don't currently have technology implemented into the way they do business. A part of their buy and build strategy does mention that technological capabilities is one area they will explore in potential investments.
Highly Levered: High leverage ratios, but we are not sure how Western Design is going to contribute to working capital. It is a loose grade of C for now until the next 10Q.