Harte Hanks
Company Overview
Marketing agency/consultancy that helps clients strategize a marketing program to acquire new customers and increase customer retention rate by developing better existing customer relationships. In 2014, initiated new strategy and revised operation into 2 divisions:

Customer Interaction: Analyze clients' customers' behaviors from their data and using the insight, create innovative multi-channel marketing programs. Includes the following services:

Agency & Digital Services – Implement targeted marketing online for clients through search engine management, display, digital analytics, website development and design, digital strategy, social media, email, e-commerce, and interactive relationship management.
Database Marketing Solutions and B2B Lead Generation – Marketing database solution tools that the clients can use to identify models that provide them the most profitable customer relationships and then apply those models to win new profitable customers and retain existing customers.
Direct Mail – Digital printing, print on demand, advanced mail optimization, logistics and transportation optimization, tracking (including proprietary prEtrak solution), commingling, shrink wrapping, and specialized mailings. Also maintain fulfillment centers with custom kitting services, product recalls, and freight optimization allowing customers to distribute literature and other marketing materials.
Contact Centers – Teleservice workstations around the globe for inbound and outbound contact center services and support in many languages. Provide speech, voice and video chat, integrated voice response, analytics, social cloud monitoring, and web self-service.

Trillium Software (Business sold – awaiting regulatory approval): global enterprise data quality solutions provider – industry specific (financial services, banking, retail, healthcare, manufacturing, risk professionals), global data profiling, data cleansing, enrichment, and data linking for e-business, Big Data customer relationship management, data governance, enterprise resource planning, supply chain management, data warehouse, etc. Fee from perpetual software licenses, annual maintenance and professional services.
Successor to a newspaper business started by Houston Harte and Bernard Hanks in Texas in early 1920s. Company went public in 1972; became private in a leveraged buyout in 1984, and listed in NYSE again in 1993.
Largest client comprised 6% of total revenues in 2015; largest 25 clients represented 57% of revenues in 2015.
Valuation
Valued at $1.73/share, put on Watchlist, with a reassessment of the Company when the sale of Trillium Software is completed and debt is paid down with the cash from the sale of Trillium. Key risks followed by recommendations below outline how the Company could bounce back to profitability and growth. The Company has the potential to turn itself around into a growth stock if they overcome key challenges they are encountering that's causing the Company to be unprofitable (see Key Risks and the Recommendations sections).
Company has seen better days. Its stock performed significantly lower than the Russell Micro Cap Technology Index over the last 52 weeks, currently trading at $1.52 with a peak of $3.73 in March 2016.
Source: Google Finance (Link)
Discounted cash flow valuation (as of 12/3/2016) of base case yields $1.83/share: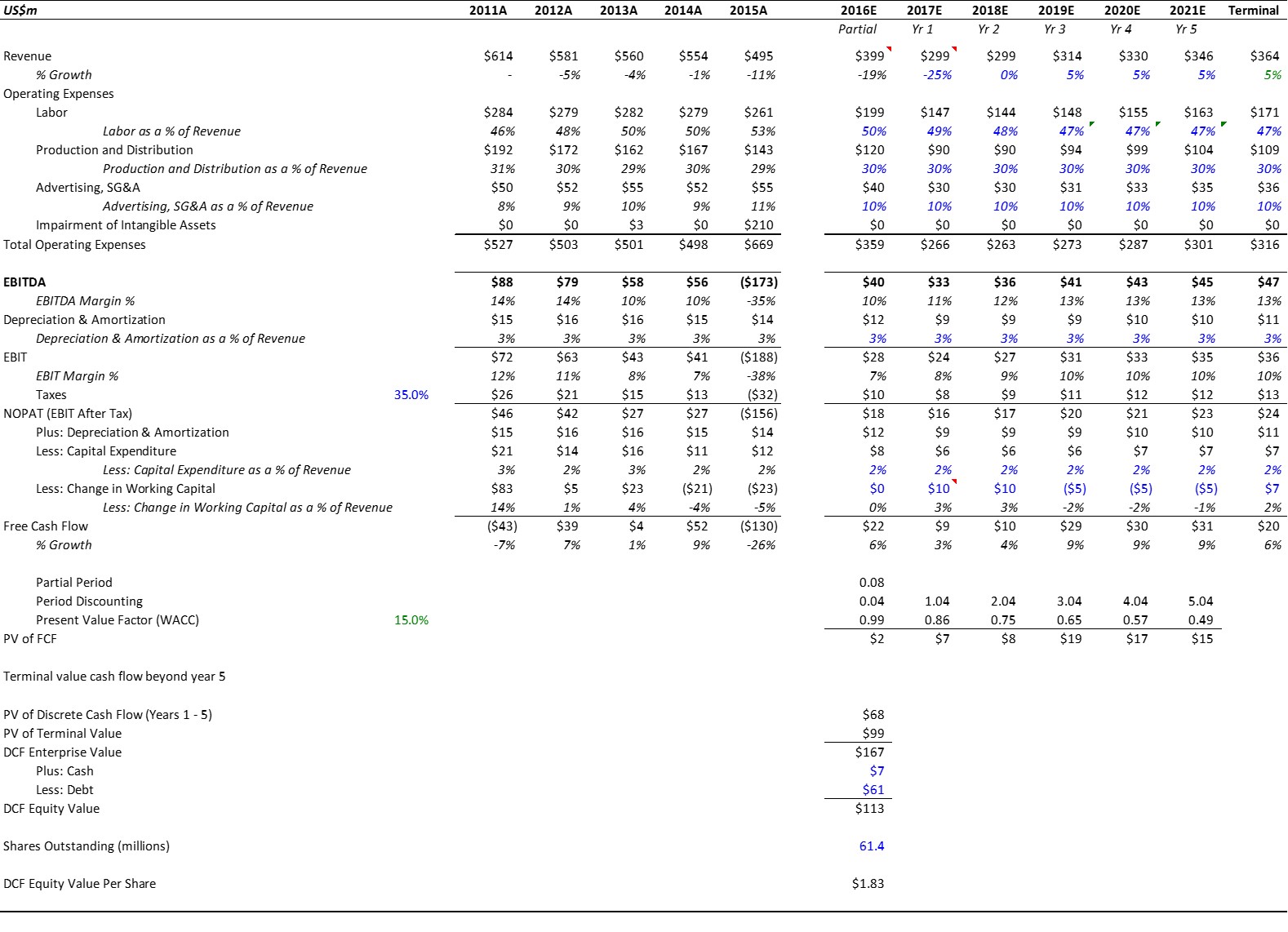 Long term growth rate of 5% assumed, which is between 3.9% of average projected nominal US GDP growth and 5.6% average projected nominal industry (online and traditional advertising) growth

Discount rate of 15% used using weighted-average cost of capital build-up from risk-free rate of 2.7% (20-year US treasury as of the valuation date), its comparable peers' data and company-specific borrowing rate and company-specific risk

Using 0.3x trailing P/S multiple and 0.4x forward P/S multiple for US microcap advertising peers, relative valuation of Harte Hanks is $1.62/share:
Key Risks & Challenges
Sales forces and sales groups are solution-specific to sell individual products and solutions. Direct sales forces, with industry-specific knowledge and experience, emphasize cross-selling of full range of marketing services, but are assigned to each sector to specific clients in that industry. There are some verticals that are not increasing in demand – retaining the industry-specific salesforce may cost more than the revenue able to fulfill in those verticals. Time to think about getting out of the non-profitable verticals. Is there also a way to consolidate the services or verticals such that the salesforce can be used laterally across verticals?
Highly competitive space with rapid technological change, high turnover of client personnel who make buying decisions. Hard to retain client loyalty for this reason. Revenue depends heavily on salesforce.
22 domestic offices and 6 international offices – are they all strategically located and necessary?
5,529 full-time employees and 44 part-time employees, of which 2,333 are based outside of the US, primarily in the Philippines. Presumably for the contact center segment. What is the margin for the contact center? Not a business that sets HH apart from its competition – a pure margin business by numbers. Worth continuing to provide as a service to its clients?
Clients are heavily concentrated – is the salesforce reaching its breadth of customers?
Direct mail – declining business with postal rates not supportive of profitability.
Very highly levered, but with completion of the sale of Trillium Software business, Company plans to pay down the debt.
Dividends discontinued, but it's not a risk. The fact that the company had introduced it means it could re-introduce it in the future when it's profitable again.
Labor as a percentage of revenue has grown from 46% in 2011 to 53% in 2015. 2014 recorded high labor costs due to severance. Stock compensation was the same in 2015 as 2013. Outsourced costs may contribute to higher labor costs, but could be offset from divestiture of Trillium.
Key Opportunities for Upside
Although Trillium Software business was operating at a profitable margin, its success is highly dependent on maintenance and continued advancement of technology to keep up with competition. Talent fees for software development is a risk that could lead to bleeding cash. The successful completion of the sale of Trillium Software could allow HH to save on costs.
Being a historical company that's been around, the success of its offerings depends on acquisitions of target companies that are not only synergistic but that is in the growth stage with new technology. HH is relatively active in making the calls to divest when necessary and be on the prowl of acquisitions. Hopefully in the next year, we will see HH acquire a programmatic advertising company that has an impressive list of existing clients.