DLH Holdings Corp (NASDAQ:DLHC)
DLH Holdings Corp. (NASDAQ:DLHC) is in the business of providing healthcare services military personnel and veterans.
DLH's services help veterans in some way from the beginning of their military life to the end. This includes setting up military treatment facilities, providing nurses in the hospitals, training the medic, all the way through to providing pharmacists, pharm techs and people who ship out prescriptions to veterans.
The Business – What Exactly Does DLH Do?
100% of DLH's revenue comes from federal agencies including the Department of Veteran Affairs, the Department of Health and Human Services, and the Department of Defense.
Their revenue streams with these federal agencies as their direct clients are comprised of (as of March 31, 2018):
1. Health solutions for military personnel and veterans – 63% of revenue
DLH's project managers and biomedical engineers perform R&D, testing, and development of new medical systems and devices intended to enhance medical readiness of troops in combat theaters across the globe.

Medical logistics support assists the uniformed services plan for fielding these new systems and devices above.

Deliver clinical drug and alcohol counseling services to Navy installations worldwide as part of the clinical preceptorship program.

Provides a range of case management, physical and behavioral health examinations and associated medical administration services to enhance assessment and transition process for military personnel.

Also engaged in efforts to alleviate homelessness among Veterans and other case management services to support Veterans' transition back into the community.

Ensure that Veterans receive their out-patient prescriptions on time through DLH's cloud-based enterprise system.
2. Human services and solutions – 33% of revenue
Provides a systems-based approach toward assuring that underserved children and youth throughout the country are getting proper educational and environmental support, including health, nutritional, parental, and behavioral services, using an evolving system of monitoring, evaluation, tracking and reporting tools against selected KPIs relative to school readiness.

Provides the enterprise-level IT system architecture design, migration plan, and ongoing maintenance (including call center) to manage the implementation.
3. Public health and life sciences – 4% of revenue
 Services include advancing disease prevention methods and health promotion to underserved at-risk communities through development of strategic communication campaigns, research on emerging trends, health informatics analyses, and application of best practices including mobile, social, and interactive media
So, this is quite confusing because their core capabilities on their website encompass a lot more than the 3 above. It's explained in their quarterly report that they are technology-enabled health solution provider by outsourcing the business process. It looks like their core capabilities include the capabilities of their outsourcing.
The obvious question is whether reliance on government agencies is a safe bet for the company in the long-term. Firstly, the have to bid and win contracts and although this gives them visibility into their revenue projection 1-2 years in advance, by the same token, they have to sustain the company with their own capital during that time until the project comes online. It's crucial to maintain overlap so that they don't have dip in revenue in any given year.
Secondly, the process of winning contracts means it's not guaranteed and therefore you can't really say that their revenue is recurring. I love recurring revenue model, so this concerns me. So one of the analysis questions is around the security of their revenue, which I added to my analysis questions below.
Leadership
Zachary Parker has been CEO and director since 2010, which is not a long time given the company has been around for more than 2 decades. He has held leadership roles in company divisions dealing directly with the government such as GE Government Services (now Lockheed Martin). He is active in the defense and veterans government associations. I imagine having a strong relationship with the government is critical since 100% of their revenue comes from the government.
The rest of the senior management is a roster of strong background in government programs. Having worked closely in my day job investing in a company that gets the majority of the revenue from federal agencies, the most significant difference I found in government facing companies is that they have to be "cautious" in maintaining their relationship with their customers. They can't be too aggressive and they have to follow the rules but they also can't be completely nonchalant and expect the customers to come to them. So their management team seems to be stacked well to face the federal agencies as customers.
The company's recent acquisition of Danya International whose capabilities are in the "human services and solutions" coupled with the composition of their management team's experience suggest that their long-term vision is to solely focus on selling to government agencies.
The company has strong corporate governance with a proper audit committee, management compensation committee and governance committee.
Financial Health
The company's had a successful growth in its revenue and EBITDA over the past 3 years although the jump in growth in 2017 is attributed to the newly acquired Danya International.
The good news is that the company has a positive cash flow and their interest cost is more than covered by its cash flow. The company has been deleveraging, paying off the debt each year. And with enough cash in the bank as at March 31, 2018 and a revolving credit line of $10 million, they would be able to pay the interest if they had a cash flow shortfall in a given year; i.e. they wouldn't go belly up if they had a negative cash flow year in an odd year (if they consistently produced negative cash flows, then that would be a different story). Compared to their peers, their debt to equity ratio is slightly below the industry average. The debt is also at a reasonably low interest rate.
The bad news is that compared to its peers (although the peers are much larger), DLH's margins are lower than the industry average. DLH's operating cost as a % of gross profit (not as revenue since gross margin for each consulting business in the industry varies) is much higher than the industry average.
All in all, the company's financial health is in an okay shape. They have positive cash flow, they are deleveraging and have enough access to liquidity to pay off their debt over the next 3 years. But their margins are lower than the industry average. Notably, an EBITDA margin of 5.2% for the most recent 6 months they reported is very low. The 3 year average EBITDA margin has been 4.9% so the profitability of the business is inherently very skinny.
Until the acquisition of Danya in May 2016, DLH's organic financial statements didn't look all that great. In 2013 and 2014, the company's EBITDA were below a million dollars each year with 0.5% and 1.3% EBITDA margin, respectively. In 2015, they increased their revenue and improved their margins significantly and increased EBITDA and EBITDA margin to $3.2 million and 4.9%. I understand now why they needed the acquisition of Danya. This leads me to 2 interpretations:
Before the acquisition of Danya, their business model was basically only in delivering prescriptions and providing logistics related to medical activities to the department of defense and department of veterans affairs. Margins were skinny in this business model and there was a cap in their growth.

Because of the cap, the only way to grow is inorganically by acquiring companies that service the government so they can expand their portfolio of capabilities. The problem with the business of Danya is that the overarching project management services doesn't scale either.
Hmm, I don't know about this company anymore.
Is DLH under or overvalued?
A discounted cash flow model in this case is not the best to use because of the non-recurring nature of the revenues and because as an illiquid microcap company, the stock isn't going to hold much weight in reflecting the intrinsic valuation.
So in this case, I used multiples to compare to DLH's competitors. The competitors were found in DLH's annual report. They are all much larger than DLH.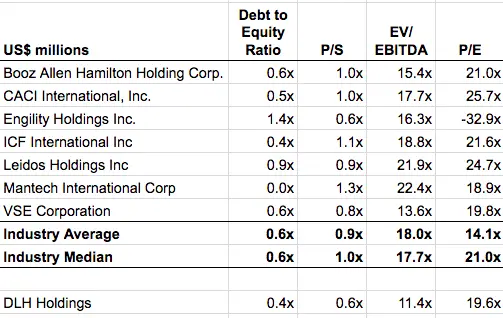 Compared to the industry average multiples in the table above, DLH's share price now at $5.45 is undervalued. The company is better positioned in terms of leverage with a lower debt-to-equity ratio, which would actually be lower had DLH not acquired Danya International in May 2016.
But most of DLH's competitors have established themselves as large-cap companies and pay a dividend. After the acquisition of Danya International in May 2016, the company's stock rallied up for a little over a year until October 2017. Then the share price started declining gradually, which I have to think is attributed to the results of the acquisition after a year highlighted in the annual report.
Overall, the share price is undervalued compared to the peers but you have to discount the company's valuation anyway because of its illiquidity, so I would say it's fairly valued with that perspective.
Reasons to be Bullish about DLH
According to this chart by Statista, the number of veterans in the US is projected to grow albeit small growth.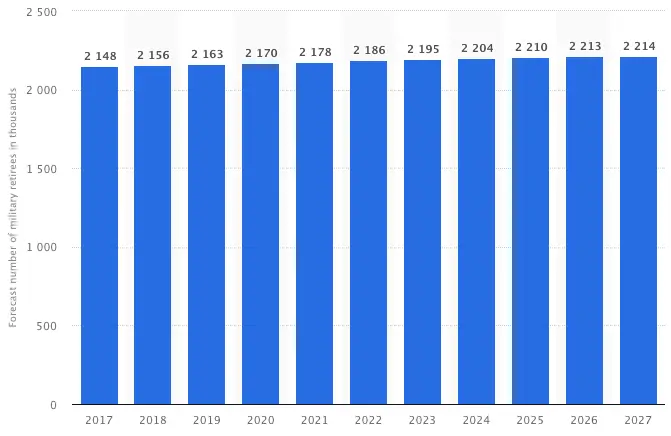 Consulting business with outsourced processes thus no inventory and no capex. So the key focus is on sales, outsourced cost control and opex control. Outsourced costs are out of their control to a certain extent so gross margin may fluctuate. Operating cost is within their control. It increased from 2015 – 2017 but the first half of FY2018 has seen a decrease again in both annualized and YoY.

Sales are based on contracts won so they typically have visibility of 1-4 years beforehand for each project. As of Sep 30, 2017, the backlog of project commitments was $174 million, of which $93 million was not yet funded.

In terms of A/R and risk of bad debts, since the government is the counterparty which has a high credit worthiness, there is not too much worry in collecting receivables. The company allocated $0 allowance for bad debts.
Reasons to be Bearish about DLH
DLH has a relatively high debt on their balance sheet which was for the acquisition of Danya. It's not a huge concern as they have been deleveraging as the debt is amortized upto 2021.

Customer concentration is a big concern because more than 60% of their revenue comes from the Department of Defense and the Department of Veterans Affairs for their technology-enables enterprise system that helps to deliver healthcare such as prescriptions to veterans and medical logistics to active duty. Although they acquired Danya in 2016 to expand their portfolio of capabilities and reach into other federal agencies, DLH is still providing services to a small number of federal agencies and programs. If any one of them has a budget cut or the demand goes down, then DLH's revenue and profits will quickly erode.

DLH is not paying dividends. Five out of seven of their competitors pay a dividend. Dividends indicate somewhat of a discipline for the company to control their spending in order to maintain a dividend yield no lower than dividend yield paid previously. So that's a bummer.

Capabilities are limited and not scalable. Currently their services are very specific to veterans and military personnel and social work under the human services and solutions business unit. What they offer is difficult to provide on a mass scale to corporations. They would have to look for companies that are large organizations needing service in for example coordinating pharmacists and prescription shipping for a specific group of people. There are opportunities but pharma companies tend to already have a strong grasp in that which is already vertically integrated into their overarching supply chain.

CEO only owns 1% of the company. Especially for a microcap company, I want to see that the founder is still around and/or that the CEO owns enough shares to be incentivized to work their ass off and do whatever it takes to not let the company fail because it's their blood, sweat and tears and lifeline. Not the case here as the current CEO and other senior management members came on board relatively later stage and relatively recently.

Directors, William Alderman and Frederick Wasserman, have both been selling for the last year in the open market. If they were selling their options to make some bucks, then who am I to question their personal reasons… but still it's concerning that they've been selling for a year, particularly the last half a year. Do they not believe in the company's long-term super growth?

I'm struggling to see the multiplying growth opportunities from their acquisition of Danya International in May 2016. I understand that the company's capabilities is human skill related – i.e. there is no tangibility like construction; rather, they provide services. So in order to expand their capabilities of providing project management skills and a technology-enabled enterprise system in project management for government programs, they acquired Danya. And Danya also services government agencies so they wanted to expand their reach into other governmental units. It makes me question whether the reason was because there isn't enough growth opportunities in defense and veterans affairs alone. We saw from 2013 to 2015 that their margins in that business alone was quite skinny. So I can understand that they needed a business unit that can expand their sales sideways, but I see limitations for revenue growth in both the Defense/Veterans Affairs and educational/health solutions for underserved children. I think leveraging their enterprise level system of project management to reach as many clients as possible could help them grow organically but if they continue to face government agencies as their only customers, then I see a cap on growth.
Summary of Analysis
The main things to note are that the share price is slightly undervalued but if you take into account the discount for DLH being an illiquid microcap company, then it's relatively fairly valued.
DLH's financials looks okay as they have a positive cash flow, they have cash in the bank and they're deleveraging after having taken out debt to acquire Danya International in May 2016. But since the acquisition, their operating cost has gone up quite a bit relatively speaking, so they need to contain their spending after figuring out the synergies.
They have enough access to liquidity if they have an odd shortfall cashflow year and although they have a high accounts receivable, the good thing is that the counterparty is the government so they have not had bad debts from ageing accounts receivable. But by the same token, the government is the only customer and more than 60% of their revenue comes from 2 departments of the government so there is major concern for customer concentration risk.
The leadership team is very experienced in dealing with the government as clients. But the CEO only owns 1% of the shares of the company and two of their directors have been selling their shares over the last year.
All in all, I picked this company to analyze because I saw potential. But after a rigorous investment analysis and following my investment checklist, I believe there is a cap on growth for the time being until they figure out how they can scale and there are too many risks that outweigh the potentials, so I'd rather not bet on this company.
I know, I'm bummed too. Days of analysis just to get to the conclusion to NOT invest my money in DLH. Well, at least you know I'm real and I don't get paid by these companies to promote.
Thanks for reading and see you in the next one!