You pay hundreds of dollars to stay in an Airbnb when you travel. Why can't you also list on Airbnb and make passive income while you work full-time?
Well, if you already have a spare bedroom, there's really no risk in listing it on Airbnb. And if you are thinking of buying an income property, at the end of the day, you will end up with equity in the property, so there isn't really a risk in listing on Airbnb either.
But what if you have neither a spare bedroom nor the money to buy an income property, yet you still want to make passive income from short term rentals on Airbnb?
There is one way to make money on Airbnb without a spare room or income property.
You can lease an apartment, pay monthly rent to the landlord, and instead of living in it, you list the apartment on Airbnb.
But is it worth it? Does the income you earn from listing the apartment on Airbnb outweigh the monthly rent you pay to the landlord?
You'll be surprised at the result of my research and analysis.
Cost of Setup – Don't Ignore!
The first thing you should know is that even though you are not buying a property to start Airbnb, there is still a considerable upfront cost.
First, when you lease an apartment for the purpose of listing on Airbnb, there is security deposit (even if you get all of it back at the end of the lease, you need it upfront) and moving costs. Together, that'll be around $1,500 for a 1-bedroom apartment in a metropolitan city.
Then, you have to factor in losing the first 2 weeks of rent, because you have to set up the apartment first after your lease starts before you can list it on Airbnb. Let's say the rent is $2,000 for a 1-bedroom apartment in Los Angeles. That's another $1,000 in upfront cost.
Finally, the cost of setup: furniture, kitchen tools, decoration, cleaning supplies, etc. will cost between $4,000 – $5,000. For example, a typical list (if you buy at Ikea rather than Pottery Barn) is: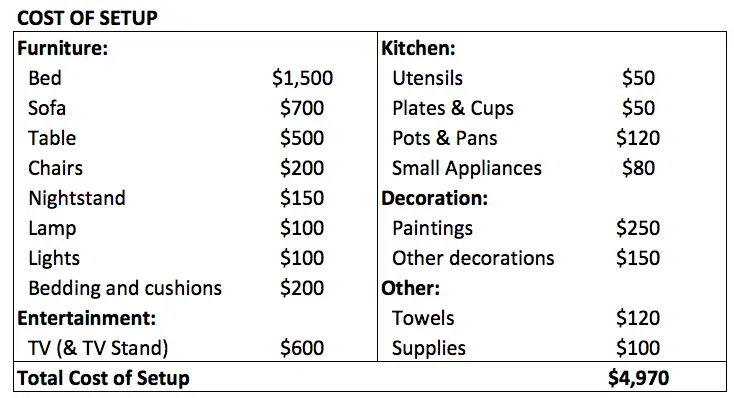 All in, the total upfront cost will be ~$8,000.
Good News: Airbnb Price Per Night is Twice the Monthly Rent
The cost of setup may deter you from starting an Airbnb. But the good news is that the price per night can be three times the monthly rent. That means there is potential to make 100% return on your monthly investment?
My analysis of ~250 data points (by varying cities/neighborhoods in Greater LA) shows that on average, the Airbnb price per night is twice that of the monthly rent per day (i.e. monthly rent / 30 days):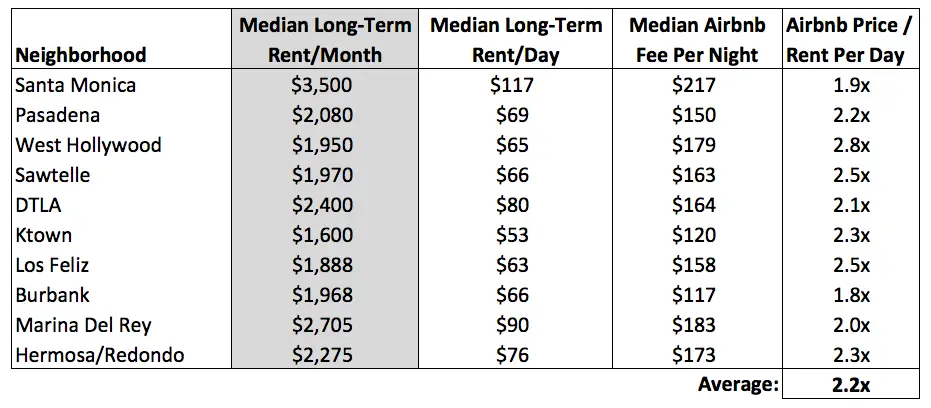 *Notice that West Hollywood has an Airbnb price that is almost three times the daily cost of renting the apartment. We will come back to this later.
Twice is good but not good enough. It doesn't mean you could make twice your investment from listing on Airbnb. The biggest factor is Airbnb occupancy rate.
Airbnb Occupancy Rate – Bad for Business!
As expected, the occupancy rate affects the income you can earn on Airbnb. Especially in the 10 neighborhoods within Greater Los Angeles that I analyzed, there is a lot of competition.
And even though neighborhoods like West Hollywood has a long-term apartment rental vacancy rate of 2%-3% (i.e. occupancy rate of 97%-98%), the Airbnb occupancy rate is only 65%, which is comparably lower. Or in Santa Monica where tourists flock to for vacation, the Airbnb occupancy rate is only 61%.
On average, the neighborhoods had an occupancy rate of 55%.
You can look up the occupancy rate of your neighborhood on insideairbnb.com.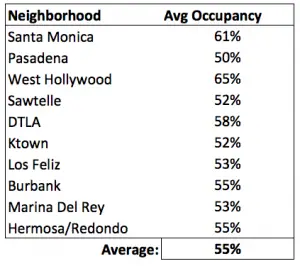 Putting It All Together: Airbnb is NOT Worth It
Putting together the ~250 data points in 10 neighborhoods in LA, the result is that the income earned on Airbnb is only marginally higher than the cost of monthly rent if you were to lease the apartment to start an Airbnb business.
The summary of the analysis below takes into account the pricing and the occupancy rate above as well as a 10% operating cost for Airbnb, which factors in a high turnover (cleaning fees and supplies, utilities, internet, etc).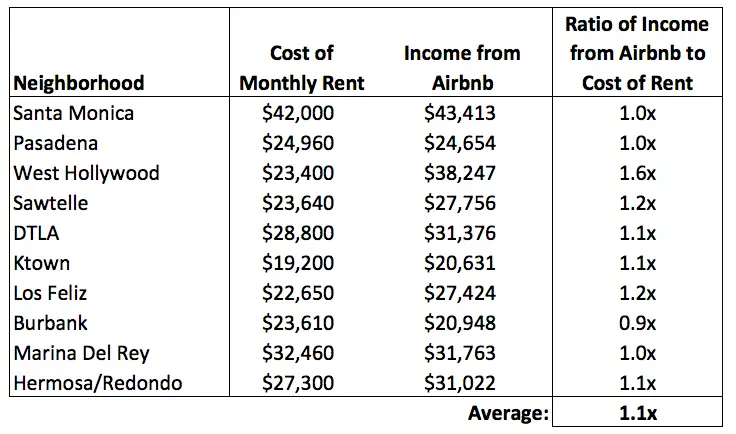 The income you can earn from Airbnb is only 1.1x higher than the cost of monthly rent. If you take into account the cost of setup, you will just break even. That means your return on investment will most likely be 0% – 5% per year. And that is only if your occupancy rate keeps up with the average in your neighborhood.
If you consider the risk of getting busted by your landlord for subletting your apartment on Airbnb when you're not allowed to, I'd say, it's not worth it. (If any of the readers have had success with this approach, please comment! I would love to hear your side of the story on how to make it successful.)
There is Hope: Where You CAN Be Profitable with Airbnb Business
As you can see in the result of my analysis above, West Hollywood beat the odds compared to the other 9 neighborhoods in LA. What is unique about WeHo that you can earn 1.6x income on Airbnb compared to the cost of renting the apartment?
If the neighborhood you are considering has these unique features that West Hollywood has, then you could potentially have a very profitable Airbnb business (i.e. short term rentals):
Near a convention center or a hotel that holds a lot of big conferences
Hotel vacancy rate in that neighborhood is very low at around 2-3%
Central neighborhood that connects to several popular neighborhoods on the periphery
Average Airbnb occupancy rate is relatively high (at least 60%) – you can look this up on insideairbnb.com
Average nightly price on Airbnb is at least three times higher than the daily rent cost
If the neighborhood you are thinking of launching an Airbnb business doesn't have the unique features above, it may be difficult to be profitable if you lease an apartment to do it.