If your company has an account, better yet, if your company's financials get audited every year, then what you need to gather to prepare for the sale of your business should be easy.
If your company has unorganized financials, then it'll be a bit more work, which will be covered in a future post.
If your business is profitable but your financial statements are unorganized, this alone will bring down the value of your company, which will cost you in the transaction price.
I've provided the spreadsheet you can download to organize your company's financials.
Remember that you also need to provide supporting material such as the monthly/quarterly/annual financial statements or management accounts that you prepared each period.
Listed below are key financial statement items that the potential buyer and their broker will ask for:
Last 5 years of P&L (profit & loss, aka income statement)
Last Twelve Months (LTM) P&L or Year-to-Date (YTD) P&L
Last 5 years of B/S (balance sheet)
5 year forecast (including capital expenditure and working capital)
Now I'll get into key traits for each item above that will value your company higher.
Scroll to the bottom to download the spreadsheet that you can use to organize your company's financials.
---
1. Last 5 Years of Profit & Loss Statement
Each company's P&L will look different because of line items that are relevant to one company that are not relevant to another. But the basic items of a P&L (or aka income statement) are: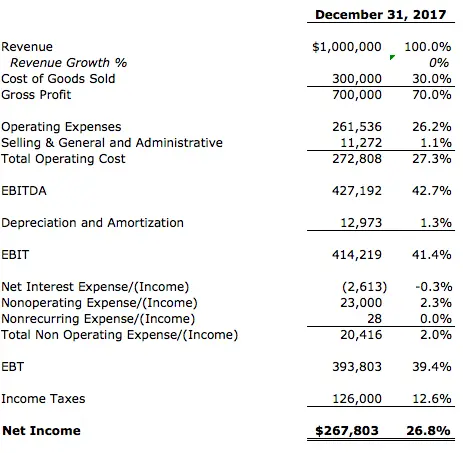 What you need to show:

Revenue for the last 5 years should show a growth each year (at least 3%)
Breakdown of revenue build-up – group the largest sales accounts and show prices and quantity
Customer list – for B2B businesses, show customer contracts with key accounts
Cost of goods sold % of revenue should be stable each year
Operating expenses and SG&A cost breakdown in a separate schedule – to show that your business doesn't have egregiously high spending
EBITDA margin should be stable each year and growing – to show that the company has been scaling up and efficiency has improved
Interest expense should not be higher than 5% of revenue otherwise it will be a red flag because the company has too much debt
Nonoperating and nonrecurring expenses should not be occurring each year and the reason for them should be reasonable in the context of the business – for example, a new machine had to be replaced or there was a natural disaster that destroyed the plant and had to be repaired
2. LTM or YTD P&L
If your company's financial statements fiscal year is from April 1 – March 31 and the period you're valuing the company is August, then you need to show the last twelve months or the year-to-date P&L.
This is to show that you're not selling the company now because you suffered serious losses this past year or had some unknown adverse circumstance affect your business, such as the largest key account leaving you for a competitor.
If that is the case for why you're selling, then you should reconsider and try to build the business back up before you sell or accept that you will receive a much lower price for your business than you originally anticipated.
3. Last 5 Years of Balance Sheet
Unlike a P&L, a balance sheet shows numbers in accounts and ledgers at a point in time, not for a period of time.
So it may not make sense to show historical 5 years worth of balance sheet, but actually, analyzing historical balance sheet over the last 5 years shows a lot of useful information.
A general grouped items on a balance sheet looks like this: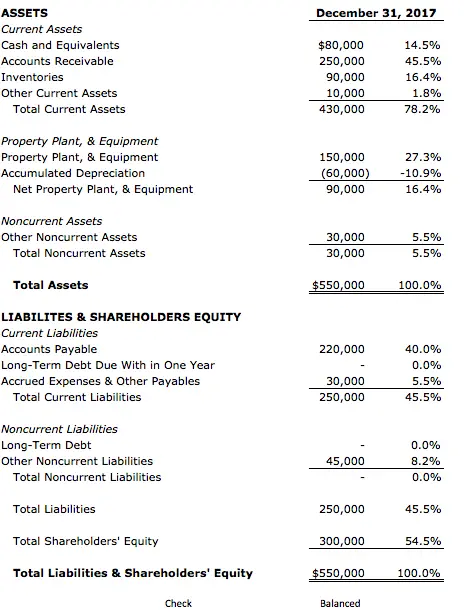 What you need to show:

Over the last 5 years, your business had a healthy float of cash
Accounts receivable has not been increasing every year as it indicates that you're not able to collect the cash from your customers and that signals bad debts that are never paid by your customers
Inventories are not increasing each year and that it's at a stable level
Property, plant & equipment level is stable each year and makes sense for your company with respect to the industry it operates in (for example, if you're a service-based business, then the PP&E should be almost nothing, whereas if you're a heavy-machinery company, then PP&E is expected to be high)
Accounts payable is stable and is not growing or too high as this indicates you owe a lot of money still to your suppliers
Debt is minimal – there is a healthy level of debt that your business can keep on the balance sheet, but lower the better
4. 5 Year Forecast
Now this is the exciting part. This is where you get to show how awesome your business is going to be in the future based on what you've built up to now. And these numbers are the crutch of what the valuation will be based on.
But a forecast is only as good as the assumptions, and the assumptions are built off the historical numbers. So, you can't bullsh#% these numbers.
The forecast needs to have legitimacy by showing evidence from the historicals, new sales contracts, evidence of improvement in operation efficiency, etc. A forecast model will look like this: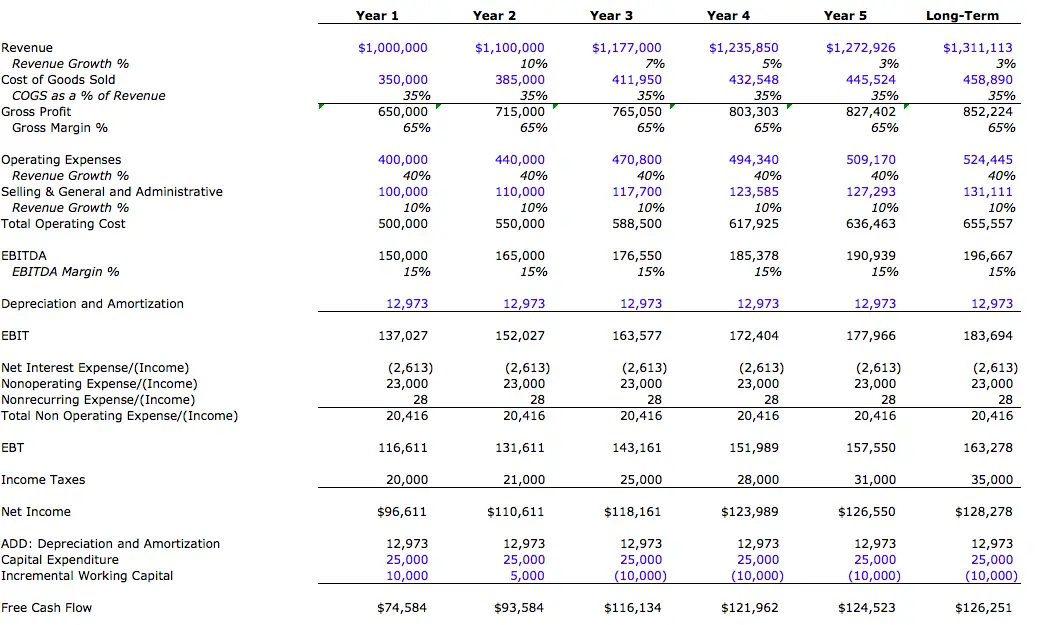 What you need to show:

Revenue build up – why do you believe in year 1-5, the revenue will grow by x%?
Customer list and forecast of sales by customers or groups of customers (note any contracts with customers in place)
Existing customers and targeted customer acquisitions
Projected price increases
Evidence of operating efficiency improvement plans
Sales & marketing plans and budgeted
Cost of goods sold and operating costs should also be broken down and each sub item should be explained why it will be x% of revenue
Any capital expenditures to add to or replace fixed assets like machinery or trucks
Incremental working capital, which is the net change in cash required to put into the business each year
---
Summary and Model Download
The more supporting evidence you have for your assumptions the better.
If your financial statements historically and forecasts are organized, it shows that you know your business inside out and that your business is in good shape.
Moreover, you need to show that your top line has been growing because it proves that once taken over by the buyers, the business will continue to generate healthy and growing level of sales.
Margins also have to show enough profitability that the buyer can benefit from the profit from the first year.
How the buyer improves the efficiency of the business to increase the margins is up to them, but the business needs to have a good foundation to start with.
Enter your email below and the financial statements model will be sent to your email directly.