Starting an ecommerce business from scratch seems to be the gateway to becoming a successful entrepreneur these days. But is it even possible for an average joe to start a successful ecommerce website?
If you have entrepreneur envy; i.e. you're envious of successful location-independent entrepreneur stories, this interview is just what you need to read.
One of the founders of not one, but two successful ecommerce businesses, shares his story on how he got started and his journey along the way. Chris Yee co-founded Brew Your Bucha, a kombucha home brew kit company and The Cocktail Box Co, DIY cocktail box kit company.
I've known Chris since school, and seeing him pivot from the 9 to 5 grind to starting an ecommerce business from scratch is proof that anyone with the entrepreneurial drive can do it too.
Let's get started with this golden nugget of information.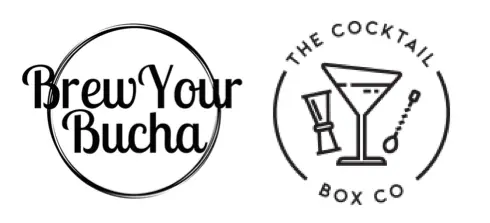 Starting An Ecommerce Business From Scratch – The Process
Identifying Ecommerce Opportunities in A Niche Space
Sometimes niche ecommerce opportunities comed to you by chance or you land on the idea if you have your eyes open for a niche. And the combination of the two is what happened to Chris.
Chris describes himself as not being built for the corporate environment. He enjoys solving problems and creating unique solutions, and as a CPA, he felt constrained in his professional career and knew that he would need to be in control of his future.
He had an inkling that he would start his own business a few years into his career. And, with this mentality, he was able to identify the ecommerce niche.
Chris explains, "Derek, my friend and business partner, introduced me to kombucha.  He had been drinking it for about 6 months with his fiancé and at four to five dollars a bottle, it added up quickly!  
He purchased a home-brew kit from a local tea shop. He was a bit disappointed about the quality of the kit and after trying kombucha brewing myself, we thought we could do a better job of delivering a better kombucha home-brewing experience.  
Similar to Brew Your Bucha, we saw growing popularity of craft cocktails, but there was a gap in the market for those who wanted to experiment with cocktails at home.  There was one competitor who was designing travel size cocktail kits, but there were many comments from customers who complained about its quality.
We believed we could deliver a better overall customer experience, so we set out to develop the highest quality on-the-go cocktail kit on the market."
Chris and Derek's approach to identifying a niche ecommerce business idea is both practical and inspiring. They identified an existing product or process in the market that can be improved. They did this by trying the product themselves and reading customer comments on the existing products.
How Much Time and Preparation Is Needed to Start An Ecommerce Business?
Chris's philosophy is that if you plan too much, you'll get stuck in the details and never get started.
"We did some research on the essential equipment and accessories needed for kombucha brewing and put our own kit together.  We started from scratch – the product sourcing, packaging, copy, and after about a month we had a minimally viable product ("MVP").  
One month after we decided to pursue Brew Your Bucha as a business, we had our first product up and selling on Amazon to get product feedback and validation, while we developed the Brew Your Bucha website."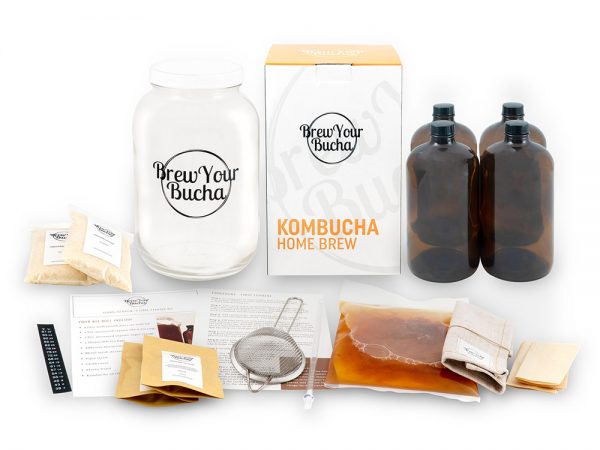 "We have since expanded our product line to various kits and accessories and have developed our blog as a go-to resource for kombucha brewing and how to improve overall health and wellness.
A year after launching Brew Your Bucha, we started The Cocktail Box Co.
Since starting Brew Your Bucha, we refined our processes to develop and launch quickly, so within a month, we produced our MVPs, the Old Fashioned and Champagne Cocktail Kits.
It's a process, and if we waited until we had the perfect product, we would have never started in the first place.
We sought feedback from friends, family and pre-launched on Amazon to test the appetite for our kits.  We have since grown a loyal customer base and the word of mouth marketing has been a boost to our brand awareness."
Chris and Derek is a primary example of what the popular startup book, The Lean Startup teaches. They created a minimally viable product as quickly as possible – in one month. This allowed them to get to the most important phase, which is getting feedback and refining the product based on the feedback.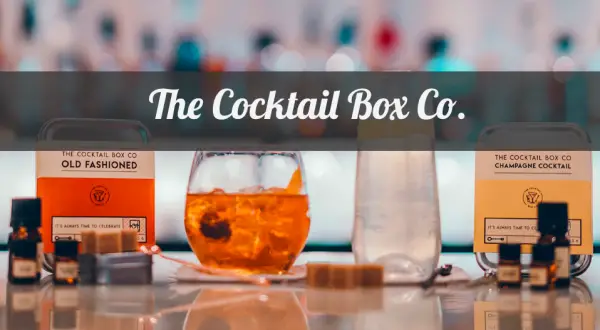 Choosing The Right Ecommerce Business Model
The first thing you need to set up an ecommerce business is obviously the product or service. The next is a website. The third consideration is the business model.
There are many considerations in choosing the right ecommerce business model when you are struck with a business idea. The 5 types of ecommerce business models are:
Dropshipping

: You sell the product on your website. When a customer orders a product, the order goes directly to your supplier, who ships the order directly to the customer. You're responsible for the relationship with the supplier and marketing your website that sells the product.

Wholesaling and warehousing

: You order the products from the supplier and keep inventory in a warehouse. You wait for customers to order from your website. Then you package and ship the product from your warehouse inventory. You can control the quality of the product and shipping, but there is a big cost to inventory and keeping track of customer orders.

Manufacturing & private-labeling

: When you have an idea for a new product and you want the prototype made, you would go down this route. You would source the right manufacturer and work on the prototype. Once refined, the manufacturer makes the product and puts your branding on it. Depending on the size of the order and the manufacturer, you would either order a lot and keep in your warehouse or you would dropship directly from the manufacturer.

White-labeling

: Similar to the above, this route might be you ordering a lot and keeping the inventory in your warehouse until the customer orders or dropship directly from the manufacturer. The difference is that you find a manufacturer making an existing product already. You don't go to the manufacturer with an idea for a prototype. You don't change the product at all. You just slap on your brand on the existing product that the manufacturer makes already.

Subscription-based

: Subscription boxes were a big craze that started in the last decade. You would order various products from different manufacturers or one manufacturer depending on your product. From your warehouse, you ship the subscription box to your customer every month or period.
For Chris and Derek, choosing ecommerce was a no-brainer, because what they wanted in life. "Our vision is to have the ability to be location independent, so we decided to start an ecommerce business.  An ecommerce business gives us the flexibility to able to manage our business no matter where we are in the world and reduces our overhead."
When it comes to the business model, Chris and Derek's Brew Your Bucha and The Cocktail Box Co.'s business model is evolving as they engage with their customers and clients.
"We initially started with the intent to sell direct to consumer, but with more brand awareness we are getting wholesale and custom inquiries from various partners. We continue to grow our retail channels but expect our wholesale sales to quickly catch up."
Do I Need An LLC For My Online Business?
When asked, Chris advises that with an ecommerce business, you don't necessarily need an LLC (Limited Liability Company) in the US or a incorporated business in the case of Canada. But the right answer depends on protecting your assets, taxes, and who you're doing business with.
Chris says, "No you don't need to incorporate to have an online business. Many business owners operate as a proprietor (under their own name), since it is easier to start their business.  
You will need to consider what your objectives are for your business and whether the advantages of incorporating outweigh the costs. Although it is easier and less costly to operate as a sole proprietor, your personal assets may be accessible by creditors for business matters.  
You should consider speaking with a lawyer and/or accountant to understand the differences between operating as a sole proprietor or incorporating."
Ecommerce Business Strategies – Accounting, Finance, Marketing, Competition
Accounting & Financial Analysis for Ecommerce Business
One of the most important things for your ecommerce business is tracking data so that you can use it to analyze trends, margins, and profitability.
As we harp on over and over again at microcap.co, data and financial analysis is key to improving your business.
The first step is to collect data and organize the finances into an accounting software. There are a myriad of accounting softwares out there, so I asked Chris what he uses.
"We use Quickbooks Online to manage our accounting and run various reports through Amazon and our other sales platforms.  They each give us useful metrics to analyze our revenues and expenses to ensure we are on track to meet our quarterly and annual KPIs."
Marketing & Customer Acquisition Strategies
Gary Vaynerchuk's impassioned lectures on why every business should employ Instagram and Facebook marketing are most certainly effective marketing and customer acquisition strategies.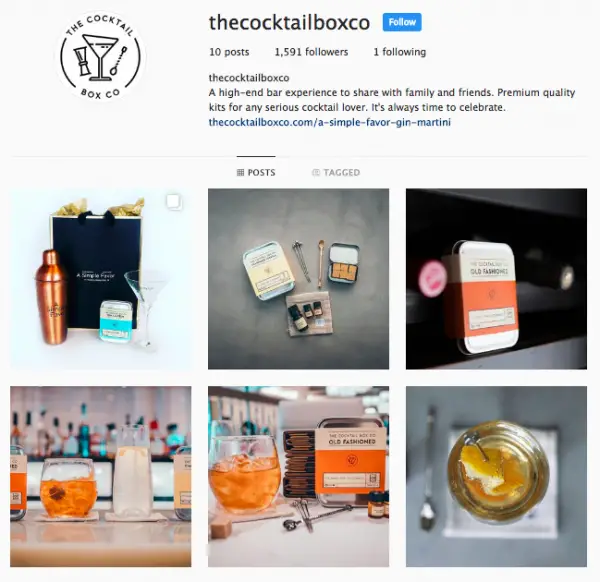 Additionally, included in top marketing and customer acquisition strategies for ecommerce business are:
Content marketing

: creating content for your blog, creating videos on YouTube, creating infographics that pinning on Pinterest, creating GIFs and posting on Reddit, or creating images with SEO marketing on your website that shows up on Google Images are examples of content marketing.

Referral marketing

: Referral marketing is simply word-of-mouth. When you create high quality products that are useful to people, they want to spread the word about it. Starting with your friends and family and widening the network of word-of-mouth referral organically is one strategy to market your business and acquire customers.

Email marketing

: If you have a website and you're not collecting emails in one way or another, you're letting all that traffic go to waste. Email marketing is sending promotional emails to your mailing list. This strategy has become somewhat controversial in the ecommerce business marketing world in recent years, but marketers still claim this to be an effective marketing strategy.

Social media marketing

: Whether you create a profile on Instagram and pump out quality content consistently and frequently or buy Facebook ads, social media marketing is absolutely a must in growing your ecommerce business and reaching your target audience.
Chris employs most of the strategies above in promoting his ecommerce businesses.
"One of the most effective ways for marketing for us has been through referrals.  We try to over deliver on product and service and our customers become fans who refer our products to their friends, family and co-workers.
Word of mouth marketing does take time to develop, so we use other marketing strategies to increase brand awareness. We use Amazon's pay per click (PPC) campaigns to drive traffic to our product listings and Google AdWords to get customers to our website.
We do our best to deliver useful information to our customers and get organic traffic to reduce our marketing costs. We are using various strategies on Facebook and Instagram to drive awareness about our brands. We are also developing our network of partners which help cross promote our products to their customers."
Brew Your Bucha also amassed high quality, valuable information on kombucha health and wellness on their blog as a part of content marketing.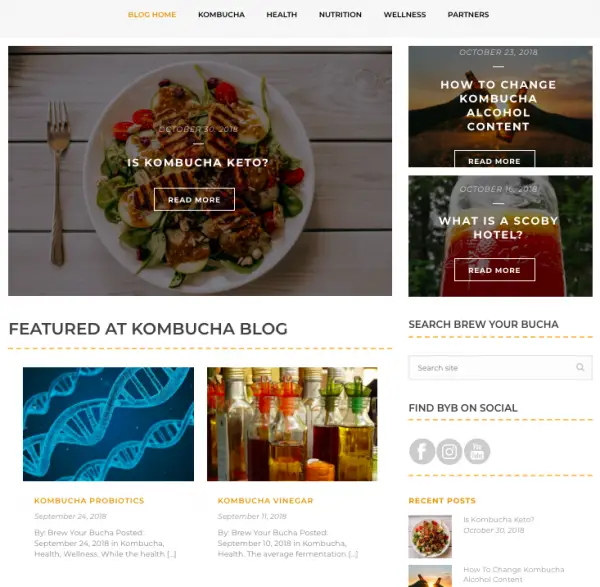 Strategy to Beat Your Competition
I asked Chris what his strategy is to beat competition, and his answer was exemplary of what every business should strive to do.
"We don't have a general strategy to beat our competition, because it is unrealistic to try to beat every competitor in the market on every front.  Competition is healthy for any market and although you must be competitive in the marketplace, we believe that the best products/service always rise to the top.
We actively search for ways to improve our product offerings to our customers by asking for feedback and also delivering impeccable customer service.  We strive to top ourselves every day, because that is a measurable and achievable metric that can be assessed over any period of time."
Most Important Ingredient for Building A Successful Business
Chris says, it comes down to one word: people.
In his words, "At the end of the day, no business is successful without human capital. I am fortunate to have a great business partner, and our skills complement one another.
However, to build a successful business, we need to grow our team and leverage their knowledge and experience.  
As our business has grown, we have identified gaps where we have been developing our team members to manage key areas of our business."
Challenges Of Running An Ecommerce Business
Time Is Working Against You
Chris found that "allocating time by setting priorities is imperative to operating efficiently and effectively.
Various issues arise every day, so putting out fires while managing the day to day operations can be a bit of a challenge.
As we scale, we are hiring the right team members and leveraging their knowledge and experience to help us to address the fires and create processes to mitigate them."
Communication
Chris adds that, "When you start a business it is challenging and when you start one with partner(s), you need to be ready for the added element of managing the relationship(s) on top of the day to day stress of the business.  It is important to be self-aware and know whether you have the capacity to work closely with a partner/co-founder.
Communication is key to cultivating a healthy and constructive work environment.  You will be spending a lot of time in the trenches with your partner and team, so being comfortable with having the tough conversations and not taking constructive criticism personally is imperative. Derek and I have our disagreements; however, we know that we have the best intentions for the business; therefore, we have open conversations and debates as to what is the best course of action.  
We have to lean on each others' knowledge and experience on major decisions and if something doesn't work out, we chalk it up as a learning experience and move on – NEVER point fingers."  
Surprising Challenges
Coming from a traditional finance/accounting background, Chris found it a challenge figuring out what he didn't know.
He laments that starting and running a business makes you very aware of how important it is to look after the small details while keeping the overall vision in mind.  
"There were so many elements to consider, such as product development, legal, human resources, marketing, etc. Unfortunately, there is no exact playbook on how to run a business, so you don't know what you don't know."
You just have to keep learning as you go but not let it impede your will to go on.
Tips to Succeed in Ecommerce Startup
Appreciate Your Customers
When I asked Chris what his proudest accomplishment during his journey of starting a successful ecommerce business is, he said he loves hearing from customers.
"It's great to receive messages when they say they love our products. I also look at where we were a year ago and am proud of what we have accomplished to date.  I believe the best is yet to come."
This doesn't come as a surprise. When the founder of a company really puts customers first and has the mentality of serving them as opposed to seeing dollar signs, it really shows in the mission of the business.
Appreciating your customers genuinely, building a relationship with your customers, and serving their needs is especially a must-have ingredient in successfully building an ecommerce business.
Check out their Amazon page – not many ecommerce businesses can proudly boast a 5 star review and Amazon's Choice.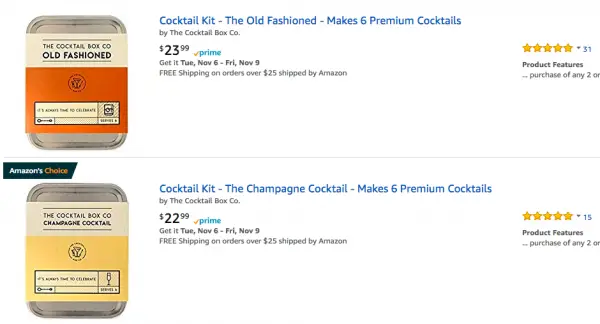 Starting A Business Alone Or With A Partner
One of the keys to success that Chris found starting his ecommerce business was the complementary partnership between him and Derek.
As explained in the book, Rocket Fuel, there are two integral roles that make a business successful: Visionaries and Integrators. Visionaries have innovative and ground-breaking ideas while Integrators make those idea come to fruition.
"Derek is a phenomenal Integrator who can execute exceptionally well, while I find myself a dreamer and ideas generator. I do my best to compliment Derek by filling in any areas where my expertise/knowledge come into play, such as operations, accounting, and finance.
As Derek currently resides in Singapore, I manage the day to day operations, so I am quite hands on right now.  As we grow our business, we will continue to build our team to be more self-sustainable.
As we build our team that believes in our overall vision and is pushing in the same direction, we can allow them to be more autonomous and support them when required."
If you have an idea but not a partner, or if you're not someone who plays well with others, don't be discouraged.
Having a complementary skill set in a partner is a huge bonus, but it's not the only way. Besides, you do not want to rush and give away your equity to the wrong partner.
Keep A Journal To Appreciate The Process
Celebrating small successes along the way is paramount to being sane throughout the long-term journey of starting a business.
Recording why you started the business, the progress you've made along the way allows you to appreciate the process.
Chris says, "Since Derek is living abroad, we give each other a lot of virtual high fives.  It's easy to forget to celebrate the small wins, but it's important to appreciate the process.
I do my best to remember where we started from to where we are now, and I keep a brief journal of our small successes along the way."
Outlet to Relieve Stress
I heard a quote recently, which goes something like – when you're having an off day, take the day off.
When Chris isn't feeling motivated or feel that there isn't much productivity, he does just that.
"I am a triathlete, and I love being active.  There are definitely days where I feel I'm lacking motivation; however, getting on my bike or heading out for a run helps clear my head and get the blood flowing. While I'm training, it helps me reset my mindset and focus.
I have also gotten into the habit of using a task list where I can check off my priorities as I complete them; this helps me stay motivated and feel productive throughout the day."
Some entrepreneurs say that the key to success is to grind 20 out of 24 hours per day. But that's not the mantra of every entrepreneur.
You must ensure your mental and physical health goals are met in order for your business goals to be met. Listen/watch this great episode on just that with John Lee Dumas of EOFire as guest on The Model Health Show.
Join A Mastermind Or Find Mentors
Chris emphasizes to all startup and small business owners who are struggling to grow their business:
"If you want to achieve something, it's important to find someone that has already achieved what you want to accomplish. They have probably made many mistakes (I call them "learning opportunities") along their path to success, and their advice can help you avoid the same pitfalls.
You may only be one decision away from making a breakthrough in your business and sometimes some outside perspective is all that is needed."
Finally, his last words of advice is, "Just get started.  Failure sucks, I won't lie. But you'll never know what is on the other side of failure if you don't get started.  In the beginning, I was afraid of failure so I didn't make the leap into entrepreneurship, but I wish I had taken the leap earlier."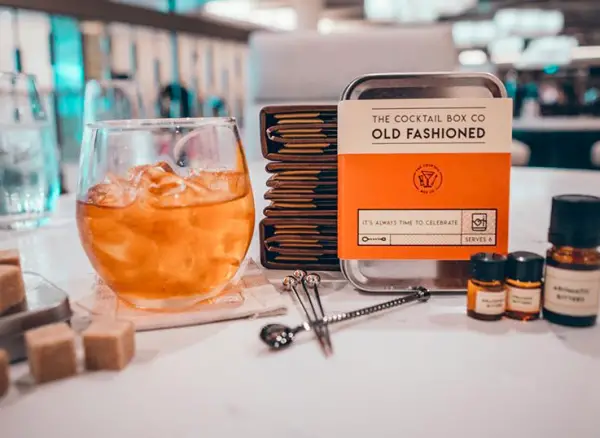 Wrap-Up
I learned a lot from interviewing Chris on starting an ecommerce business from scratch.
Seeing someone you know already leap from the traditional office job to starting two successful ecommerce businesses and crushing it is inspiring and also achievable. And, it feels justified for me to encourage and empower others to take the leap.
The key takeaways for me are that Chris and Derek went to work quickly to create a minimally viable product in one month and started selling it on Amazon right away to get feedback.
I also learned that coming up with an idea for an ecommerce business niche is within reach.
It might be from being frustrated with an existing product and seeing what customer comments are about that product so that you can release a product that is better and improved.
In other words, you don't need to have an innovative and novel idea of the century.
It's also a great lesson for all business owners to listen to your customers and to serve their needs. It's no small feat for these guys to have 5 stars on their products on Amazon.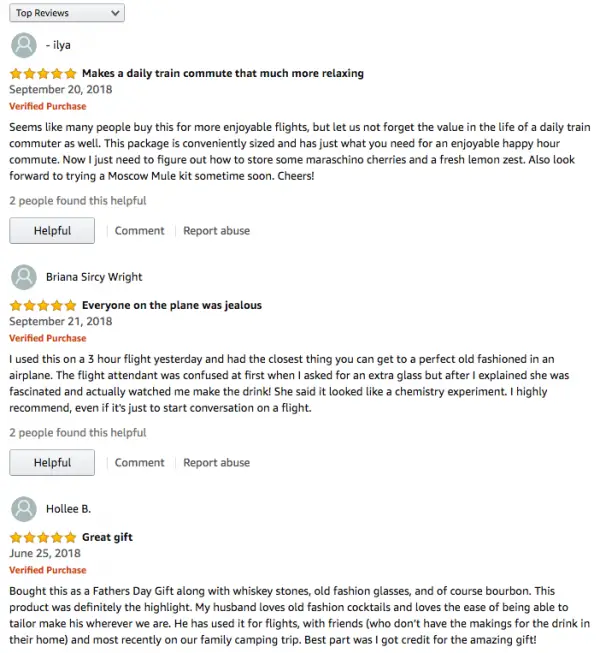 Since numbers is the core of microcap.co, I would love to spend more time in the future on how Brew Your Bucha and The Cocktail Box Co. collects data and uses the accounting software effectively. But until then, I want to thank Chris for his time and for this very useful information.
Make sure to check out their website and their neat products! If you have any questions for Chris and Derek, you can email them at either info@brewyourbucha.com or info@thecocktailboxco.com.