The food processing industry profit margin is 4% on average from a data set of 64 companies.
Food processing refers to transforming one form of food or agricultural product to another form of food. It also includes packaging and preserving food. 
To look at the analysis of valuation multiples for all the food industry companies (not just specifically food processing), see my other post here. For beverage companies, see that post here.
Food processing companies range widely in size. 
For example, the smallest food processing company in the data set has a revenue of ~$500,000 and they process fish. 
And the largest food processing company in the data set has a revenue of ~$100 billion, which is the Archer-Daniels-Midland (ADM) company. 
ADM's portfolio of products and services range from human nutrition to animal nutrition as well as chemicals for industrial food processing solutions. 
Food Processing Industry Profit Margin
To analyze the companies in the right cohorts, I grouped the 64 companies in the data set more-or-less evenly across different revenue range cohorts. 
The revenue range cohorts were are follows: 
16 companies with revenue up to $30 million, 

14 companies with revenue between $30 million and $100 million, 

17 companies with revenue between $100 million and $500 million, and 

17 companies with revenue larger than $500 million.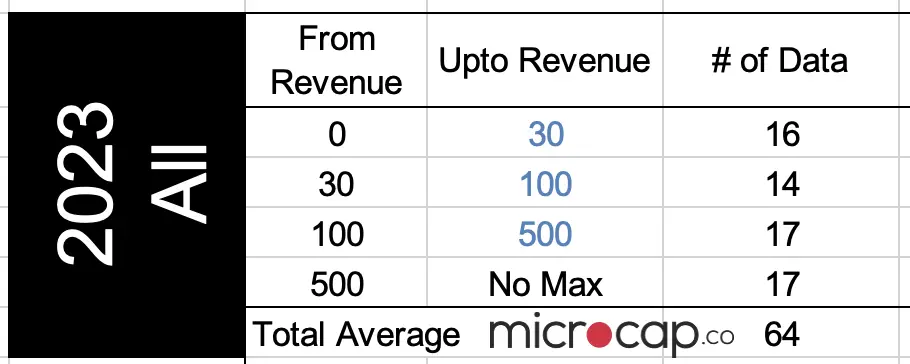 What resulted was interesting. The key observation is that small food processing companies with revenue less than $30 million had higher gross margin and EBITDA margin. 
But when you look at the food processing industry regardless of revenue size, the net profit margin was all in a similar range. 
The average net profit margin range for the food processing industry is 4%. The median food processing industry profit margin is 3%.

As we've seen in other industries where operating costs are high, they tend to have high gross margin but low net profit margin. 
But for the food processing industry, the profit margin AND gross margin are low. This suggests to me that cost of the raw food itself is high even before processing. 
Download Data Set
To download the 64-company data set in this analysis, enter your email address below to sign-up for the mailing list and the data set will be sent to your email directly. 
Note that sometimes, it takes a few hours for the email to land in your inbox. Also note that I have not sent an email to the mailing list yet, but I may do so in the future. 
Thanks for reading as always and leave a comment if you found it useful!