The average food industry valuation multiples are 1.0x revenue multiple, 12.6x EBITDA multiple, and 23.9x earnings multiple. 
These average food industry valuation multiples were calculated using an analysis of 108 food industry companies. 
The public food-related companies were further grouped into their primary function in the food industry: distribution, products (including processing), and retail. 
For valuation multiples of beverage companies, see my post here.
Food Industry Valuation Multiples
The majority of the companies in the food industry data set are super large companies. 
Only 9 companies in the data set have a revenue of less than $100 million, whereas 71 companies have revenue larger than $1 billion.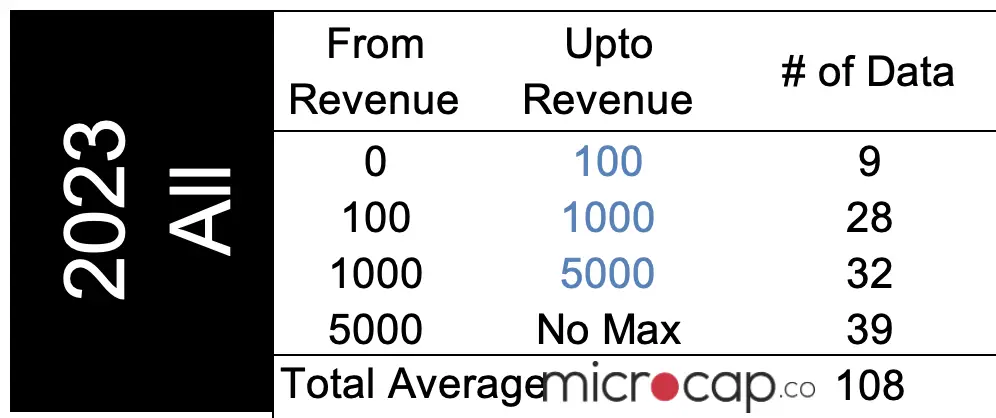 The average revenue multiple is 1.0x for the 108 food-related companies in the data set. 
And the average gross margin of these companies across size is 24%. There isn't too much variation in the gross margin across size. 
The average and median EBITDA multiple is around 12x. 
EBITDA margin is similar across size as well with the average around 10%. 
The average earnings multiple is around 24x. The average net profit margin is 2%.


Food Company Valuation Multiples 
Among the food industry, there are more specific industry classifications with slightly varying valuation multiples. 
Food Distribution
For food distribution companies, the average revenue multiple is 0.2x. 

One reason for much lower valuation of food distribution companies compared to the food industry at large is that distribution tends to have lower margins. 
The average EBITDA multiples for food distribution companies increased compared to a couple of years ago.
And, we can see that below. The average gross margin for food distribution companies is 15% and the average EBITDA margin is 3%, compared to 24% and 8% for the food industry overall.

The food industry is very competitive, but food distribution may be even more competitive with much lower margins in the business. 
Food Products
Food product companies, on the other hand, are valued higher than other companies in the food industry. 
But this may be skewed by the large brand food product companies that have higher valuation multiples due to their brand reputation. 
For example, food product companies include Hostess Brands, which makes their trademarked Twinkies, and McCormick & Company, which you've seen in the spice aisle and many other aisles. 
There are smaller, less known brands listed as food product companies that aren't valued at a premium. 
But there are many large public food product companies with a portfolio of recognizable food products, which pulls the average valuation multiples up. 
Out of the 78 food product companies, the average revenue multiple is 1.3x. The average EBITDA multiple is around 14x.

Brand-recognized food product companies will also be able to charge a slight premium to their products relative to their competitors. 
And, perhaps as a result of that, the average gross margin and EBITDA margin is observed to be higher at 25% and 12%, respectively.

Food Retail
Example food retail companies are Tesco in the UK, Kroger in the US (which owns Ralphs, QFC, and a bunch of other grocery chains), and Loblaws in Canada. 
18 out of the 21 food retail companies in the data set have revenue larger than $1 billion. 
From a valuation multiple perspective, the average revenue multiple us 0.5x, which is lower than the food industry as a whole. 
The EBITDA multiple is also lower at an average of 9x.

As the food retail companies get larger in size, their profit margins decrease. 
Intuitively, this makes sense since the larger grocery chains are able to sell goods at lower prices.
How To Use Valuation Multiples To Value a Company
Now that you have the valuation multiple, how do you use it to value a company?
For those who are not familiar with using valuation multiples to value companies or those who are but need a refresher, I wrote posts detailing exactly how you can do that. 
Hopefully you can use them as helpful guides. Click on the link below to go to the post.
Download Data Set
To download the dataset of 108 companies in this analysis, enter your email address below to sign-up for the mailing list and the data set will be sent to your email directly. 
Sometimes it takes a few hours so if it doesn't arrive right away, please be patient. 
Thanks for reading as always and leave a comment if you found it useful!