This post was written in 2019. A lot has happened since then, so here's an updated article written in 2023 with updated valuation multiples for software companies. You'll find more information about the multiples themselves in this article. And you can find the updated multiples in the 2023 article.
Valuing software companies is similar to valuing other companies, but there are some differences such as which valuation multiples to use.
Here, we will discuss the appropriate valuation multiples for software companies and what the average multiples are based on analyzing more than 450 public companies.
Valuation Multiples For Software Companies
The two most popular valuation multiples for software companies are Price to Sales (P/S) and EV/EBITDA.
Many software companies operate at a loss until they scale to a large enterprise. For that reason, you see negative net income and a lot of the times, negative EBITDA.
So, it's especially important for smaller companies to look at valuation multiples above the net income line.
And because of the negative earnings and EBITDA, another multiple that is widely used is price to sales (P/S) multiples, which is also known as revenue multiples.
Price to sales multiple is basically market cap divided by the company's revenue. Since revenue can't be below 0, it's a functional way to compare all software companies with sales greater than 0.
EV/EBITDA multiple, also known as EBITDA multiple, is a very widely used valuation multiple for companies across almost all industries. And, it's no different here.
Even though negative EBITDA reduces the number of software companies you can use in the data set, it's still a good encapsulation of how well the company is doing in comparison to others in the industry.
We looked at a total of 455 public software companies with a market cap between $10 million and $200 million in various sectors across countries.
Here are our findings for average valuation multiples for software companies.
Average Revenue Multiples for Software Companies
After analyzing 455 software companies, we found that the average revenue multiple, i.e. price to sales multiple, is about 4x times.
So, if you want to value a private software company, you can multiply 4 by the company's revenue to get a rough estimate of its valuation.
This was consistent across US software companies, foreign software companies, and software companies with a market cap of less than $50 million or up to $200 million.
[one_half_first]YourContentHere[/one_half_first][one_half_last]YourContentHere[/one_half_last]
Mega software companies were acquired on average at 4.5x multiple of revenue according to EY's 2017/2018 report.
And as you can see in this set of findings, smaller companies have a slightly lower average price to sales multiple, but is not too far off.
Average EBITDA Multiples for Software Companies
First, we eliminated the companies with negative EBITDA from the data set. As a result, we used 293 in our data set.
EBITDA multiples are Enterprise Value divided by EBITDA. This means you can multiply the EBITDA multiple by a private software company's EBITDA to estimate the company's valuation.
For smaller companies whose market cap is between $10 million and $200 million, the average EBITDA multiple is ~16x times.
US software companies exhibit a higher average EBITDA multiple of 19x times.
And the smallest of the small companies whose market cap is between $10 million and $50 million, had lower average EBITDA multiple of 13.8x times. This suggests that because smaller companies are not profitable or as profitable as large, scaled companies, the market values them less, which drags down the multiple.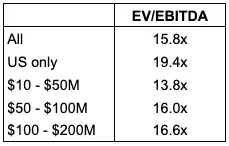 The mega software companies were acquired at around 21x times EBITDA multiples, so it's clear that the market is more cautious with smaller companies.
Summary
Price to sales multiple and EV/EBITDA multiple are widely used to value software companies quickly.
An average of 4.0x price to sales multiple and an average of 16.0x EV/EBITDA multiple can be used to value smaller software companies.
These methods should be used in conjunction with other valuation methods, such as forecasting the company's revenue through to its cash flow over multiple years.
Below is the dataset used in the analysis. I hope you found this useful. If so, leave me a comment or share with someone who can also benefit from this post!
Sample Dataset
Below is the sample dataset of the US public software companies used in the analysis above [in the March 2019 analysis]. See the 2023 updated post to download the full data set. 
| | | | |
| --- | --- | --- | --- |
| Company Name | Year Founded | Price to Sales | EV/EBITDA |
| Synacor, Inc. (NasdaqGM:SYNC) | 1998 | 0.5x | |
| Vobile Group Limited (SEHK:3738) | 2005 | 11.0x | |
| Intelligent Systems Corporation (AMEX:INS) | 1973 | 17.5x | |
| Inuvo, Inc. (AMEX:INUV) | 1987 | 0.6x | |
| Nxt-ID, Inc. (NasdaqCM:NXTD) | 2011 | 1.1x | |
| Accelerize Inc. (OTCPK:ACLZ) | 2001 | 0.4x | |
| AudioEye, Inc. (NasdaqCM:AEYE) | 2005 | 28.6x | |
| SharpSpring, Inc. (NasdaqCM:SHSP) | 1998 | 6.6x | |
| Vertical Computer Systems, Inc. (OTCPK:VCSY) | – | 3.3x | |
| TrackX Holdings Inc. (TSXV:TKX) | – | 5.0x | |
| ImageWare Systems, Inc. (OTCPK:IWSY) | 1987 | 26.4x | |
| Smith Micro Software, Inc. (NasdaqCM:SMSI) | 1982 | 2.5x | |
| CYREN Ltd. (NasdaqCM:CYRN) | 1991 | 3.4x | |
| SITO Mobile, Ltd. (NasdaqCM:SITO) | 2000 | 1.2x | |
| Corero Network Security plc (AIM:CNS) | 1991 | 5.9x | |
| RealNetworks, Inc. (NasdaqGS:RNWK) | 1994 | 1.8x | |
| Duos Technologies Group, Inc. (OTCPK:DUOT) | 1990 | 3.2x | |
| Qumu Corporation (NasdaqCM:QUMU) | 1978 | 0.9x | |
| Investview, Inc. (OTCPK:INVU) | – | 2.1x | |
| Net Element, Inc. (NasdaqCM:NETE) | 2004 | 0.4x | |
| BIO-key International, Inc. (NasdaqCM:BKYI) | 1993 | 2.3x | |
| Veritone, Inc. (NasdaqGM:VERI) | 2014 | 5.0x | |
| BSQUARE Corporation (NasdaqGM:BSQR) | 1994 | 0.3x | |
| Marin Software Incorporated (NasdaqGM:MRIN) | 2006 | 0.4x | |
| MGT Capital Investments, Inc. (OTCPK:MGTI) | 1979 | 3.5x | |
| Finjan Holdings, Inc. (NasdaqCM:FNJN) | 1997 | 1.7x | 1.2x |
| OneMarket Limited (ASX:OMN) | 2017 | 22.8x | 1.6x |
| Evolving Systems, Inc. (NasdaqCM:EVOL) | 1985 | 0.6x | 2.0x |
| Support.com, Inc. (NasdaqCM:SPRT) | 1997 | 0.8x | 3.4x |
| SeaChange International, Inc. (NasdaqGS:SEAC) | 1993 | 0.6x | 6.8x |
| NetSol Technologies, Inc. (NasdaqCM:NTWK) | 1997 | 1.6x | 10.8x |
| EXEM Co., Ltd. (KOSDAQ:A205100) | 2001 | 2.6x | 11.1x |
| SilverSun Technologies, Inc. (NasdaqCM:SSNT) | 1988 | 0.5x | 11.9x |
| Fasoo.Com Co., Ltd. (KOSDAQ:A150900) | – | 1.2x | 13.1x |
| Issuer Direct Corporation (AMEX:ISDR) | 1988 | 3.7x | 14.2x |
| MAM Software Group, Inc. (NasdaqCM:MAMS) | – | 3.0x | 20.1x |
| Intrusion Inc. (OTCPK:INTZ) | 1983 | 5.3x | 21.8x |
| Asure Software, Inc. (NasdaqCM:ASUR) | 1985 | 1.7x | 22.9x |
| GSE Systems, Inc. (NasdaqCM:GVP) | 1994 | 0.9x | 23.2x |
| FalconStor Software, Inc. (OTCPK:FALC) | 1989 | 1.2x | 24.8x |
| GlobalSCAPE, Inc. (AMEX:GSB) | 1996 | 3.0x | 31.7x |
| Park City Group, Inc. (NasdaqCM:PCYG) | 1990 | 6.9x | 34.3x |
| Weyland Tech Inc. (OTCPK:WEYL) | – | 1.2x | 36.1x |
| Aware, Inc. (NasdaqGM:AWRE) | 1986 | 5.4x | 43.4x |
| Where Food Comes From, Inc. (OTCPK:WFCF) | 1996 | 3.1x | 54.0x |
| Astea International Inc. (OTCPK:ATEA) | 1979 | 0.9x | |