–This post has been updated to reflect 2022 numbers, but you can find the old 2019 post article where I talk about why revenue multiples and EBITDA multiples are used for valuing software companies.–
Since 2020, the valuation multiples for software companies went up significantly after the spike in the market post-covid in 2021. However, it was mainly big tech companies that became over-valued. Microcap companies actually saw a decline. 
Then, we saw a huge pull-back for big tech companies at the end of 2022. But interestingly again, microcap tech companies weren't affected by the pull-back. 
Scroll down to see how 2022 numbers compare to 2021 and previous years. 
How Much Did Valuation Multiples for Software Companies Go Up By Post Covid in 2020?
Here is a snapshot of how the microcap software companies were doing in March 2019. 

Back in March 2020, we saw a huge dip in the market after the Coronavirus hit the US and it became a reality that we would be experiencing the same quarantine as we saw in Asia and Europe. 
Then since the end of March, investors started dumping all their money into the stock market, resulting in a huge spike since then. 
As a result, as of September 2020, microcap software companies have much higher valuation multiples:

I think investors from, novice to pro, are all dumbfounded. But one speculation is that it's because government bonds aren't worth returns, and so investors have nowhere to put it. Another reason for the spike is that during quarantine, retail investors have been investing like crazy. 
If you compare the increase in each valuation multiple, that's a 30% increase for average Price-to-Sales multiple for microcap software companies and 18% increase for average EV/EBITDA multiple:

30% increase in P/S multiple has a huge impact on company transactions. If a small software company is on the market, they can increase their selling price significantly. 
The small software company will use a combination of DCF valuation methodology and comparables. If there's equal weighting between the valuation methodologies, the company can command a price at least 10% higher.
For example, if a 3 year old startup that has a negative EBITDA and revenues of $10M per year, they would weight P/S multiple higher as the valuation methodology. 
If it were last year pre-Covid, they could've asked for $40M in selling price (i.e. $10M * 4.1x P/S multiple). Now, they could ask for $50M in selling price (i.e. $10M * 5x). 
Of course, it's a simple example and more qualitative and quantitative considerations go into it, but regardless, that's a huge increase in selling price. 
How Do the Tech Valuation Multiples Compare in 2021 to 2020?
Look at this snapshot of microcap tech companies' revenue and EBITDA multiples in 2021: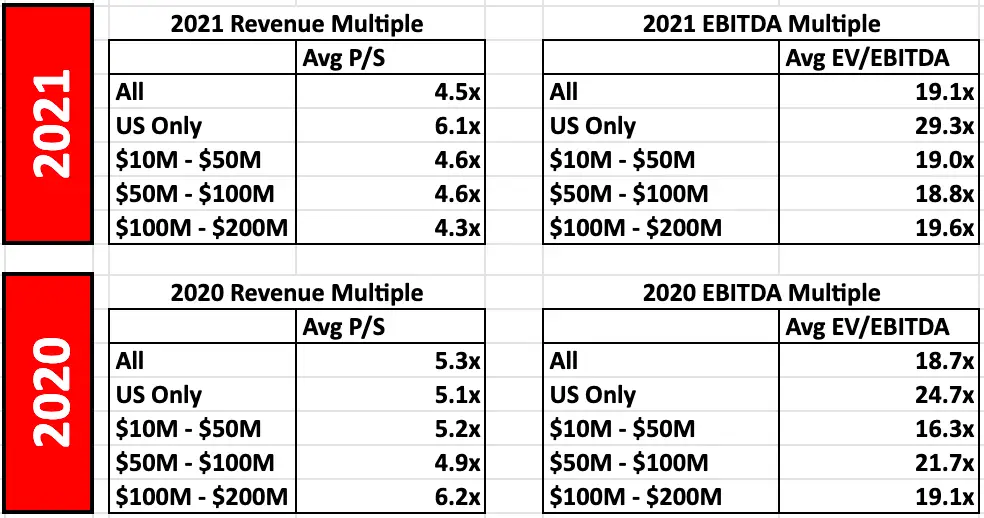 Really interesting things happened since we saw a huge rally in the tech valuation multiples from 2020 to 2021 and then a dip in beginning months of 2021. Here are some observations:
Revenue multiples in 2021 overall are lower – For all microcap software companies globally, the average revenue multiple in 2021 is 4.5x compared to 5.3x in 2020. We observed a downtown in the market in the beginning of 2021, so that could be one reason for this trend.
EBITDA multiples in 2021 overall are slightly higher – For all microcap software companies globally, the average EBITDA multiple in 2021 is 19.1x compared to 18.7x in 2020. It's interesting that this is going the opposite way to the revenue multiple. One explanation could be that operating costs haven't changed much in 6 months to a year but with lower revenues, the impact of lower revenue but same levels of operating costs may have had higher negative impact on EBITDA. And since the denominator (EBITDA) is lower, the EBITDA multiple could be higher.
US Revenue and EBITDA in 2021 are higher – For American tech companies, revenue and EBITDA multiples both are higher in 2021 with average revenue multiple of 6.1x in 2021 compared to 5.1x in 2020, and average EBITDA multiple of 29.3x compared to 24.7x. This could be just a coincidence, but one explanation could be that post-Covid lockdowns, with people shifting their behavior to spend more time at home going forward, US tech companies have collectively done a good job of adapting to the changing environment, and the market is confident in these companies more so than before. (Again, this is just my own explanation, so don't take this as investment advice.)
How Do the Valuation Multiples Compare to Industry 
The increase in the valuation multiples from March 2019 to September 2020 makes sense when you compare it to the industry performance.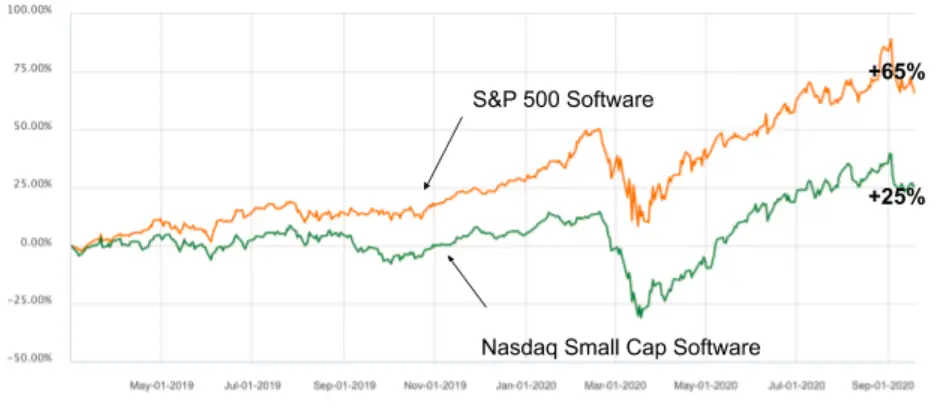 The graph above shows software indices from March 1, 2019 to September 18, 2020. 
The orange line (higher) is the S&P 500 Software industry index. The increase over the 1.5 years is +65%. 
The green line (lower) is the Nasdaq US Small Cap Software companies index. The performance in the 1.5 years is +25%. 
The large software companies (i.e. S&P 500 software) did almost three times better than the small software companies. This makes sense, because the large tech companies thrived during the pandemic as they catered to people in quarantine. Companies like Amazon, Apple, Fastly, Zoom, Etsy, etc. 
Since the smaller companies aren't as well known as the mega tech companies, they performed fantastically as well but not as much as the large tech software companies.
We'll have to see if the market normalizes after the pandemic is over. Once this happens, I'll update the valuation multiples for software companies again. 
Comparison Summary from 2019 to 2022
Interestingly, microcap companies were not affected by the over-valuation of the market post-covid that applied to big software companies in 2021.
At the end of 2021, with the announcement from the Fed of interest rate hikes in 2022, the market started pulling back, and the software companies that were once overvalued at the height of the market increase in 2021 fell back.
But overall, it seemed to have an opposite effect for microcap companies.
The summary of the comparison revenue and EBITDA multiples are below:
Download Data Set
Here's a sample of the data set. Toggle between the data set and the averages tabs. Full data set download info below the table.
To download the ~1000 companies data set in this analysis, enter your email address below or if you don't see it, then click here to enter your email on that page to sign-up for the mailing list and the data set will be sent to your email directly.
Thanks for reading as always and leave a comment if you found it useful!