If you want to sell your business, there are several technical valuation methods to determine the right selling price. You can hire a business valuator and spend thousands of dollars to publish a report IF you need a qualified valuator's stamp of approval. But you may not need that and it's good to educate yourself on how to calculate the selling price of a small business yourself first.
So, before you go onto any more steps and spend money on hiring a business valuator, follow these steps:
First, estimate roughly how much you can sell your business for (below)
Then, improve certain areas of your business to maximize the selling price
Now employ the technical valuation methods to fine-tune the estimation of selling price
This strategy works for real estate, so why not for selling your business? For example, you may first get an estimate of how much houses on your block are sold for. Then you invest $80,000 to renovate your house or condo. That raises the value of your house by $150,000, so ultimately, the selling price goes up. Same method can be applied for selling your business.
1. How Much Do You Sell Your Business For?
The rough ballpark of your business's selling price is to multiply your company's EBITDA by 4. (EBITDA = earnings before interest, tax, depreciation & amortization)
For example, let's say your business's financials look something like this:
Revenue                      $3.5 million
Cost of Goods Sold    $1.0 million
Gross Profit                 $2.5 million
Operating Cost           $1.8 million
EBITDA                       $0.7 million
Multiply $0.7m by 4x. Therefore, a reasonable expectation of how much you can receive for your business is $2.8 million. Again, this is just a rough estimate of the selling price, but you need to know this as a starting point.
In reality, the number that you multiply to your EBITDA is typically somewhere between 2 and 6, which means that you can sell a small, private business that has been steady and stable for the past 5 years for somewhere between $1.4 million and $4.2 million.
That's a big range, so how do you get the selling price closer to $4.2 million? Now that you know the starting point, let's go through the factors that will get you to the highest selling price.
2. How to maximize the selling price
Maximizing the selling price depends on a multitude of factors, some with higher weighting than others. 
The most important base factors your business should possess before you decide to sell your business are:
Business has been established for more than 5 years
Revenue has been steady and growing at least 1% yoy the last 5 years
After-tax cash flow is/has been positive the last 5 years (i.e. profitable business)
EBITDA margin (EBITDA as a % of Revenue) is/has been steady at 20% or above the last 5 years
Other factors that affect the selling price are listed below. Scroll down to download the calculator.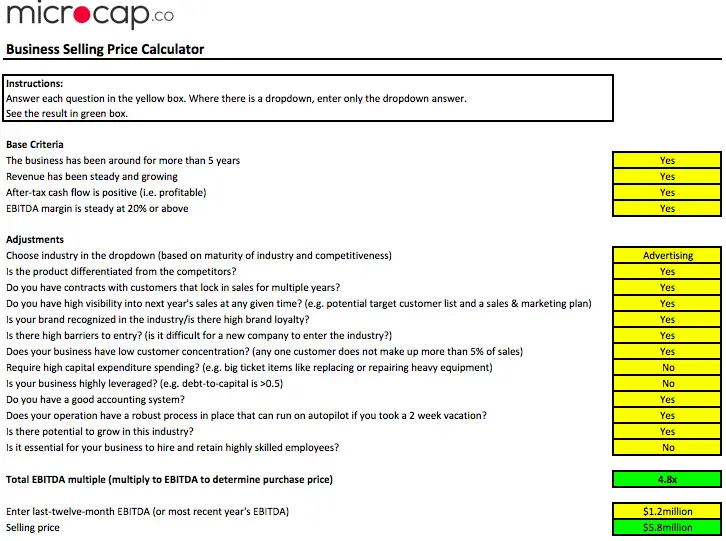 At this point in your business where you're considering selling your business but you aren't in a rush, the most prudent way is to find out what the rough selling price would be for your business and grow your business's valuation by targeting improvement in certain areas of your business. 
The list can go on but the truth is, there's no such thing as the perfect selling price. In my days working for a fund, we followed 8-factor investment criteria that the companies had to meet in order for us to consider investing in. Some people rely on a "gut" feeling and others will do a full-blown 100-page research & analysis report.
If you want more on this topic, check out this book on selling a small business for maximum profit. I like that the author focuses on value rather than sales, which I think is amiss in the thinking of a lot of small business owners. 
To get your own copy of the simple calculator to find a rough rough ballpark of a business's selling price, enter your email below to sign-up for the mailing list and the calculator will be sent to your email directly. 
3. Valuation methods
The following valuation methods are the detailed techniques that your business valuation report should include:
Precedent transaction multiple
Before you tackle valuing your business, are your financial statements organized? If not, that's the first step to take. Here's a post on organizing your financial statements (with a free model template).